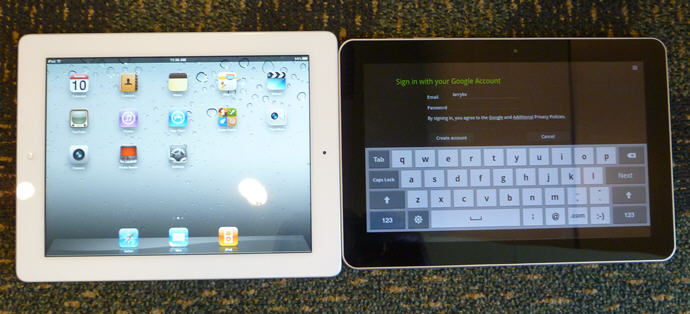 Samsung Tab 10.1 (right) is lighter and thinner than the iPad 2 (Photo by Larry Magid)
San Francisco -- Day one of the annual Google I/O developer's was all things Android. The day began with a recap of Android's growth in the two and a half years it's been on the market. Google says that there are now 100 million activated Android devices, 400,000 new devices activated every day, 200,000 apps in the Android market and that Android users have so far downloaded and installed 4.5 billion apps. Those numbers aren't as gargantuan as what Apple can claim, but they're respectable and indicate enormous growth for the only serious competitor to Apple's popular iOS operating system that runs on iPhones, iPads and iPod touch devices.
The company announced update to Honeycomb, the version of Android optimized for tablets but also said that later this year they'll ship a new version of the operating system, called Ice Cream Sandwich, that supports both phones and tablets. The just released Honeycomb 3.1 adds resizable widgets and a new task switcher.
Google also announced an update to its Google TV platform which will soon run applications from the Android marketplace.
In the past couple of years, Google has given out Android phones to developers attending Google I/O but this year they handed out an as-yet-unreleased tablet from Samsung. The Samsung Tab 10.1, which will be available to the public sometime this summer, is actually thinner and lighter than Apple's iPad 2 and feels great in the hand. I'm not going to declare this device an iPad killer, but it's certainly a contender. The device connects to the Internet via Wi-Fi, there is no 3G cellular option available as there is with the iPad, Motorola Xoom and several other tablets.
Perhaps the biggest news of the day is the Google music service and its video rental service. The music service will allow users to upload their own digital music files (up to 20,000 songs) to Google servers so that you can stream them or download them to a PC or Mac, an or an Android phone or tablet. With all your music in the cloud, you can synchronize it to a device via the net without having to use a cable to connect to a computer. Even though Apple CEO Steve Jobs has said that he expects many people to replace their PCs with tablet devices, the only way to get your music collection to an iPhone or an iPad is to connect it to a computer via a cable.
Google's movie rental service, which is now part of the Android market allows you to rent movies to instantly stream to a computer or an Android device. As with other movie rental services, once you rent a movie you have 30 days to start watching and once you start, you have 24 hours to watch it. Because it's on the cloud you could start viewing a movie on a PC and finish viewing it on an Android device. One relatively unique feature is called "pinning" which allows you to download the movie to the device to watch when you don't have an Internet connection such as on an airplane. Apple doesn't currently support streaming so the only way to view a movie on an iOS device is to download it.
Google also announced Android@Home that will allow Android phones and tablets to control home appliances, light switches and other devices. Another project, called Android Open Accessory, will allow hardware developers to create an interface between Android devices and accessories. One example is an exercise bike from Life Fitness that lets you play a fitness game on the Android phone while you peddle the bike. Another example shown at Google I/O allows someone with an Android tablet to control a labyrinth game with an Android tablet. I'm not talking about a virtual on-screen labyrinth but a physical board with motors that tilt the platform based on how you move the tablet. It's not the most practical demonstration in the world, but it shows the potential for hardware accessories.
Based on what I saw on Tuesday, it's clear that Google is a major force in both the tablet and phone market. On the tablet side, it's a distant second to Apple's wildly successful iPad franchise but its running fast in an effort to catch up.
REAL LIFE. REAL NEWS. REAL VOICES.
Help us tell more of the stories that matter from voices that too often remain unheard.