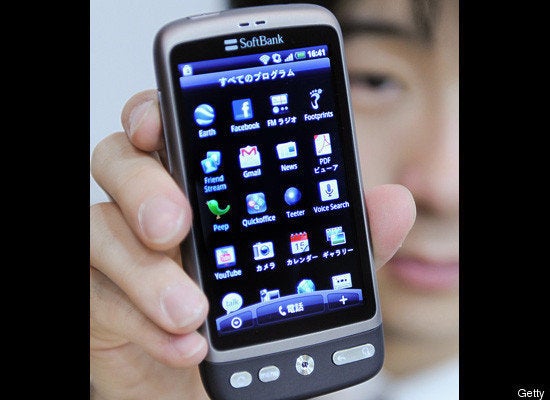 In the coming year, better wireless networks and cheaper phone hardware could lead to a boom in smartphone sales. And devices equipped with Google's open-source Android operating system could lead the pack.
Fortune's Seth Weintraub writes that smartphone chip manufacturers are preparing to unleash components that will bring smartphone prices down below $100. Broadcom Corp., for example, has designed an affordable smartphone chipset, specifically for use in Android devices.
"To be clear," Weintraub writes, "That sub $100 price is not the cost of materials, it is the suggested retail price after the manufacturers (and carriers) have taken their profits."
Chinese and Indian markets, where smartphones are far less prevalent than in the Unites States, could see a sudden rise in the popularity of smartphone handsets, especially Android devices.
In the U.S., wireless carries may soon have to slash prices on devices and contracts if they want to keep customers. According to Fortune:
Consumers used to feature phone monthly costs of $30/month may even opt to forgo wireless data altogether, instead choosing to use the smartphone's built in Wifi radio to surf near-ubiquitous Wifi in homes, at work and about town. To entice low end smartphone users away from just using Wifi, carriers will have to make affordable data plans.
A Broadcom executive told Weintraub that these highly competitive devices, built around the new ultra-affordable chips, should be available within three to six months.
Robert Scoble and Fred Wilson weighed in on Fortune's prediction.
"Fred Wilson and Fortune are right about Android vs iOS (and everyone else), but I hate it," Scoble wrote in a blog post. "In my usage of the Android-based Samsung Nexus S, I've found it's still behind Apple's iPhone in almost every way."
Wilson offered his own take on Weintraub's argument, writing, "Smartphones prices are about to plunge and the result will be hundreds of millions of people all over the world starting to use them. And many of these devices will be running Android, not iOS. And wireless data prices will likely come down too. That's a big macro theme that entrepreneurs and VCs need to get in front of. We are working on it and you should be too."
Do you think 2011 will be the year of Android? Why or why not? Weigh in below.
Related
Popular in the Community