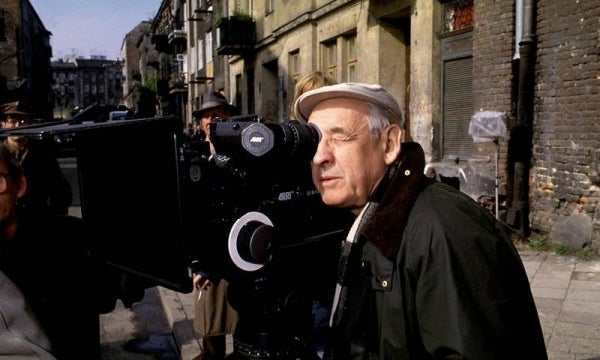 I still recall the the time I interviewed Andrzej Wajda 14 years ago. And now, I will always remember the day the acclaimed Polish director died.
Wajda was 90 years old when he passed away on Sunday.
This was a man who catapulted Polish film to global attention in the 1950s and became a significant figure in the cinema of the former Eastern Bloc. Praised for conquering his homeland's past, present, and all the grisly social turmoil in between, his career didn't just endure the entire history of modern Polish film since its post-World War II, it practically launched the genre.
To know Wajda, one must delve into his compelling backstory for it stretches far back to some of the most haunting times of Poland's history during the 20th Century. His father, along with 4,700 other Polish officer prisoners, was murdered by Stalin's army at the Katyn Massacre in 1940, an event that would have remained covered up were it not for the resilience of historians (and, perhaps, some divine justice) who shined the light on true Katyn's culprit—Russia. Flashforward to 1991, and we found Wajda, an elected senator in post-Communist Poland at the time, birthing the doc, "The Katyn Forest," a fitting homage to his father and those who were murdered alongside him. Nearly 10 years ago, Wajda spearheaded a dramatization of Katyn (called "Katyn"), which garnered an Oscar nomination for Best Foreign Language Film.
Repression, civil rights, the quest for freedom—these themes filtered into Wajda's work, and rightly so—nearly 6 million of his countrymen, half of them Jews, perished during World War II and the man lived most of his life in a precarious dictatorship. His life's work suggests a deeper significance of humanity—that, despite all the things we humans may reach for, there is something bigger at play.
Back in 2000, Wajda got a peck on the cheek from Oscar-winner Jane Fonda in front of millions of people. One second later, she handed him the Oscar for Lifetime Achievement.
Certainly the honor was well received, but it didn't necessarily change Wajda's own vision as an artist, which was to create fine films with significant messages. As a leading figure in cinema for more than 50 years, Wajda's endeavors were often critically praised and often revered. His early creations— the trilogy, "A Generation" (1954), "Kanal" (1957), and "Ashes and Diamonds" (1958)—pushed the limits of Soviet censorship. Other films were full of pathos, too, and a great many were nominated for Best Foreign Film by the Academy. "Land of Promise" (1975), "The Maids of Wilko" (1979), and "Man of Iron" (1981)—they all turned heads. In 2002, "Zemsta"—a stage play that translates in The Revenge and which revolved around the head of an aristocratic family scheming to marry wealthy widow—became a film hit in Poland. It reunited the director with a former struggling actor, Roman Polanski, who starred in Wajda's "A Generation" in 1955, and suddenly found himself weaved into the comedy of errors that was "Zemsta."
"It's a masterpiece," Wajda told me at the time of the film's release. "Aleksander Fredro's story is the best comedy in our literature. You can't find a single better written comedy in Polish than 'Zemsta.' Our national character colors all of our actions, in politics, in the decisions we are making as we prepare for entering the European Union, so basically, I thought that it was a good moment to film a great comedy that was also a national character study."
Wajda's final cinematic opus, "Afterimage," debuted at the Toronto International Film Festival in September.
In discussing films and filmmakers that sparked his imagination, he noted Orson Welles and "Citizen Kane." But other creatives inspired him.
"There are the great directors whom I consider my masters," he shared. "Bergman, Kurosawa, Fellini—they were the great directors in my formative years and when European cinema was in its heyday. Nowadays I am really interested in Scorsese's work and follow it closely."
Filmmaking shaped his character—and oftentimes changed it.
"You know, often I feel closer to the heroes of my films than I do to friends and family, probably because in my life, I've spent even more time with my film characters bringing them to life than I did with friends and family," he told me.
What did he love most about directing?
"Working with many people; having people around me. There are those who like to work alone, who like to, say, paint a picture alone, but I'm not like that. I like it when there are a lot of people around. I like to have them challenge me. I like to be in charge of a big group and I know that I can gain people's confidence. I'm in my element when I'm in a big group."
Calling all HuffPost superfans!
Sign up for membership to become a founding member and help shape HuffPost's next chapter
This post was published on the now-closed HuffPost Contributor platform. Contributors control their own work and posted freely to our site. If you need to flag this entry as abusive,
send us an email
.