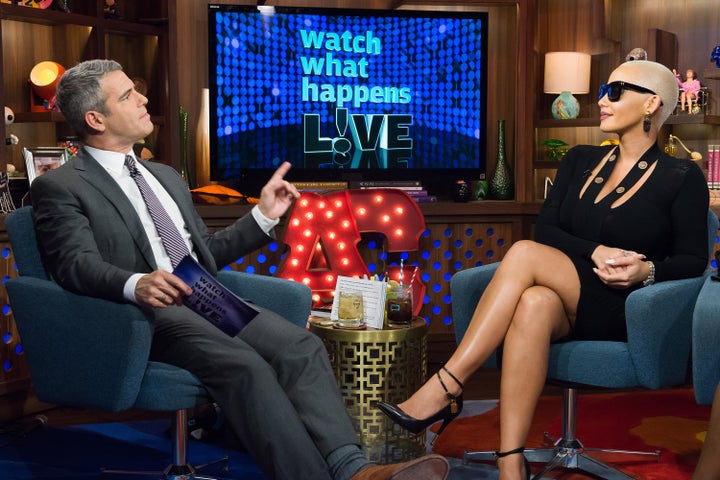 Andy Cohen is a man of many identifiers: Bravo mastermind, talk show host, Sarah Jessica Parker's BFF. But don't call him a #FingersInTheBootyAssBitch.
The Huffington Post caught up with the most talkative guy in late night at the Hillshire Snacking launch party in New York City. Cohen, a foodie in his own right, is a natural choice to partner with the new gourmet snacking brand that will up your picnic game to new levels. We even got a chance to share a tasty bite with the man of the hour and captured the moment in all its glory.
"It had to be explained to me because I don't get any of their connections," Cohen told The Huffington Post about Kanye West's Twitter war with Wiz Khalifa and their ex Amber Rose last week. Here's what Rose had to say:
"I actively don't care," Cohen said of the insult. "I just think it's interesting that it seems like sticking a finger up someone's butt is the biggest insult these days. That seems like a cultural sign of the times."
Cohen hosted Amber Rose on "Watch What Happens Live" back in 2015 and famously dubbed the Picasso of hashtags the worst "WWHL" guest ever for taking a hard pass on his Kardashian-themed "Plead the Fifth" questions.
"It's not my tagline, but I love Gizelle's from 'Real Housewives of Potomac' so much," he revealed. "It is maybe my favorite tagline of all time: 'Word on the street is that I'm word on the street.' I think it's so fucking genius. I cannot stop chuckling."
His other choice? "I didn't major in English but I know how to read."
As for the ever-expanding franchise -- "The Real Housewives of Dallas" is set to debut in 2016 -- Cohen could see it go on forever. Created as the reality-TV counterpart to ABC's "Desperate Housewives," "The Real Housewives" has had nine different domestic editions, and continues to inspire international installments in countries like Mexico, Sweden and Australia.
"We thought, 'What if we tried to do the reality version with a group of women who lived in a gated community in Orange County who are all neighbors and friends,'" Cohen said, describing the genesis of the series.
"I'm a big fan of the soap opera and somewhere in Season 2 of 'The Real Housewives Orange County' Jeana [Keough] announced to everybody that she was getting divorced and I thought, 'Oh my God, this is actually a soap opera now.' That's when I realized it could go on forever."