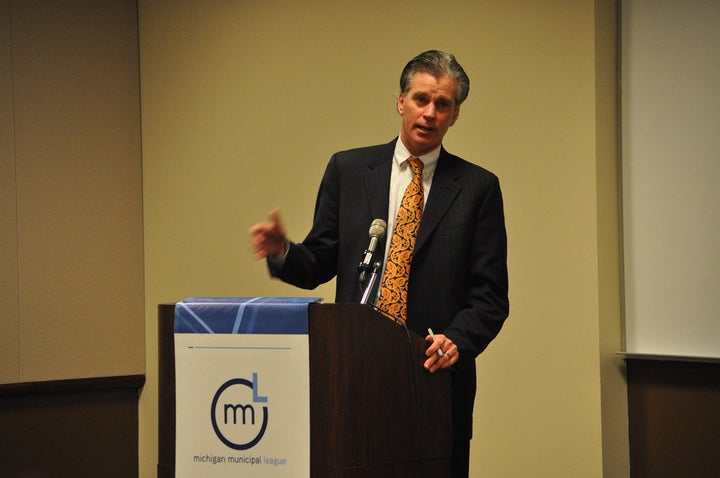 State Treasurer Andy Dillon announced Wednesday he would recommend Gov. Rick Snyder begin a full financial review of the City of Detroit.
Dillon's team determined Detroit was under "probable financial stress" after a quick 15-day preliminary review, the first step in the process of appointing an emergency manager for the cash-strapped city. Preliminary reviews can last up to 30 days.
UPDATE: 12:39 p.m. -- Detroit Mayor Dave Bing released a statement early Wednesday afternoon in response to the announcement:
As I've said many times before, this action was not unexpected. There is nothing in the findings released today that we or the state were not previously aware of and that we have been addressing. We will continue to fully cooperate with the review process. However, I firmly believe that the remedy to the city's financial crisis is my plan that seeks savings of $102 million for this fiscal year and $258 million in fiscal year 2012-13. Key components of my plan include structural reforms in health care and pensions, work rule changes and wage reductions. We will continue to negotiate with union leadership with a goal of forging an agreement soon.
Bing announced on Nov. 16 that the city would face a $45 million cash shortfall early next year. He has since called for union concessions and layoffs, as well as for the state to pay $220 million owed to the city under a past revenue-sharing agreement, as well as assist in collecting city income taxes.
Snyder and Dillion have said appointing an emergency manager should be considered a last resort. They have also floated the idea of a consent agreement, which would grant the mayor some additional powers.
Emergency managers are currently in place in Pontiac, Benton Harbor, Ecorse, Flint and the Detroit Public Schools. But opposition has been growing, especially in response to the impending appointment of an emergency manager for Detroit.
But for now Public Act 4 stands, and Snyder is likely to approve Dillon's request for a full review of Detroit. The review team will have up to 90 days to determine the city's financial situation, though a decision could be made sooner.
"As we have noted on numerous occasions, the longer it takes to address Detroit's financial problems, the more painful the potential solutions become," Dillon said in a statement.
Calling all HuffPost superfans!
Sign up for membership to become a founding member and help shape HuffPost's next chapter