(Video by Oliver Noble and Sam Wilkes)
If you're stark naked, a few blocks from the Empire State Building, and an agitated NYPD officer says, "You need to put underwear on right now, bro," the man you want by your side is Andy Golub.
Golub, a body painting artist, has been at this too long to get angry when a shocked cop tries to shut him down. New York City is one of few places where the law protects your right to involve nudity in art created in a public space, and Golub's legal battles over the last five years are infamous.
"It may seem adversarial," said Golub, Monday afternoon, after dabbing white paint on the penis, buttocks and thighs of a model, just in front of Macy's on 34th street, where Christmastime crowds famously gather to see the holiday window displays.
"But I don't have an adversarial feeling toward police. If there was a serious problem ... if I had a heart attack, if someone was attacking me, I'd go to the NYPD."
Still, Golub's confrontations with the NYPD, beginning in 2011, have been well documented. Zoe West, a model he's worked with, won a $15,000 settlement from the city after claiming she was unlawfully arrested, prompting civil rights lawyer Ron Kuby to proclaim, "the beauty of New York City is a naked girl can win a nice suit."
These days, working in Times Square is a breeze. Golub says he has an easy relationship with cops there. Painting nudes in front of the Guggenheim is also no problem. But when he came to the Empire State Building Monday afternoon, he knew he'd have to enlighten a few officers. This always happens when he works a new neighborhood.
"It's legal to do what I'm doing. Apparently, there are some people who don't know the law," he said, referring to the two officers in a squad car who pulled over and ordered him to stop.
Still, it's important to Golub that his models be absolutely naked. Free expression and body acceptance are at the heart of his work.
"People are preoccupied with the sexuality of the body," He said. "I'm trying to move the conversation beyond that."
A large crowd had gathered in Herald Square as he worked on Lakisha "Kiki" Alston-Owens and Rafael Aponte, who were soon both a rainbow of red, green, orange, yellow and white, punctuated by black lines, swirling across their bodies. She wore thongs -- the kind that cover your feet, not your genitals. He wore white socks and nothing else.
The cops were the only ones not enjoying the show.
"These guys seem a little agitated by it because I think they're a little offended by it," Golub says. "They have every right to feel that way. But the law says it's legal. There's nothing that they did that was inappropriate ... they asked for my paperwork and they asked to speak to their legal department.
"We're good to go and we can continue making art."
(STORY CONTINUES BELOW)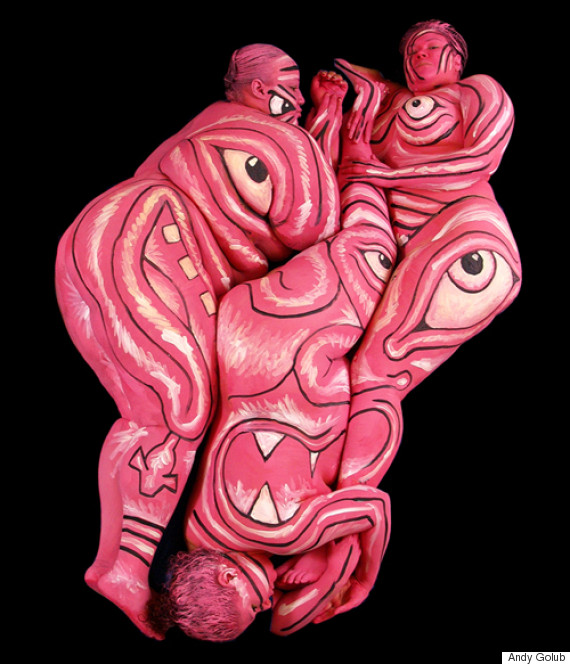 Golub's event at Herald Square was a small promotion for NYC Bodypainting Day on Saturday, when 75 artists are expected to paint 100 nude models.
At 4 p.m., artists and models will get to work at Dag Hammarskjold Plaza. They'll march to the United Nations and board double-decker busses for a tour of Manhattan. Golub organized the event for the second year in a row with the help of the Young Naturists America.
As they stood naked in front of Macy's, Aponte and Alston-Owens chatted with the huge crowds watching them in all their colorful glory, answering questions.
How does it feel to have your penis painted in public? "Tickle, tickle," Aponte said. "It feels wet."
Behind Aponte was a Victoria's Secret billboard, with a young, blond model, serving up a much different image of the human body.
"Society expects everyone to be thin and buffed out," said the 47-year-old Starbucks barista. "When you have an average Joe and an average Jane, everyone expects it to be wrong. It's not wrong. Look for yourself."
MORE PHOTOS: (STORY CONTINUES BELOW)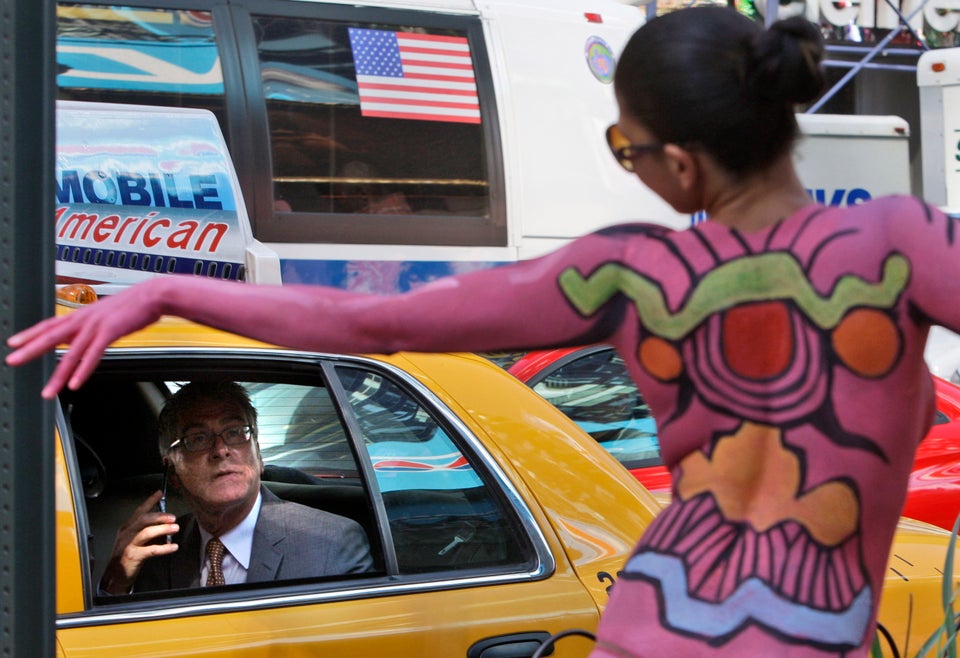 Body Painting
Alston-Owens, a plus-sized 41-year-old model, described herself as "a giant bag of melted Skittles," to one young person. She likes to break up any possible tension with humor.
"I know my stomach hangs low and I play peekaboo with my privates."
She later told a little girl, "The important thing to know here is that you should feel good about your body, no matter what you look like. It's your body. Enjoy it."
Before the show was over, another cop came over. This officer just wanted a picture. It was another victory for Andy Golub.
Listen to the Weird News Podcast for a full conversation with Golub, Aponte and Alston-Owens.
Our producer Katelyn Bogucki doesn't need body paint. She's already a work of art. Editor Jorge Corona and sound engineer Brad Shannon are our Picassos.
Have feedback or an idea for a segment? Email us.
Related
Popular in the Community