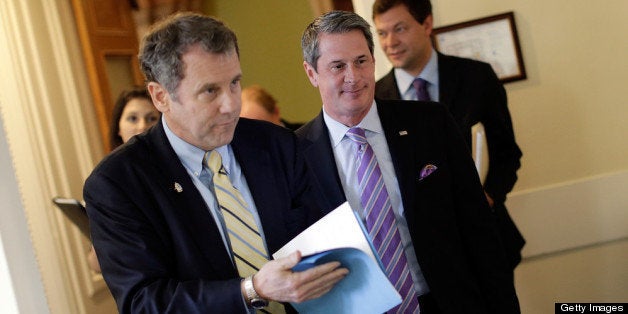 A senior Bank of England official influential in global policy debates has praised proposed U.S. legislation that would forever end the perception that the biggest banks are too big to fail, providing support for a bipartisan bill that forces the biggest American banks to either make themselves safer or shrink.
Andy Haldane, Bank of England executive director for financial stability, said legislation introduced by Sens. Sherrod Brown (D-Ohio) and David Vitter (R-La.) "has attractions" that may have long-term appeal. The bill, dubbed the "Terminating Bailouts for Taxpayer Fairness Act" and introduced April 24, would force banks with more than $500 billion in assets to fund at least 15 percent of their balance sheets with equity capital. If implemented, the largest U.S. banks would have to raise more than $1 trillion in fresh capital, on top of the tens of billions of dollars in capital they've raised over the past year to meet impending requirements.
The proposed legislation and Haldane's cautious support comes as policymakers in Washington and around the world target the phenomenon known as "too big to fail," or the perception that some banks are either so large or so important that government officials would never allow them to default on their obligations.
Three years after President Barack Obama heralded the Dodd-Frank overhaul of U.S. financial regulation as ending "too big to fail," policymakers ranging from Ben Bernanke, Federal Reserve chairman, to Tom Hoenig, Federal Deposit Insurance Corp. vice chairman, have conceded that "too big to fail" remains and that the largest banks continue to benefit from the perception.
"Despite enormous progress in developing policy proposals, too big to fail is an itch that remains unscratched," Haldane said in a paper dated April 9 that was made public on Thursday.
Community banks, represented by the Independent Community Bankers of America, have supported the Brown-Vitter bill as a way to end "too big to fail." Former regulators have publicly backed it, while some current U.S. regulators privately support it as well.
The level of support for the bill has alarmed the biggest U.S. banks, which vehemently oppose the legislation.
The U.S. Treasury has avoided publicly weighing in on the debate, though officials privately have said they oppose the bill because Dodd-Frank eventually will end "too big to fail." Most of the Dodd-Frank Act has yet to be implemented.
Haldane said the Brown-Vitter bill "is one of the most radical proposals to date."
"From a simplicity and robustness perspective, it has attractions," Haldane said. "At the same time, the Brown-Vitter proposals clearly raise a host of practical questions."
The bill's capital requirements are "sufficiently far north of existing capital standards that they are perhaps at best seen as a (possibly distant) long-term resting place, not a practical near-term objective," Haldane said.
His tepid support for the legislation, however, was paired with his support for proposals that would raise capital requirements for the world's largest financial institutions.
"It is entirely right that the official sector should continuously assess whether the financial system has adequate capital insurance to deal with too big to fail problems," Haldane said. "The emerging consensus, within academia, officialdom and among market participants, is that it has not."

Related
Popular in the Community