WASHINGTON ― On Friday, readers of the new morning email put out by Mike Allen awoke to a little nugget of news. "One of your favorites is getting their own MSNBC show," he teased in the subject line.
That new host was none other than Nicolle Wallace, a former spokeswoman for President George W. Bush and, later, the 2008 presidential campaign of John McCain and Sarah Palin.
New York magazine reported hours later that conservative activist and radio host Hugh Hewitt, already a regular contributor to MSNBC, was in talks with the network about a weekend show.
From outside, it might seem odd to see the premier liberal network veering right, even as liberals around the country are fired up to resist the administration of President Donald Trump.
But from inside, the news about Wallace and Hewitt was seen as just two more steps toward the full execution of the vision of Andy Lack, the NBC News executive who oversees MSNBC. He has made quite clear his plan to move the cable news network away from its bedrock liberalism and toward a more centrist approach personified by Brian Williams — even including hosts of a conservative bent, as typified by hosts like Megyn Kelly or Greta Van Susteren, who Lack brought over from Fox News.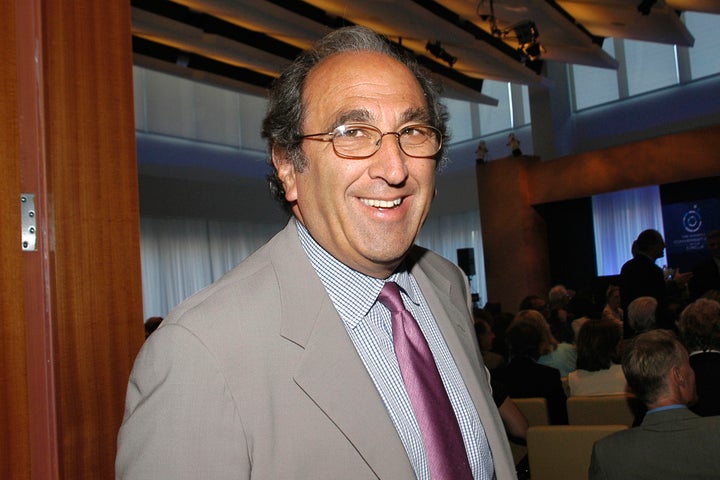 But Lack, in seeking to make this vision a reality, has an unusual problem for a TV executive: sky-high ratings. Since the election of Trump, MSNBC's liberal primetime programs hosted by Chris Hayes, Rachel Maddow and Lawrence O'Donnell have surged not just in ratings but in the share of the cable news audience they're capturing. In its earnings call on Thursday, NBCUniversal specifically cited the boost in ratings to "The Rachel Maddow Show" for a spike in profits. Maddow has been the top show on cable news in the key demographic for two months running, an inconceivable achievement at MSNBC.
Tossing those primetime hosts overboard while they're raking in viewership and revenue has so far proved an elusive task.
"Hayes, Maddow, O'Donnell ― the entire primetime lineup is doing record numbers and Lack can't stand it. It makes him furious," said one senior MSNBC source, echoing the sentiment of many other insiders who spoke to HuffPost only on the condition of anonymity. (An NBC spokesman said Lack is happy with the high ratings.)
The gap between the success of the primetime lineup and the investment of leadership in that very success has started to become public. O'Donnell, for instance, has the network's second-most watched show, but it gets little in the way of promotion, a point he made himself on Twitter last week.
O'Donnell's contract will soon be up for renewal. Keeping the second-best performing show is typically not in question at most networks ― but at MSNBC, it will test whether Lack gives into, or continues to resist, the energy of the resistance.
Lack has targeted the network's progressive programming since arriving at the network in spring 2015. He started with the daytime shows: Shows from Alex Wagner, Joy Reid and Ronan Farrow, as well as "The Cycle," were canceled and replaced by straight news. (At the end of 2015, my own contract with MSNBC, which ran for three years, was not renewed; I had no interaction with Lack.) Lack brought in Chuck Todd to host a 5 p.m. show. He canceled Al Sharpton's 6 p.m. show, and ran one from Bloomberg's Mark Halperin and John Heilemann in its place.
The Halperin-Heilemann program, which has since been canceled, was a hard-to-watch ratings disaster. Lack moved Van Susteren, formerly of Fox News, into the slot. That show has also been a ratings wreck. Across the board, shows that Lack has put his stamp on and moved to the center or to the right have not performed as well as the ones he has left alone, despite MSNBC's ability to get the media-industry press to write flattering stories about the network's "dayside turnaround."
"Every hour that Andy has not touched are the strongest hours on the network. Everything he has touched is lower rated," said one well-placed insider.
"Every hour that Andy has not touched are the strongest hours on the network. Everything he has touched is lower rated."
Van Susteren, for instance, looks like a pothole in ratings road. Typically, starting around noon and going until about 9 p.m., each cable news hour is more widely viewed than the one before. But Van Susteren actually loses audience from the hour before. Last Friday, for instance, Todd controlled a 21 percent share of the cable news audience at 5 p.m. Van Susteren fell to 17 percent at 6 p.m., losing more than 30,000 viewers. They come back at 7 p.m. for Chris Matthews, who pulled in a 26 percent share. Hayes kept 27 percent of the share and Maddow had 39 percent. The number dipped to 27 percent for O'Donnell at 10 p.m. (I have appeared frequently on all four shows, although presumably that will end following the publication of this story.)
The daytime side, which is the testing ground for Lack's theory that straight news is a stronger path forward, scores well below the progressive programming. In last Friday's ratings, it pulled in a share of between 15 percent and 16 percent. The total numbers are lower as well, but using share is a fairer comparison, because it accounts for the difference in overall audience size.
In an interview in December 2015, Lack was blunt about the direction he wanted to take MSNBC. He "explained why he has been toiling to re-brand MSNBC as a reliable provider of breaking news in contrast to its previous incarnation, personified by former anchor Keith Olbermann and other personalities such as Ronan Farrow, Joy Reid, and the Rev. Al Sharpton, as an outlet dominated by left-leaning hosts and pitched to like-minded viewers," The Daily Beast reported.
The goal, Lack said, was to get serious.
"Had we not made this turn to breaking news with seriousness of purpose, in these times and in this election, we would have been clobbered," Lack said. "As reasonable as that [discarded liberal] programming was for when it was created, we're in a long game now. … This is maybe the most interesting election of my lifetime. … The world has never been more dangerous in my lifetime." The bracketing of "discarded liberal" appears in the original interview, in which Lack lays out his plan to move more toward Williams and away from Maddow's politics.
Lack's plan helps explain the awkward coverage following debates and on election night, which often put Maddow and Williams on screen next to each other. It was not a portrait of a network bringing forward a diversity of perspectives. Lack appeared ready to move in one direction, but couldn't quite get his foot out of the other canoe.
Hayes, Maddow and O'Donnell have stubbornly insisted on soaring in ratings since the election. In the first quarter of 2015, "The Rachel Maddow Show" was ranked 26th among all cable news shows. It was the seventh most-watched show in the first quarter of 2017. "The Last Word With Lawrence O'Donnell" and "All In With Chris Hayes" were 37th and 38th, respectively. "Last Word" is now No. 11, and Hayes' show is coming in at No. 17. That's real growth, because it considers where they were previously, and accounts for the rise in audience across the board that came with the election and the Trump presidency.
Matthews, who airs at 7 p.m., has also seen a bit of a jump. Two years ago his show was ranked 30th, ahead of both Hayes and O'Donnell, and he's now up to 19th, behind both. While he is certainly a shade or two left of center, his show is more Beltway-friendly fare. In his defense, he is working from a deficit, as he follows Van Susteren and Todd, who come in at 30th and 28th, respectively.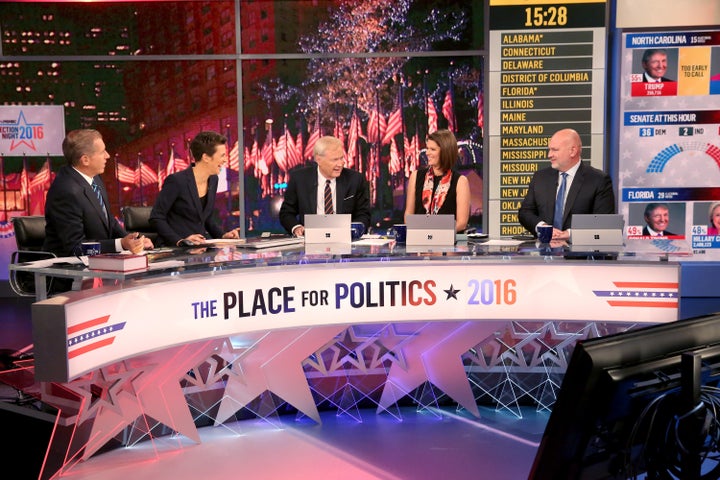 The daytime programming has shown some gains under Lack's leadership, even relative to other networks. But Lack may have misdiagnosed the problem that sapped MSNBC's momentum in the later years of President Barack Obama's administration. After the tea party wave in 2010, the Obama legislative agenda was stopped cold, leaving little for an audience to root for. But with Obama in the White House, there was also little to root against, which makes for terribly boring viewing. House leaders like John Boehner and Paul Ryan weren't villainous on a Trumpian level, and Republicans didn't capture the Senate until the 2014 midterms. Divided government with Democrats in the White House made for dull politics, and MSNBC's programming paid the price across the board.
"The Ed Show With Ed Schultz" at 5 p.m. was ranked 59th in the first quarter of 2015 in the key demographic, people between the ages of 25 and 54. Sharpton's "Politics Nation" clocked in at No. 49. The noon show hosted by Wagner checked in at No. 66, with mid-afternoon shows by Reid and Farrow at Nos. 82 and 85.
Van Susteren is doing better today ― ranked 30th ― than Sharpton did. But with bumps across the board ― see the rise for Matthews ― it's impossible to say whether a more resistance-themed Sharpton show would be doing better than that. Todd's show, meanwhile, has a better performance, with a rank of 28, than Schultz's did But, again, where would a rage-filled Schultz be ranking with all the rage directed at Trump instead of Obama, an audience favorite? (It's impossible to say: He's now at RT.)
Lack, according to a person close to him, was indeed concerned about primetime ratings in 2015 and 2016, as any executive would have been, particularly in the 8 p.m. and 10 p.m. hours. But he has become enthusiastic about the lineup as the viewers came back. Still, he believes that people want hard news and analysis during the day.
The strategy, while it might make sense at noon, falls apart the closer it gets to primetime. It helps explain Van Susteren's collapse at 6 p.m., and may swamp Wallace even as far back as 4 p.m. (A network spokesman said executives know new cable shows take a while to catch on with viewers, and are willing to be patient with Van Susteren.)
Lack's changes, insiders say, are motivated in large part by a desire to engineer the full resurrection of Williams. Deciding what to do with Williams, who had been exposed as a serial liar, was Lack's first major decision when he returned to NBC in 2015. The plan he came up with — to move the former star anchor to MSNBC dayside and breaking news — set in motion the chain reaction that has led to today.
Lack's decisions have gone a long way to change the look of the network, taking it from the height of diversity to what it is now. In 2014, HuffPost analyzed a two-week stretch of programming on MSNBC, Fox News and CNN to quantify the level of on-air minority talent, specifically looking at African-American talent. MSNBC was far above the competition, with 46 segments in that period that featured an African-American host talking exclusively to African-American guests.
That's gone. Under Lack, MSNBC has lost black and brown talent, including Wagner, Melissa Harris Perry, Touré, Dorian Warren, Michael Eric Dyson, Adam Howard, Jamil Smith, Jose Diaz-Balart (who now hosts a Saturday night show on NBC) and Tamron Hall. Other people who have been shown the door under Lack include Abby Huntsman, Ed Schultz and Farrow. In their place have arrived folks like Van Susteren, Heilemann and Halperin, Wallace, Hewitt, Stephanie Ruhle, Hallie Jackson, Katy Tur and Kate Snow.
Both Reid and Sharpton have been shunted to the weekends, although Reid appears frequently in primetime and as a substitute host. She hosts "AM Joy" from 10 a.m. to noon on Saturdays and Sundays.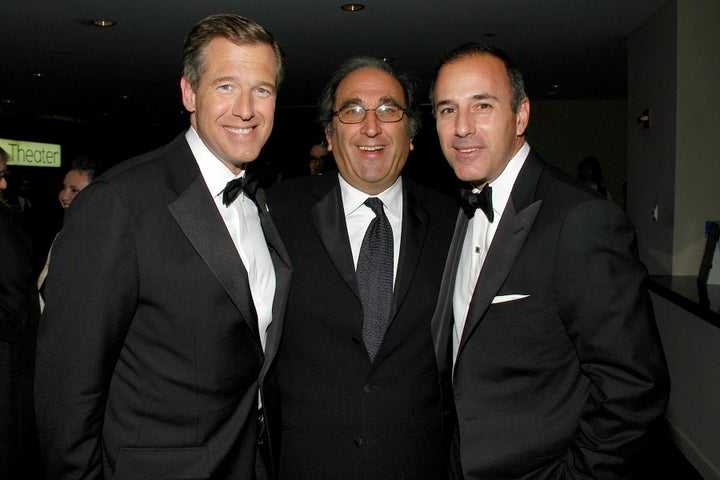 A February MSNBC press release boasting about ratings gains put "Morning Joe" on the top, noting it it had 849,000 total viewers. Scroll all the way to the bottom of the release, though, and you'll find a data point that doesn't do much to support Lack's vision of the enterprise: More people are watching "AM Joy" than the network's most celebrated morning program. On Saturdays, 981,000 people watched the program, and 810,000 tuned in on Sundays. That trend continues in other months, according to Nielsen data. "AM Joy" had 87,000 more total viewers than "Morning Joe" in April, and the weekday show slightly edged her out in the key demo. (Comparing a weekday morning show and Reid's weekend show is apples-to-oranges, an NBC spokesman says.)
Van Susteren may have beaten Reid by getting the coveted 6 p.m. slot, but Reid is still managing to generally beat her in viewership. Van Susteren's "For the Record with Greta" averaged 902,000 viewers.
Changing dynamics at the network became clear to the public when Perry made an internal critique early last year. "I will not be used as a tool for their purposes," she wrote in an email that was later made public. "I am not a token, mammy, or little brown bobble head. I am not owned by Lack, [Phil] Griffin, or MSNBC. I love our show. I want it back."
"While MSNBC may believe that I am worthless, I know better," added Perry, who is now a professor at Wake Forest University.
"That was the sign to me that things had really gone down the tube," said one former MSNBC employee. "A lot of us who had kept holding out hope kind of gave up."
Sam Geduldig, a GOP lobbyist whose hobby-horse is elite liberal hypocrisy on race, has been quick to flag the changing complexion at MSNBC as suggestive of a bigger problem. "Liberal media outlets love to lecture Republicans about diversity. It turns out they are totally white and apparently have no intention of hiring blacks or Hispanics," he said.
The perception that Lack has eviscerated nonwhite talent at MSNBC has affected the way some of his interactions with black staff at MSNBC are viewed. This past spring, Lack reportedly asked a black senior producer if she could connect him with the writer Ta-Nehisi Coates. "It was like Trump asking April Ryan to hook him up with the [Congressional Black Caucus]," said one employee. (We're withholding the name of the producer; a spokesman noted that Lack also asked Chris Hayes for Coates' contact info.)
During a call with bookers, Lack said to stop asking people he didn't recognize to be guests. And late last summer, in front of countless staff, he told the MSNBC crew that he had walked to the office with his son, and his son suggested to him that he needed a star to show up for internal events. "I don't have Drake. I don't have Miley Cyrus. But I do have Yvette Miley," he said.
It was a corny riff, typical of Lack, who is what Michael Scott of "The Office" would have become had he studied at the Sorbonne. Lack, after he arrived, had put Miley in charge of diversity hiring at MSNBC and NBC. "She was named head of diversity and he continued firing black talent," said one Miley friend.
A different executive with a different record may have been forgiven for all three episodes, but much of this has happened with Lack before.
One of Lack's first major moves when he became president of NBC in 1993 was to replace "Today" show host Bryant Gumbel with Matt Lauer, sources said. Gumbel is black, and Lauer is white.
"Andy pushed Bryant Gumbel out," said a source familiar with how the shake-up went down. Lack didn't fire Gumbel, but "he made him an offer he couldn't accept," the source said, a time-tested way of nudging talent out the door in the television industry. (Gumbel and Lack have since become good friends, the source added. And Lack replaced Williams with Lester Holt, the first black host of a Big Three news broadcast.)
"We've come so far from what this place once was. It was a wonderful place to be, and now it's just not."
Lack oversaw the launch of MSNBC in 1996, which was originally conceived as a 24/7 extension of NBC News, in combination with something or other from Microsoft. The new channel stumbled along for several years without an identity. Then, in 2003, Lack left NBC to become chairman and CEO of Sony Music Entertainment.
Shortly thereafter, MSNBC began drifting left. It was a similar environment to today, with liberal passion against the war in Iraq and its chief advocate, George W. Bush, peaking. Keith Olbermann tapped into the anger to become the network's first real star. Phil Griffin, Olbermann's executive producer, eventually rose to run all of MSNBC, and it is the shows put in place by Griffin that are performing the best today.
Olbermann used his show to create new stars, bringing on the previously obscure Maddow as a frequent guest. When Maddow got her own time slot, she did the same by inviting Hayes, Steve Kornacki and others who became fixtures on the network to be guests.
"This used to be the most amazing place to work, where I felt like my bosses, my colleagues, cared about me and cared about the world we live in," said one employee who remains, for the time being, on staff. "Now I feel like I'm in a stereotypical news network, like something out of [the 1976 movie] 'Network,' yet we're in the year 2017. We've come so far from what this place once was. It was a wonderful place to be, and now it's just not."
Wallace is replacing Kornacki, the Maddow protege. ("Steve Kornacki is a rising star of political coverage on both MSNBC and NBC news and his portfolio is going to continue to expand," an NBC exec said. "Phil Griffin considers Kornacki to have been a breakout star of the 2016 cycle.")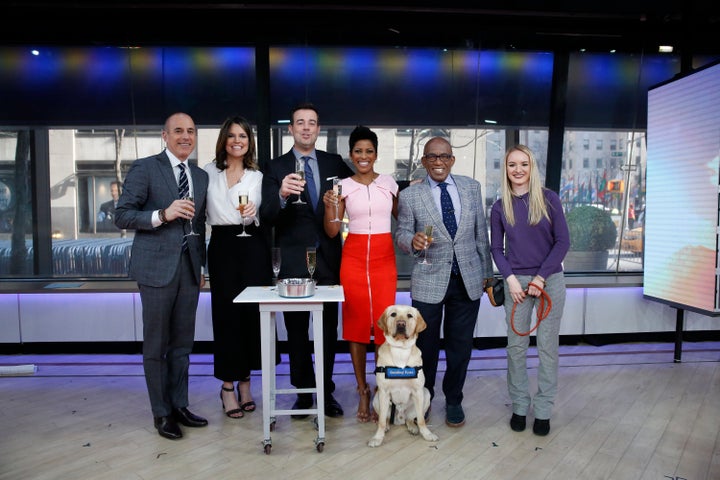 It must all look familiar to Tamron Hall. A longtime MSNBC host, she joined "Today" in February 2014, before Lack arrived. Sources said Lauer felt threatened by her rise; in any event, she suffered the same fate as Gumbel in February of this year. The network expressed sorrow at her departure in a written statement, but she did not make an on-air sign-off, a signal of the bitterness behind the move.
Hall, a widely liked and talented anchor, had also been hosting an overperforming daytime MSNBC show. All morning shows have sagged in recent months, and NBC's is no exception. But according to Nielsen ratings data, the show is down significantly since Hall left.
And who is Lack's ideal host to replace her?
Popular in the Community