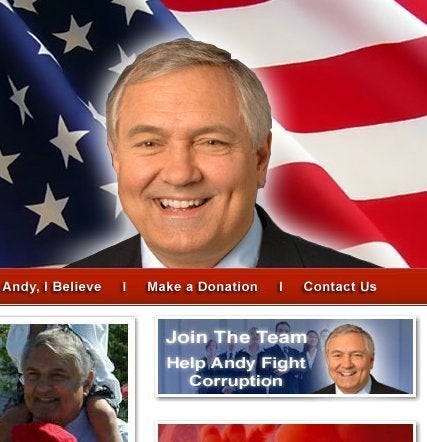 If there was any question whether or not the 2010 election season was heating up, it was dispelled on Monday morning when a Republican Senate candidate from Illinois released an ad questioning whether his primary opponent is a homosexual.
Andy Martin, a noted conservative dirty trickster, put out a spot on local radio in which he pushes a "solid rumor" that fellow Senatorial aspirant, Rep. Mark Kirk (R-Ill.), "is a homosexual."
"I helped expose many of Barack Obama's lies in 2008," the ad goes. "Today, I am fighting for the facts about Mark Kirk. Illinois Republican leader Jack Roeser says there is a 'solid rumor that Kirk is a homosexual.' Roeser suggests that Kirk is part of a Republican Party homosexual club. Lake County Illinois Republican leader Ray True says Kirk has surrounded himself with homosexuals."
"Mark Kirk should tell Republican voters the truth."
The seedy spot seems to take a page out the Karl Rove playbook -- in which allegations of homosexuality are pushed by innuendo and 'simple demands for the truth.' In a statement to a local Illinois station, the Kirk camp vehemently condemned and denied its content.
"The ad is not true and is demeaning to the political process. The people of Illinois deserve better," said Kirk campaign manager Eric Elk in a written statement.
Martin, it should be noted, is quite proficient in the art of political smear. He was profiled by the New York Times during the 2008 campaign as "The Man Behind the Whispers About Obama." His notoriety stems from his insistence that "Obama is a Muslim who has concealed his religion." The story went on to note that Martin had "filed so many lawsuits that a judge barred him from doing so in any federal court without preliminary approval."
Martin usually dismisses charges of hyper-partisanship by noting that he once was an affiliated Democrat. Certainly, the accusations he is currently leveling against Kirk suggest his interests have more to do with publicity and political advancement than any particular ideological agenda.
Accusing an opponent of being a closeted homosexual is the type of crass politics one sees as an election or primary day approaches. There is still well over a month until the primary election -- slated to take place on February 2 -- so expect this stuff to continue flying.
"The issue is not homosexuality, the question is hypocrisy; people are entitled to their privacy, they are not entitled to live public lives in the closet," Martin said in a statement announcing his ad.
UPDATE: With the likelihood quite high that Kirk will end up winning the GOP nomination, the Illinois Republican Party put out a statement on Monday condemning Martin's ad and accusing him of fabricating the charge of homosexuality.
The Illinois Republican Party disavows the statements made today by Mr. Andrew Martin in his statewide radio advertisements. His statements today are consistent with his history of bizarre behavior and often times hate-filled speech which has no place in the Illinois Republican Party. Mr. Martin will no longer be recognized as a legitimate Republican Candidate by the Illinois Republican Party.

In addition, it has been brought to our attention that Mr. Martin's sources are now denying any such statements or allegations. According to Raymond True, a leader of the Republican Party in Lake County:

"Mr. Martin did not contact me in any way before making his announcement. The comments attributed to me are completely false. I request through the media that Andy Martin cease and desist from making any additional statements that are incorrectly attributed to me."
Popular in the Community