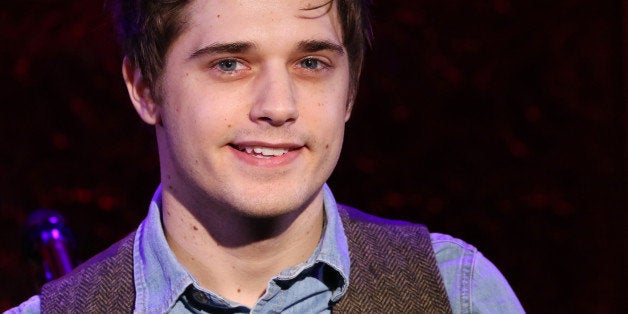 In many respects, Andy Mientus became a Broadway star in spite of himself. Although he can be seen as Marius in the current revival of "Les Misérables," the 28-year-old actor-singer preferred the likes of Bruce Springsteen and Johnny Cash over show tunes as a teen. His early turns in modern musicals like "Big River" and "Spring Awakening" allowed him to show off pop, rock and folk stylings not usually associated with live theater.
"I'm not from a musical family, we didn't go to musicals and didn't have those movies or those types of albums playing in our house," Mientus, best known for his role on NBC's Broadway dramedy "Smash," told The Huffington Post in an interview. "For a while, I thought that musicals were just a concert with a story. ['Les Misérables'] is the first time I've ever had vibrato onstage and gotten paid for it."
As it turns out, Mientus isn't the only "Les Misérables" cast member whose music collection isn't defined by the likes of Jerry Herman and Stephen Sondheim. The company's diverse talents have inspired a special Feb. 8 show, "The Cast of 'Les Miz' in Concert: Beyond the Barricade," at New York's 54 Below.
Mientus performs at 54 Below in 2013.
For two back-to-back performances, Mientus will join cast mates Caissie Levy, Kyle Scatliffe, Erin Clemmons, Andrew Kober and others for a set featuring pop, folk, bluegrass and soul. The night (which Mientus describes as "a little show-and-tell of what we really do" and "a schizophrenic mixture") will have a beneficent cause, too, with proceeds supporting Broadway Cares/Equity Fights AIDS.
"What's cool about our 'Les Miz' revival, I think, is that when they were casting it, they really sought to just cast the characters based on how they were portrayed in the original Victor Hugo novel without too much attention given to the voice type that people were used to, the skin color that people were used to or the physical type and age of actors that people were used to in these roles," he said. "Aside from being a benefit, the purpose of the 54 Below show is to give the actors a change to sing the kind of music that we sing in our own time."
The Feb. 8 shows are also a fitting parting gift for Mientus, who plans to perform "Helplessness Blues" by the Fleet Foxes. After a yearlong stint in "Les Misérables," he'll depart the musical on March 1 and is slated be replaced by his understudy, Chris McCarrell. Two days later, he'll reunite with "Smash" co-stars Jeremy Jordan and Krysta Rodriguez at 54 Below for "This Will Be Our Year," before he returns to Los Angeles, where he and fiancé Michael Arden, also a Broadway and TV star, currently reside. (As far as the wedding is concerned, the openly bisexual Mientus said he and Arden are aiming for "something small, intimate and personal" and while no official date had been set, the couple expects it will happen this year)
Mientus (left) says he and fiancé Michael Arden will marry later this year.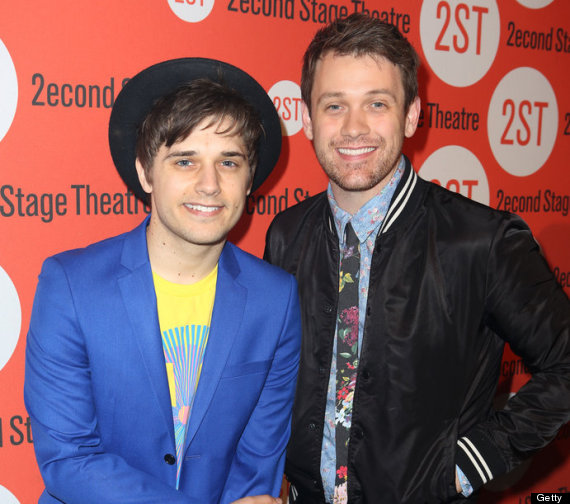 The California move makes sense for other reasons, too, as Mientus has had the good fortune of bouncing back between stage and TV roles over the past few years. Most recently, he starred in two well-received episodes of The CW's superhero series, "The Flash," as the Pied Piper, an openly gay and beloved villain from the original DC comic books.
Describing his two-episode arc as "a real crash course in the comic book world," Mientus is hopeful the character will return in future episodes.
"He's one of the only out [gay] characters in the DC Comics universe, and he's incredibly complex and really fascinating. He goes back and forth between his good and bad sides so you never really know what team he's playing for," he said. "Hopefully I've done the fans proud."
Calling all HuffPost superfans!
Sign up for membership to become a founding member and help shape HuffPost's next chapter