The wait at Wimbledon is over.
Andy Murray gave the fans on Henman Hill (or is it now, officially, Murray Mound?) at the All England Club the victory they have been hoping for as he became the first British man to win Wimbledon since Fred Perry in 1936. The 26-year-old from Dunblane, Scotland defeated Novak Djokovic in straight sets 6-4, 7-5, 6-4 in the 2013 men's singles final to ignite a celebration 77 years in the making.
"I hope you guys enjoyed it," Murray told the fans at Centre Court after his win. "I tried my best."
A year removed from losing in the final to Roger Federer, Murray showed incredible resolve against the world's No. 1 player. Despite trailing 4-1 and 4-2 in the second and third sets, respectively, Murray rallied both times en route to his historic straight set triumph. Djokovic, the 2011 Wimbledon champion, battled valiantly against Murray, the partisan crowd and the heat but could not add to his haul of six career Grand Slam titles.
"Congratulations to Andy. You absolutely deserved this win, you played incredible tennis," a gracious Djokovic said after the trophy presentations. "Congratulations to his team. I know how much it means to them. I know how much it means to all of you guys and the whole country. Well done!"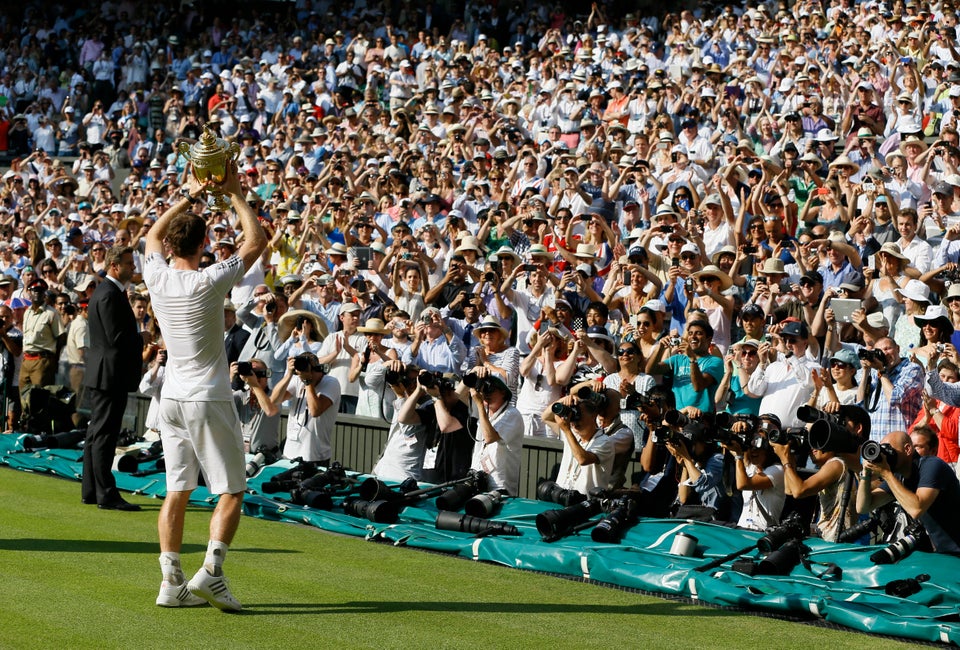 PHOTOS: Wimbledon Men's Final 2013
Although the early rounds of the 2013 edition of Wimbledon were defined by upsets that sent contenders like Federer and Rafael Nadal home early, the final was true to the tournament seeding. Top-seeded Djokovic survived a marathon five-set semifinal with Juan Martin Del Potro while the No. 2 and local favorite qualified by defeating Poland's Jerzy Janowicz.
Facing off for the fourth time in a Grand Slam final, Djokovic and Murray traded breaks of serve and combined for several grueling rallies in a match that lasted three hours and nine minutes. Entering the final, Djokovic's serve had been broken a total of six times but Murray broke it seven times, according to ESPN Stats & Info. Even as Murray closed in on the victory, quality of the tennis never suffered. In fact, the final game may have been the most thrilling of the entire match. Djokovic fought off three straight championship points and even earned a break chance himself before Murray finally clinched his victory.
"That last game was very, very challenging mentally, probably the hardest few points I've ever had to play in my life," Murray told Tom Rinaldi of ESPN after leaving the court.
Following his defeat to Federer in the 2012 Wimbledon final, an emotional Murray told the crowd "I'm getting closer." A year later, he has arrived. In the interim, Murray won an Olympic gold medal on Centre Court and followed that with his first career Grand Slam title at the U.S. Open.
"I learned. I learned from all of my defeats," Murray told Rinaldi when asked what had changed since that last Wimbledon loss. "I kept working hard. I had a great team around me, who always supported me. They helped me understand why I was losing these matches and how I needed to turn it around."
Popular in the Community