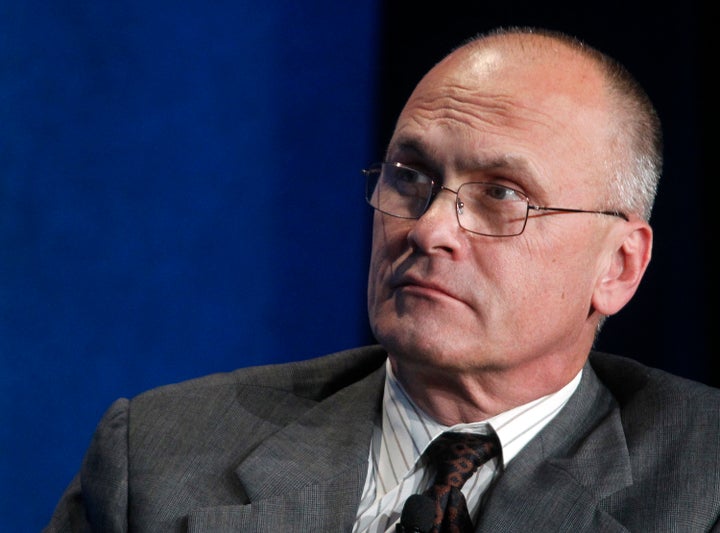 WASHINGTON ― Andy Puzder didn't work out as President Donald Trump's labor secretary, but the fast-food executive would fit in well on the president's communications team.
"When you've got The New York Times, The Washington Post, Politico, The Huffington Post and all the major news networks on [the left's] side, it's very, very difficult to get your message out there," Puzder said. "I think that's one of the reasons President Trump is so aggressively taking on the media and pointing out what they're doing, and I think he should."
"I think it's horrific the way they're treating this president," he added.
Puzder withdrew his nomination earlier this month, once it appeared he wouldn't have the necessary votes from Republican senators to be confirmed. He faced a slew of controversies at the time. HuffPost reported that he had personally employed undocumented help at his house, and Politico unearthed an old episode of "The Oprah Winfrey Show" in which Puzder's ex-wife spoke in disguise about domestic abuse.
The labor violations and disputes at his company, CKE Restaurants ― parent company of the Hardee's and Carl's Jr. burger chains ― had been well-documented in the run-up to his hearing, by HuffPost and others.
Puzder did not say which of the particular stories about him and his company's record were untrue, only that there had been a "rash of fake news." He singled out HuffPost and Politico as having "really very little regard for the truth," though he did not dispute any specific reporting.
The onetime labor nominee didn't address the controversies associated with him, but he suggested they would have all been brushed aside if he were more liberal and less of a free-market adherent.
"If I had supported the $15 minimum wage, Obamacare and the overtime rule, these issues wouldn't have come up, or they would have been laughed away," Puzder said. "When there's a campaign like this against you, it's very tough to overcome."
There was in fact a concerted campaign against Puzder's nomination. It was carried out by labor groups and Senate Democrats who argued that a fast-food executive should not be the top enforcer of the nation's wage and workplace safety laws. They claimed Puzder's record at CKE should disqualify him from the post.
Puzder described the pressure on his family throughout the nomination process as "tremendous." He said that a group of between eight and 10 protesters with the Fight for $15 movement showed up at his home in Tennessee, and that his wife received a letter in the mail that contained a white powdery substance. That, he said, necessitated a visit from the FBI and a hazardous materials team.
Puzder also said there was a vehicle driving around his Tennessee town with advertising panels on it accusing him of being abusive toward women. (Puzder has denied the abuse allegations, which his ex-wife retracted after appearing on "Oprah.")
"It was intended to intimidate me and my family," he said of the vehicle. "You have to wonder who paid for it."
Puzder told Hewitt his family encouraged him to stand his ground despite the public pressure.
"I stuck it out until the end and didn't leave anything on the field," he said.
After Puzder withdrew, Trump nominated Alexander Acosta to be his labor secretary. Acosta is the former head of the Civil Rights Division at the Justice Department and a former member of the National Labor Relations Board.
REAL LIFE. REAL NEWS. REAL VOICES.
Help us tell more of the stories that matter from voices that too often remain unheard.