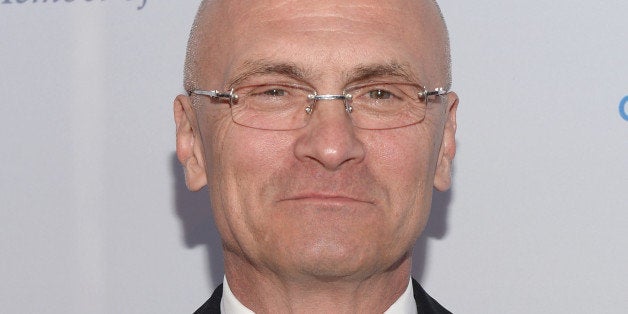 Earlier this month, Obama directed Secretary of Labor Thomas Perez to find a way to expand the number of workers eligible for overtime. Currently, if a salaried worker makes more than $24,000 a year and is classified as a supervisor, an employer doesn't need to pay him or her for overtime work. Many advocates expect the administration's plan would dramatically increase the amount, though the details haven't yet been worked out.
But simply giving low-paid managers more money, Puzder argued Tuesday, won't compensate for the "sense of accomplishment" and "stature" that they'd lose as a result of the proposed rules "demoting" them to "glorified crew members."
"Workers who aspire to climb the management ladder strive for the opportunity to move from hourly-wage, crew-level positions to salaried management positions with performance-based incentives," wrote Puzder, whose company, CKE Restaurants, owns Hardee's and Carl's Jr. "What they lose in overtime pay they gain in the stature and sense of accomplishment that comes from being a salaried manager."
The weekly salary threshold for overtime exemption hasn't been dramatically increased since 1975 (President George W. Bush pushed it up slightly in 2004), causing it to fall dramatically behind more quickly rising prices in recent decades, as shown below in the chart by the Economic Policy Institute: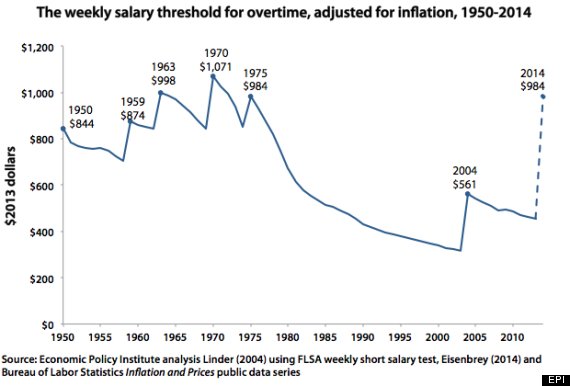 Comparatively, companies are required to pay hourly workers time and a half for every hour they work more than 40 per week.
Retailers, fast food restaurants, health care providers and others have been accused of using the so-called "white collar exemption" to squeeze as much as possible out of workers by calling them a manager, even if their job involves very little supervising.
"It sort of is galling for someone who is, say, a fast-food manager to be called a manager even though they may be doing things that a lot of other line employees are doing," Cathy Ruckelshaus, the legal co-director at the National Employment Law Center told HuffPost earlier this month.
Calling all HuffPost superfans!
Sign up for membership to become a founding member and help shape HuffPost's next chapter