If I asked you to go one day without your phone, could you? I know, it means that you can't constantly answer emails, post your dinner on Instagram, or keep your Snapchat followers up to date with a selfie as a dog, which strangely has become today's norm in 2016. What I'm saying is: literally look up and see what's around you. We're lucky to be surrounded by beautiful landscapes, such as national parks, in our American backyard that keep us active, healthy, and sane. Their views may leave you at a loss for words, but Andy Roddick, American former World No. 1 professional tennis player, can elaborate.
Andy Roddick joined the National Park Service (NPS) and National Park Foundation (NPF) to bring the magnificence of Redwood National Park to life at The University of Texas at Austin as part of the NPS centennial celebration.  This is a part of a new event series, Park Exchange, designed to bring parks to life in urban areas and demonstrate the diversity of national parks experiences to the next generation. 
"So much of our time is spent online looking at pictures.  You can't see national parks online; you can look at a picture, but it won't do it justice.  We have such a great thing at our fingertips; I think you can get in your car and drive to any national park," Roddick explained.
 
Through a Redwood Virtual Kinect Experience -- Roddick along with students and other guests -- transformed into a Redwood Tree in real time through interactive motion sensor technology and were projected on the iconic UT Tower.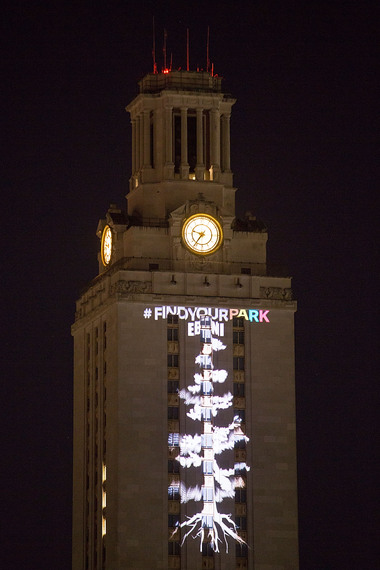 Former world No. 1 ATP player Andy Roddick experiences the "Redwood Kinect Experience" that allowed guests to transform into a Redwood Tree in real time through interactive motion sensor technology at National Park Service event as part of the #FindYourPark movement at The University of Texas at Austin. #FindYourPark (Credit Getty Images)
After participating in the experience, Roddick said, "I thought it was really smart with context because the tower and the Redwood are about the same size. The tower is this huge iconic building that you can see from all over the city and to give it that context to how massive a Redwood is was really impactful for people to see."
The event series is a part of the #FindYourPark movement. What does it mean to you? To most, it's your happy place. It's carefree, and the sights are always overwhelming, but in a good way. The feeling where you're stunned that something so massive, so beautiful, can exist in our busy world. Parks help you stay active and the views keep you motivated.
Roddick added, "Find your park means get out there, find that place that means something to you.  My wife and I spend a lot of our summers in the Blue Ridge Parkway up in the mountains in western North Carolina."
There can be a million things changing around the world, but the views you get from the parks, seeing the cultural icons of our country, they're never going to change.
One hundred years from now, Roddick only sees the vision of our national parks getting better. "It's important for people to utilize them, protect them, and preserve them for future generations. For me, the cool thing that I learned throughout this whole process is it's not just the national parks you think of such as the Statue of Liberty and the Gettysburg Battlefield," he added.
Avoiding the treadmill when at all possible, Andy believes that living and training in Texas was beneficial to himself as a tennis player.
Roddick explained, "For me a big benefit of living in Texas is the heat.  If I could train there, I could deal with the elements anywhere. It was important to do most of my training outside and quite frankly it's just more fun." Whenever possible, you could always find Andy outdoors.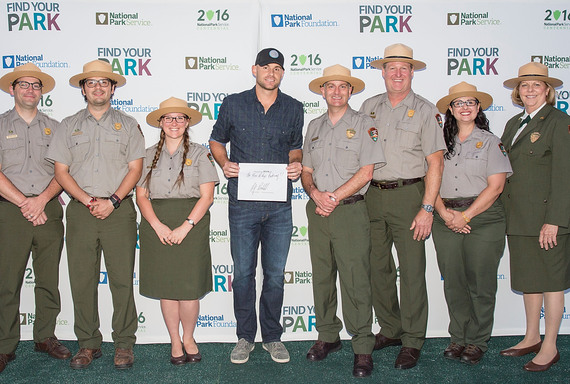 Former world No. 1 ATP player Andy Roddick poses with National Park Service rangers at the Park Exchange Event as part of the #FindYourPark movement at The University of Texas at Austin #FindYourPark (Credit Getty Images)
About his workouts post tennis, he doesn't train anymore, but continues to work out. Roddick told me, "Training is very specific, it's very organized, it's very structured based on weaknesses, things you want to improve. I don't have to be up at 6:30 a.m., it's a lot more relaxed. There's more hiking and more cross training as it's not as sports specific. I actually enjoy it a lot more now." 
Besides staying active with the help from the national parks, Roddick makes remarkable strides with his Andy Roddick Foundation. By partnering with Austin Parks and Recreation, by the end of the year the Andy Roddick Foundation will be serving approximately 1,500 kids daily in the out of school programs in the Austin area.
Roddick concluded, "I feel like a lot of the hobbies nowadays are of the sitting variety.  I think it is important to encourage kids and adults for that matter to get out there and be healthy." Get up, get active, and always enjoy the view.
REAL LIFE. REAL NEWS. REAL VOICES.
Help us tell more of the stories that matter from voices that too often remain unheard.