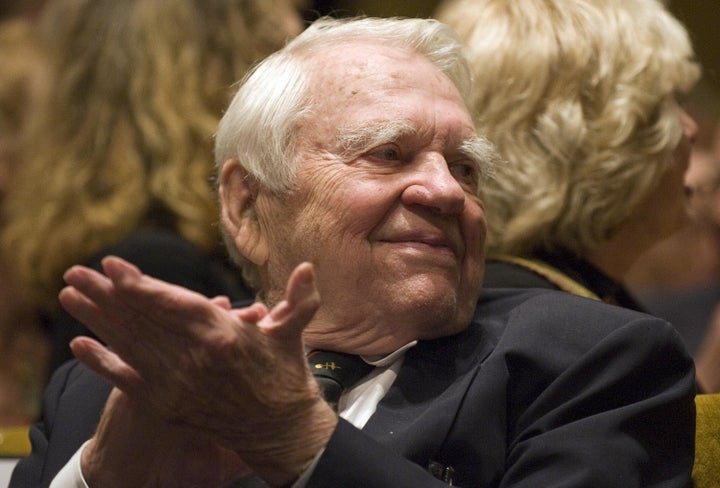 In case you haven't heard, your oldest living and still breathing employee is just about to exit the building. Are you as surprised as I am that he lived this long by this news? Me too! What am I going to have to look forward to every Sunday night after watching football all day long insightful segments about the national debt and healthcare woes that prove we are no smarter or better off today than we were when he started this gig back in 1978? It excites saddens me beyond measure to think the only person that makes more sense than me is finally giving up this job so I can step in heading into retirement. The last time I thought I had a shot at a gig so up my alley like this was when Irma Bombeck called it quits and I unfortunately was living in the middle of a tiny village in France without Internet access.
Did you ever notice that the minute someone mentions Andy Rooney's name, you can't help but hear his voice inside your head? Now that I've given you that earworm, please continue reading this as if he weren't talking to you.
It's not because I don't think there are probably two other highly qualified individuals who could step in and create their own niche in the "60 Minutes" family or because I deserve a shot at the big time more than they do, it just seems to me that after giving the stage to a more than talented and deserving man for 30 plus years from which he shared his unique perspective and hilarious point of view, it's about time to turn that time slot over to a talented and deserving female me. Hell, I'm 51 and based on the fact that my parents are still alive, I could probably give you 30 years or more myself. I'd only be 84 if you forced me into retirement after the same long tenure he enjoyed and could probably muster a few more boyfriends and one or two husbands between now and then years, if required. It's not like I'm going anywhere in my career or my love life. More importantly, I'm a woman. I'm deserving. And I'm funny, too.
In case you haven't noticed, there's not a whole lot of funny going on in the world anymore and someone needs to find a way to convey that in a humorous fashion. I'm pretty fashionable if I do say so myself. Have I mentioned I'm available funny? You should see my collection of lingerie and blog posts writing. I am prolific and probably the highest unpaid comedienne artist writer out there. I'd love the opportunity to contribute to the IRS CBS on a weekly basis. I wouldn't ask for much more than you pay him. My eyebrows are in order, so you wouldn't have to pay for any additional maintenance. I have a pretty nifty wardrobe and I wouldn't mind using Rooney's old desk to sell at auction later on save on expenses.
I'm certainly not as old curmudgeonly as Andy Rooney was when he started his career with you, but if given the right contract opportunity, I could surely start acting like the woman with the stick who people are afraid of every time they walk down the street next week and relocate to New York if necessary. I'd even be willing to show you my collection of old boyfriends essays that I have waiting in the wings to prove that everything I say is true.
As a side note, I'd like to say, "Thank you," to Andy Rooney for giving me more than 60 minutes of laughter over all these years.
Now it's my turn. May you continue to complain in peace.
Calling all HuffPost superfans!
Sign up for membership to become a founding member and help shape HuffPost's next chapter