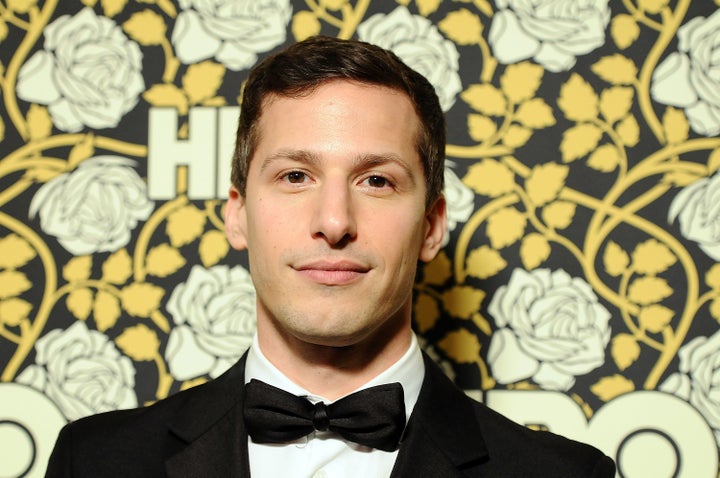 Actor and comedian Andy Samberg's career has grown up with the Internet. He was brought on to "Saturday Night Live" in 2005 after online shorts he produced with some friends (The Lonely Island, you might know them?) gained notoriety on YouTube. That talent was parlayed into "SNL" Digital Shorts, quick, catchy songs and skits that were perfectly primed for the rise of easily shareable content. Because of this, he's never really been in the public eye without thousands of critics and commenters tracking his every move.
"That's part of the job now," Samberg told The Huffington Post, calling in on a lunch break while filming Fox's "Brooklyn Nine-Nine." Since we're in the thick of awards season we wanted to ask the one-time Emmy host what he thought of helming a huge show during the live-tweeting age we live in.  
"It's harder to do anything in the public eye now, in terms of if you're worried about scrutiny or being judged negatively," Samberg said. "It's not as much of a free ride. If you're someone who's making film or TV or music, or any kind of art form now, there's a billion outlets and they all have an opinion." 
The equalizing nature of the Internet, where everyone can have an opinion and easily access millions more, has certainly changed the way we consume and discuss entertainment. "When I go home for the holidays, everyone in my family's talking about, like, 'What'd you think of "Carol"?' Well, it was no 'Mad Max,'" Samberg noted. "Why is my aunt talking about this? I didn't know she cared about this stuff." 
As for his Emmy hosting gig, Samberg teamed up with the writing staff of "Comedy Bang! Bang!" "I got to hang out with them for a couple weeks and just write stupid jokes about television. I can't think of a way I'd rather spend my time," he said.
And despite the potential scrutiny, it's a part of fame to which Samberg's willing to concede. "It evolves, just like everything else evolves, and as long as I get to be doing what I love, which is making comedy and that kind of thing, I feel lucky that I get to," he said. 
Samberg's been keeping busy doing just that, having reprised his role as Jonathan, the once-hapless backpacker who now has Dracula as his father-in-law, in 2015's "Hotel Transylvania 2." "With animation, I somehow manage to go even more over-the top than I do in live action," Samberg said of his process. "I often will just chug a bunch of coffee and go to town for a couple hours."
Plus, providing just the voice of a character offers a little more freedom. "It also really protects you as a performer because you get a million chances to do it," he said, noting the spaces of time that occur between sessions. "If you do something that didn't work, you get a second or third or fourth shot at it."
"Hotel Transylvania 2" is available on DVD. "Brooklyn Nine-Nine" airs Tuesday at 9 p.m. ET on Fox.
PHOTO GALLERY
Golden Globe Awards After-Party Photos
Calling all HuffPost superfans!
Sign up for membership to become a founding member and help shape HuffPost's next chapter