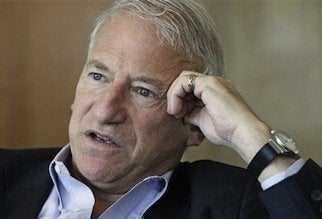 WASHINGTON -- Andy Stern, named to the deficit commission by President Obama to represent the interests of workers and organized labor, said on Wednesday that he would not be beholden to the movement he helped lead over his long career, which culminated with the presidency of the Service Employees International Union (SEIU).
Shortly after the deficit commission released its final report on Wednesday, the SEIU came out with a scathing statement calling for the rejection of what it called a "job killer." The AFL-CIO followed quickly on its heels with a similarly negative take. Stern is SEIU's president emeritus, a position that is well-compensated but includes few actual duties.
Stern, who is undecided, was asked by HuffPost if he could see himself voting for the plan in the face of strenuous labor opposition. "Could I see myself? Yeah. I was asked by the president to sit on this commission and sort of represent, you know, an interest," he said. "Obviously, they are very persuasive in my thinking, but I don't feel beholden to anybody in particular, including the president."
Stern said that he is concerned that the proposal doesn't make enough short and long term investments into education and job creation. He also said that his vote would partially be determined by whether it seemed that the commission's recommendations will get a full hearing on the House floor. That's an unlikely scenario, given that the proposal appears not to have the support of enough members -- 14 of 18 -- to clear the panel. Since the House, therefore, is unlikely to weigh in, by Stern's reasoning, he is likely to vote against it.
HuffPost asked Stern, if he was put on the panel to represent an interest, how he would justify voting for it if the interest he represents opposes it. That's a piece of an interest," he said of the AFL-CIO and SEIU. "There are many members of ours. There are many other organizations in town, there are many other considerations. But clearly, we have two competing problems: One is, if we do nothing, we see in every state around the country [that] ends up hurting working people, poor people and students. So doing nothing has one set of concerns and doing something has another set of concerns. So unfortunately, there is pain going on in this country and the only question is what's the best path forward."
Stern said that he intends to soon introduce his own deficit-cutting proposal.

Calling all HuffPost superfans!
Sign up for membership to become a founding member and help shape HuffPost's next chapter