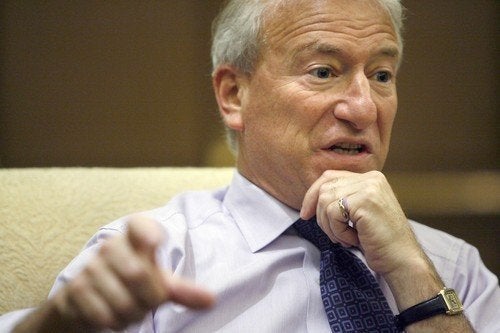 Service Employees International Union President Andy Stern, one of labor's most powerful leaders, is set to step down from his post, sources with knowledge of his decision tell the Huffington Post.
Since his ascension to his current position, Stern was able to expand his union into a 2.2 million-member force. In the process, he became a major player on the political scene and a close ally of the Obama White House.
But those close to him say he wanted to tackle different, more personal activities at this stage in his career. The passage of health care reform presented a sound achievement from which to depart from his presidential post. And while he was currently in the process of launching a third-party initiative in North Carolina -- to challenge those House Democrats who voted against health care reform legislation -- he was also growing tired of the daily grind, a source close to Stern says.
"Last night I received confirmation that Andy Stern is resigning as President of SEIU. He has not yet made a public announcement; we will share the details as we become aware of them," Sosne wrote in an email dated 11:35 a.m. Monday morning.
The circumstances through which Stern's pending retirement was announced have indeed been bizarre, catching several SEIU officials off-guard. Certainly, it doesn't appear to be the method by which Stern was hoping for the news to become public.
UPDATE: As is typical when powerful political figures abruptly leave their posts, Stern's departure has spurred speculation that he was compelled to leave by more than just a sense of proper timing. In an email statement sent to reporters on Monday evening, SEIU spokesperson Michelle Ringuette says, "Stern will address these rumors at the close of the SEIU Executive Committee meeting this week."
The rest of Ringuette's statement gives little hint as to what exactly those rumors are. Though she does note that during the EC meeting -- set to begin on Tuesday and last three days -- officials will be discussing "the union's future," its "plans for growth in our core industries," as well as the "work to reform the financial institutions that trashed our economy."
As multiple sources have noted, SEIU just settled a bitter California suit in which it accused the National Union of Healthcare Workers and its leaders of trying to "sabotage" their union and use its resources to start a rival organization. While Stern ultimately emerged victorious, it was not without cost: $10 million in legal expenditures resulted in a settlement for roughly $750,000. There was, naturally, criticism of the use of member dues for this venture.
Stern's term was supposed to be up in 2012, and there has also been some concern that the institutional structures he took the lead in building -- namely the labor coalition Change to Win -- are less than sound. Certainly, as the NUHW suit suggests, there have been grumblings and dissension from within, and more is rumored to come, despite the strict charter rules that prevent SEIU locals from defecting. That said, the natural successor for Stern's post, Anna Burger, currently heads Change to Win and is widely regarded as the leading institutional force within the broader umbrella organization.
One of the more out-there theories about Stern's departure is that he could be leaving for greener pastures, such as the Obama administration. This, however, is a scenario that one union source dismissed as hard to imagine. Certainly it would require Stern to relinquish an enormous amount of autonomy and power.
In the meantime, business goes on. In addition to attending the Executive Committee meeting, Stern is expected to be arrested on Friday during a protest of food services giant Sodexo in Gaithersburg, Maryland.
Popular in the Community