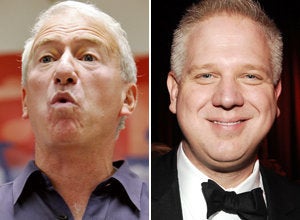 SEIU President Andy Stern sent a gift to his top media critic, Glenn Beck, this past week. And was soundly slapped down for his entreaty.
The labor leader, who is routinely painted as a communist leaning stooge of the Obama White House on Beck's program, sent the conservative talk show host a note and some SEIU paraphernalia via mail this past week.
"I had listened to him on the radio discussing with a caller how Obama wore a purple tie the day of the health care speech and how they both were deciding that that really meant he was sending me a signal," Stern told the Huffington Post. "So I went out and looked for purple ties but because Glenn had endorsed purple ties there were none to be bought. So I sent him an SEIU nurse smock. A purple nurse smock with a note that said 'there's no more purple ties available, but I thought you would appreciate this. This is what our nurses wear, some of whom helped you when you were in the hospital. And by the way, they support health care.'"
"I haven't heard back," Stern replied.
"You have to call him on his red phone," the Huffington Post replied, referencing the line that Beck often begs the White House to ring.
"I almost called him," said Stern. "But I knew... everybody would [metaphorically] shoot me...I was like riding on a stretch of road for four hours, driving and going to a union meeting in Massachusetts. And I was listening to this conversation -- it's all you can hear in upstate New York -- so I was listening to Glenn Beck, and it's like I'm going to call him and tell him. At first I was curious what he could say when they said 'Andy Stern was on the phone.'"
Stern might have decided against placing a call into the show. But the gift surely was sent. And received. Beck got the package on Wednesday. But instead of taking it for what it was -- a humorous effort at sparking some semblance of communication between the two -- he compared it to a mafia don sending someone a dead fish. He even offered Stern a gift back: a T-Shirt that said: "I just wanted to overthrow the government in the 1960s and all I got was this lousy t-shirt."
"Andy Stern wrote me that nice little note about the nurses," Beck said on his Wednesday show. "Let me tell you something, I talked to many of the nurses that treated me in the last couple of years when I've been in and out of the hospital. They want reform and so do I. the system is broken. But a public option, and especially one that is coming in the cover of darkness and crammed into our throat, like the Trojan horse, but it's not really a Trojan horse because it is right there... is not really the reform America is looking for."
The health care bill being considered by Congress, of course, no longer includes a public option.
WATCH: Beck responds to Stern's gift
Calling all HuffPost superfans!
Sign up for membership to become a founding member and help shape HuffPost's next chapter