This article originally appeared on artnet News. by Blake Gopnik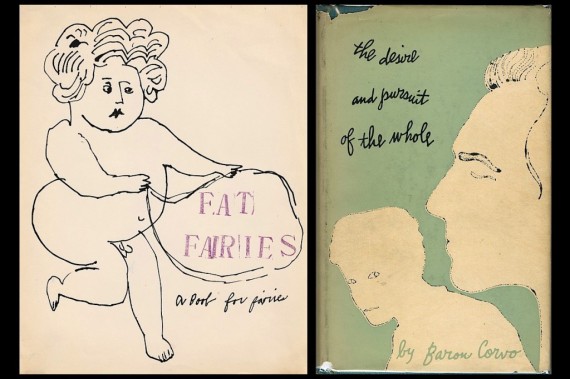 THE DAILY PIC: These two images are from the exhibition called "Warhol by the Book", which opened on the weekend at the Williams College Museum of Art in Williamstown, Mass., as a collaboration with the Andy Warhol Museum in Pittsburgh. (A smaller version will also travel to the Morgan Library in New York.) Today's two Pics are for book covers, one realized and one not, and capture one of the most important take-homes from this important show about Warhol and publishing: That Andy's work, especially in the 1950s, was deeply bound up with his being gay, and was usually best when it was gay-est. (When it's completely "straight", as with his children's book illustrations, it can often be undistinguished.)
The book cover at right was for a novel of Venice called The Desire and Pursuit of the Whole, written by Frederick Rolfe, the "Baron Corvo", in about 1913 and re-published in 1953 by New Directions Books, which used Warhol on a number of projects. In his forward to the volume, the gay poet W. H. Auden said that the book gives a view of the world "through the eyes of a homosexual paranoid." Warhol's cover gets at the subtle tensions involved in being gay in 1950s New York (or turn-of-the-century Venice): The two men in the image are close as they could be shown but, as it were, no cigar. As curator and archivist Matt Wrbican has discovered, Warhol gave a copy of the cover to his close gay friend Ralph "Corkie" Ward, with the smaller figure inscribed "This is a drawing of you."
The image at left, inscribed with the words "Fat Fairies: A Book for Fairies", is most probably a first idea for the cover of a self-published artist's book that Warhol finally produced as In the Bottom of my Garden – a reference to the song "There are Fairies in the Bottom of Our Garden", from the repertoire of the comic singer Beatrice Lillie, but leaving out the title's one crucial word. (Warhol once depicted Lillie.) The original cover idea may have been too direct even for Warhol's most intimate, and mostly queer, circle. Anyway, the circumlocutions, misdirections and obliquities that were forced on Warhol by his culture's homophobia led him to devise an art of glorious misdirection, circumlocution and obliquity, whatever its subject matter or audience. (Fat Fairies is from The Andy Warhol Museum, Pittsburgh, founding collection, contribution of The Andy Warhol Foundation for the Visual Arts, Inc., © The Andy Warhol Foundation for the Visual Arts, Inc.; Desire and Pursuit of the Whole is also from The Andy Warhol Museum, Pittsburgh, gift of Matt Wrbican)
--------------------------------------------------------------------------------------------------- artnet News is the world's first global, 24-hour art newswire, dedicated to informing, engaging, and connecting the most avid members of the art community with daily news and expert commentary.
Calling all HuffPost superfans!
Sign up for membership to become a founding member and help shape HuffPost's next chapter
BEFORE YOU GO
PHOTO GALLERY
Andy Warhol