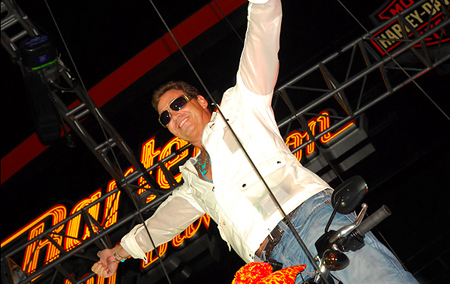 Tonight at Christie's in Manhattan, Andy Warhol's painting of a Campbell's Vegetable Soup can with a steel combination corkscrew-slash-can opener clamped on its edge is expected to fetch between $30 and $50 million at auction. His iconic Tomato Soup can (no opener) is projected to fetch between $6 and $8 million. And, although he won't be at the auction and has no vested interest in the outcome, artist Jack Armstrong is thrilled by this.
At any rate, in October when I last wrote about him, the Harley-Davidson that Armstrong had painted was to be unveiled at a gala event at Bartel's Harley-Davidson in Marina Del Rey, California. That night, he came gliding to the ground from 70 feet up in the air, suspended on a contraption rigged by Branam Enterprises. As he glided to a platform on the ground, (photo right by R. Nichols) the flashbulbs popped, everyone cheered and Armstrong, very obviously, loved every moment. Since that evening, he's decided, "It was the wildest ride of my life because, when you conjure a dream and see it come true, with hundreds of photographers from around the world taking photos of something you created, it's magic. It's beyond anything that anyone can dream."
The motorcycle, priced at $1.1 million, is something to behold. It is beautiful to look at and, as the viewer walks around it, is a constant source of surprise. It is not just something to look at. No, seeing the interesting texture in the way the paint was laid on, the viewer invariably has a strong impulse to touch it. The work has already drawn nine bids at that price and more are coming so that, in the end, it's sure to be a competition. Photos of the evening got worldwide play and Armstrong's assessment of what has happened since then is very honest.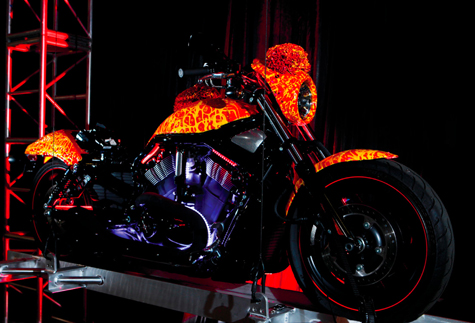 "Feedback," he notes, "has ranged from great, to good to plain ugly. But it is being talked about around the world. It will be the cover of Moto magazine in Russia. I'm getting calls from around the world, from South America, Europe, across the USA and we're expecting three offers from Dubai in the next few days. We have lots of people who want to show it -- Harley dealers, museums, casinos -- all sorts of places. As a result, the motorcycle will be allowed to find its true value. After all, once it's sold, it may be put away in a collection and disappear. We want it to be seen."
Armstrong calls his art Cosmic Extensionalism, an expression of the connection to the cosmos he's felt as long as he can remember. Wanting to be an artist, he arrived in New York in 1979 and, by accident one day in Bloomingdale's, met Andy Warhol.
"It was just neat to be a young artist accepted by the most famous artist of his time," he recalls with a smile in his voice. "Back then I was doing stuff that was way more splashy than I am now. But Warhol liked my painting and he liked me.
"During the time I was in New York," he continues, "I decided to destroy all the work I'd done and to paint only 100 paintings. Warhol told me that was a brilliant idea. He said, 'Kid, after I'm gone, you'll be the last wizard.'"
Why did he settle on 100? He explains, "100 is a mystical thing. Everyone wants to live to be 100. And, only 100 people on this planet will own a Jack Armstrong painting. The fact that there are only 100 of my paintings allows me to say truthfully that I never repeated myself and I never will."
The Wizard is just finishing the 100th painting now. Early next year, in Armstrong and his art will rock a 1960s hotel on the water in California whose management was so struck by the uniqueness and colors in his art, that they are renovating the property, changing the name to The Armstrong, and will use his art on the walls and, even, in the carpets. "I am thrilled," he says. "This is a first for any artist."
So, back to the beginning -- why is Jack Armstrong so interested in the Warhol auction? He says, "In 1962, when Andy first showed the paintings of soup cans, and sold them for $100, people were saying it was the end of art, that it was the worst thing that ever happened to art.
"This Harley-Davidson was the most exciting painting that I've ever done. Even though the canvas was metal, it was a canvas and this is a painting. I love the fact that people all over the world who have never heard of me or of Cosmic Extensionalism have heard of Harley-Davidson.
"This," Jack Armstrong says, "is my Campbell's Soup can."
Motorcycle photo courtesy of Jack Armstrong,
Popular in the Community