 Andy Warhol, the man behind Pop Art and a variety of other visual and oral art forms, was born on August 6, 1928 and would have been 86 today. Born Andrew Warhola, the artist didn't like to show his face much; instead, he turned his gaze to mundane objects, beautiful people, horrific scenes of violence and typically boring occurrences.
Many people remember Warhol's name for his famous silk screenings, while a slightly smaller cohort know him for his films -- think "Empire," an eight-hour static shot of the Empire State Building. However, Warhol was just as much of a filmmaker as he was a painter and silk screener, and made over 60 films throughout the 1960s, in addition to his many famous screen tests. Although much of his film archive isn't online or available to view in public, there are a few scattered clips across the Internet to give you a taste of what Warholian cinema was all about.
Dealing with issues of masculinity, eroticism, sexuality, boredom, beauty, excess, trauma and the progression of movement over time, Warhol's films are some of the most interesting experimental works from his time. Here are the Warhol films you've probably never heard of, but should know about:
"Chelsea Girls" (1966)One of Warhol's better know films with one of his long-time collaborators Paul Morrissey, "Chelsea Girls" was shot in the famous Chelsea Hotel. The film was presented in a split screen with two separate reels projected side-by-side and the sound audible from only one. It featured a handful of Warhol superstars, including Nico, Brigid Berlin, Ondine and Mario Montez.
"Blow Job" (1964)"Blow Job" is a silent film that shows DeVeren Bookwalter sitting on a couch supposedly receiving the titular sexual act from an unknown person. It has been speculated that the giver of the blow job -- never seen onscreen as the camera doesn't leave Bookwalter's face except when fading out between changing reels -- could be male or female, or possible multiple people.
"Sleep" (1963)Besides "Empire," "Sleep" is one of Warhol's best known experimental films. It features five hours and 20 minutes of John Giorno's sleeping body -- although Gerard Malanga has said, "'Sleep' runs approximately six-and-a-half hours of equivalent shooting time," and noted that Warhol duplicated many of the same shots.
"Vinyl" (1965)An adaptation of Anthony Burgess' "A Clockwork Orange," Warhol's "Vinyl" stars Malanga, Edie Sedgwick and Ondine in this experimental film that comments on the dichotomy of torture and the passive witness to said torture. The entire film exists online thanks to this YouTube playlist.
"The Nude Restaurant" (1967)Filmed in the Mad Hatter Restaurant in New York City, "Nude Restaurant" stars Viva, Taylor Mead, Allen Midgette, Ingrid Superstar and Louis Waldon all (mostly) naked wearing G-strings. Much of the film is Viva rambling on about various topics and Mead acting like his usual crazy, pants-less self.
"Lonesome Cowboys" (1968)Starring Viva, Taylor Mead, Eric Emerson and Joe Dallesandro, "Lonesome Cowboys" takes place on a ranch and satirizes the Hollywood western, adding a good amount of the homoeroticism found in much of Warhol's work. It also took home the Best Film Award at the San Francisco International Film Festival.
"Poor Little Rich Girl" (1965)Filmed in Edie Sedgwick's New York apartment, the film follows her around, giving a look at the life of a socialite. The viewer watches her get dressed, put her makeup on and talk to people off-camera. The first reel of the film was out of focus and Warhol reshot it, but ended up keeping much of the original unfocused footage.
"Outer and Inner Space" (1965)"Outer and Inner Space" is one of the most interesting of the Warhol experimental films, as he uses repetition and layered images even more blatantly here than in much of his work. The 16mm film is projected with a split screen, two reels side-by-side. In both reels, Sedgwick sits in front of a TV screen, on which her previously recorded self is projected. Watching the film is like watching four Edies talking and reacting to herself. Cue hypnosis.
"The Life of Juanita Castro" (1965)An improvised film about Fidel Castro's sister Juanito and her conflicts with her brother, "The Life of Juanita Castro" was written by Warhol's collaborator and playwright Ronald Tavel. The actors in the film never learned their lines so Tavel also acted in the film as the onscreen director, shouting out lines and directions to each of them.
"Mario Banana 1" (1964)Gay icon Mario Montez appeared in many of Warhol's films and starred in "Mario Banana 1," in which he slowly and seductively eats and licks a banana.
"My Hustler" (1965)Warhol's "My Hustler" stars Paul America as a young, blonde male prostitute on Fire Island. The film subject stood out at the time for giving a genuine and unapologetic look at gay lifestyles. Bonus: There's a Part Two.
"Bike Boy" (1967)"Bike Boy" features Joe Spencer as the primary character and opens with close up shots of his body and upper torso as he showers. The film then follows him through various conversations with gay clothing salesmen, a florist and other figures played by Viva, Brigid Berlin and Ingrid Superstar.
"Kiss" (1963)"Kiss" is a 16 mm black-and-white film running 50 minutes, featuring various people kissing, including starred Naomi Levine, Gerard Malanga, Rufus Collins, Johnny Dodd and Ed Sanders.
"The Velvet Underground and Nico: A Symphony of Sound" (1966)Warhol recorded The Velvet Underground playing in his Factory in this 67-minute film. Nico's son can be seen crawling across the stage as they play, and at the end of the film the performance is broken up by cops, but Warhol keeps the camera rolling.
"Flesh" (1968)Written by Paul Morrissey, "Flesh" stars Joe Dallesandro as a New York hustler and follows his day on the streets. The film also includes other Warhol superstars such as Jackie Curtis, Patti D'Arbanville, Candy Darling and Geraldine Smith.
"Eat" (1963)For a full 45 minutes, "Eat" watches pop artist Robert Indiana simply do that -- eat. It has been said that Indiana is eating a mushroom for the duration of the film. There is also an appearance by a cat a one point.
"Beauty No. 2" (1965)"Beauty No. 2" is the better known film of his two-part "Beauty" series and stars Sedgwick, Gino Piserchio and Chuck Wein talking in a bedroom.
Bonus: "Warhol Eats A Hamburger" (1982)Technically, this is not a Warhol film, but it's so great that you need to know about it anyway. Warhol makes an appearance in Danish filmmaker Jørgen Leth's "66 Scenes from America," in which he eats a Whopper cheeseburger for four minutes. If this sounds familiar, it's probably because you saw Macaulay Culkin's parody, in which he eats a slice of pizza.
Related
Before You Go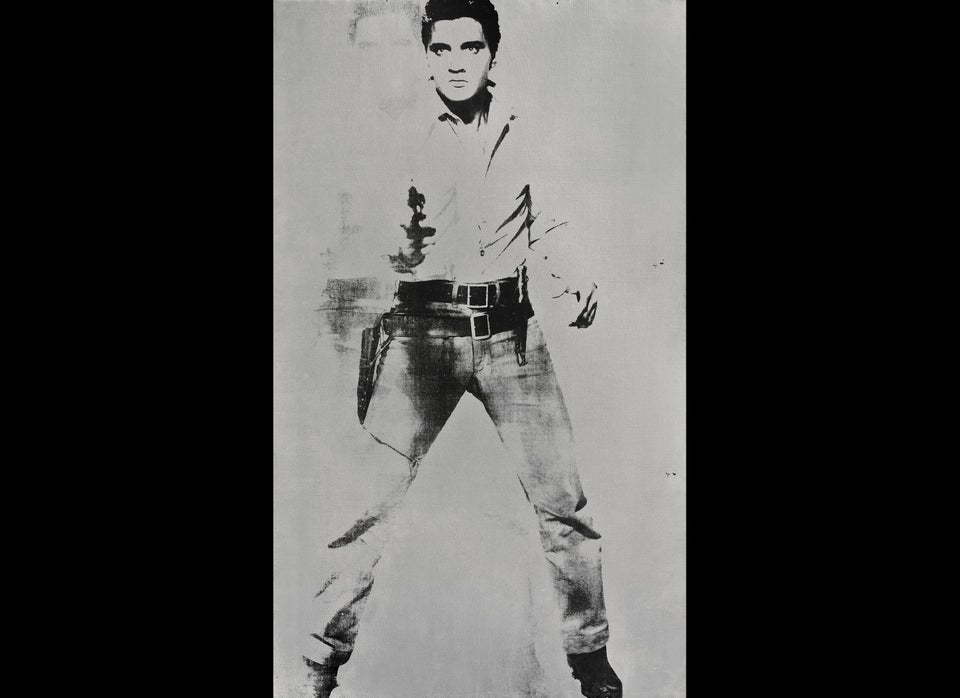 Andy Warhol
Popular in the Community