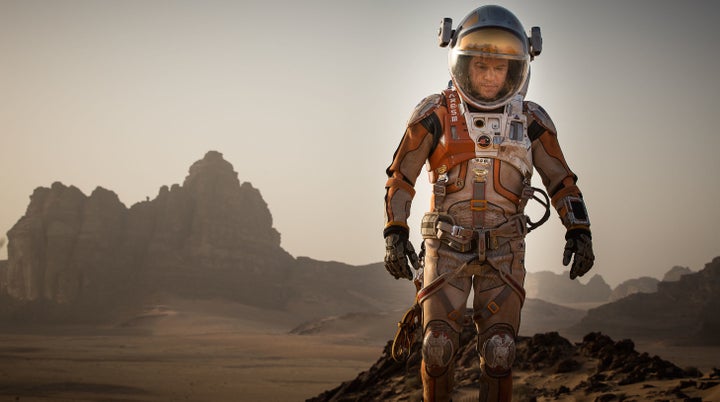 Fans of The Martian author Andy Weir have a few reasons to be excited these days.
First off, the film adaptation of his 2011 sci-fi novel -- which tells the tale of an astronaut named Mark Watney who finds himself unexpectedly marooned on Mars -- is up for several awards this year. Among them are Golden Globe nods for Best Motion Picture - Musical or Comedy, Best Director (Ridley Scott) and Best Actor (Matt Damon).
Second, the computer programmer-turned-author is writing another book.
And yes, according to the author, worshippers of Weir's witty and obsessive writing style -- a delightfully disciplined take on sci-fi storytelling that strives to be as accurate as possible while maintaining a light-hearted narrative -- can start counting down the days until his next title.
Weir's upcoming book is set to take place in a city on the moon, and -- I'm pretty excited about this bit -- will center on a female lead. While Weir was decidedly vague on the details of his next work, he teased a late 2016 or early 2017 release. Mark your calendars accordingly.
Here's more of what Weir had to say about his new book, the alternate film ending of "The Martain" (SPOILERS AHEAD for those who haven't yet seen the movie), and his advice for self-publishers looking to follow in his footsteps.
I read your book twice, and saw the movie. Both were fantastic, though I sincerely appreciated the way you wrote Watney's incredibly detailed survival schemes on Mars -- some of which were condensed in the feature film. Were there any moments from the book that you were sad to see not represented in the film?
The main thing that I wish had made it into the movie was the Aquaman joke. That was the one thing I wanted to be in there. And it didn't make it. [Editor's Note: Weir is referencing a log entry from the book on Sol 61 that reads: "How come Aquaman can control whales? They're mammals! Makes no sense."]

[Laughs] That's it? Were there any other plot points that you missed?
Well, they had to abbreviate some of the science, but it was accurate. Even if they didn't go into as much detail, the results were accurate. Really, they took out the parts that I would have taken out.
How about the ending? The way you ended Watney's story in the book was hopeful -- he accomplished what he set out to do, make it back to his crew -- but he hadn't made it to Earth yet. How did you feel about the movie bringing Watney home and giving him a complete ending?
I knew they didn't want to end with the ending in the book. They wanted Watney back on Earth. There was a lot of back and forth, but I think the way it came out is pretty good. There's closure. And the message is that the machine rolls on.
Could you envision Watney as an instructor?
Watney would never want to go into space again. With his personality, he would never want to do that again. And almost all astronauts end up working at NASA in some way, as instructors, or in the administration. Watney was a botanist, so he could have gone into a research position. But an astronaut trainer is a really good role.
Why did you choose to end the story as you did?
I don't like dragging a story too far beyond its climax. When the story is over, you don't want to have too much additional information. You want to leave your reader wishing for more. Not thinking, "When is this going to end?" In order to show him back on Earth -- and this is maybe easier to do on film than it is in a book -- I would have had to have an eight-month later skip ahead, just to then have one scene on Earth. That would have been a huge time discontinuity for one additional scene.
The implication of my ending was that this is a lighthearted story. And it's straightforward. So after he reunites with his crew, you can presume Mark gets home, with no significant problems.
While there was a hint of a love story between some of Watney's crew members [Beth Johanssen and Dr. Chris Beck], Watney had no love interest -- in both the book and the movie. Was this a deliberate decision?
Not quite. Well, Watney had plenty of motivation to reunite with his crew -- he was trying not to die. This guy did not want to die. So he didn't need further motivation to survive. You know, no "I have to survive so I can raise my daughter" or any crap like that. I didn't need to show him pining away. I didn't want to make it too deep and introspective of a story. I wanted to keep it lighthearted.
You mentioned in previous interviews that you are working on a new book, Zhek. How's it coming?
Well, it's been back-burnered. I'm actually working on a different story idea -- about a city on the moon. There are a bunch of benefits [to writing this book] over Zhek, one being that this book will be all rigidly sci-fi again. In Zhek there was going to be faster-than-light travel, aliens, and telepathy, but this book, with the moon city, it will have all real technology.
Are you embarking on as vigorous fact-checking and research that went into The Martian for this new book?
Absolutely -- I've got a lot of contacts at JPL [Jet Propulsion Laboratory] and NASA. I'm friends with a lot of astronauts now, which is pretty cool. I can call them, and say, "Hey, I've got a question about a largely unknown sub-compartment on the International Space Station. Can you help?"
Will this new book center on one character's journey, similar to The Martian?
There's one central character. A female character. I'm a little nervous about that because I've never written a female character, and I hope it comes off as believable.
Is there a timeline for the book?
I am catastrophically behind on my obligations to Random House because of promoting ["The Martian"]. It will either be late 2016 or early 2017.
Are you still working as a programmer at all?
No, I quit my day job about a year and a half ago, as soon as I realized The Martian would make enough money. Being a writer has always been a dream of mine, but I will say, I liked my day job. Being a programmer was fun.
Do you have advice for the self-publishers out there?
Yes. First, you have to actually write. It's easy to imagine a story and think about plot points. But until you're putting words down on paper, you're just daydreaming. When you start physically writing, you start realizing problems with your story. You might have been thinking of this awesome backstory, but that's going to take 40 pages to describe, and that might be boring. So once you start writing, you'll find the problems.
Second, resist all urges to tell your friends and family your story or ideas. The reason is that most writers -- I am, certainly -- are motivated by a desire to have an audience. You want to have other people read your story and experience the things that came out of your imagination. But if you tell them your story before you write it, that satisfies your need for an audience. And you might not put it to paper just yet. Make yourself a rule: that the only way people will experience your story is by reading it.
Finally, there is no better time in history to self-publish. It can cost you literally nothing, if you use services like Amazon or Barnes & Noble. There's no old-boy network between you and your readers. It can be a pure meritocracy. The only risk you're taking is the time you spend on the book. But theoretically, you wanted to spend that time anyway, because you love writing.
This interview has been edited and condensed for clarity.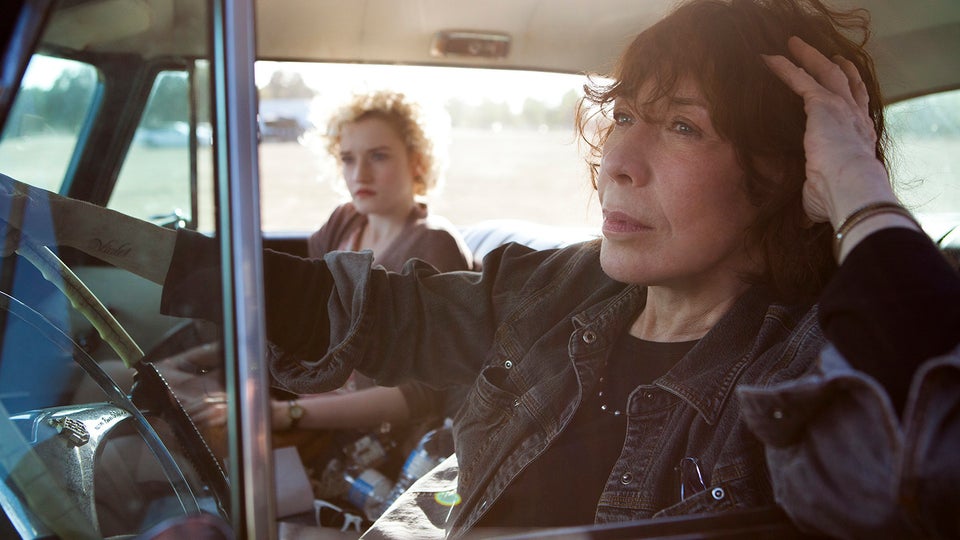 Best Movies of 2015
Related
Popular in the Community