From evoking emotion to defining a turbulent time, costume designer Ane Crabtree assures us that the "Masters Of Sex" costumes are more than just period pieces.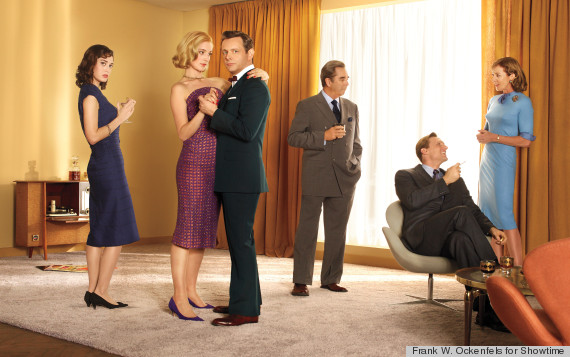 "The history is told through the clothing," Crabtree says, while naming Alfred Hitchcock and Federico Fellini as influencers of style for the show. "They both had a gift for creating characters who still stand today as modern human beings...I'm hopeful that someone will be able to look at my work and lose themselves in the character without feeling the distance between the past and the present."
Let's take a look at how Crabtree approaches costume design for each of the show's main characters below.
Dr. William Masters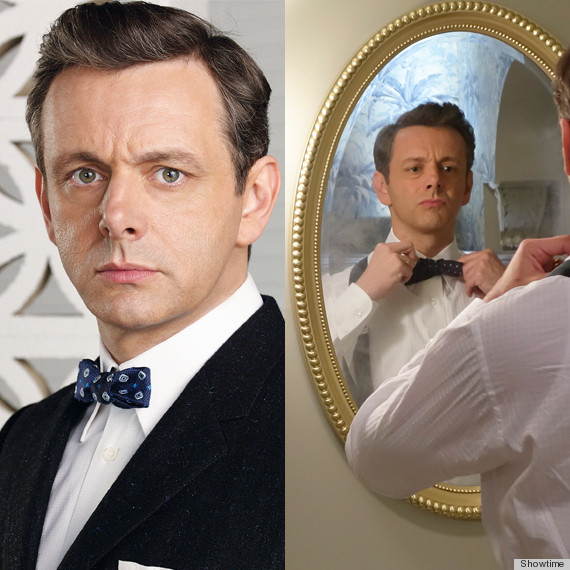 Left: Frank W. Ockenfels for Showtime, Right: Michael Desmond for Showtime
There are two words that best describe Bill's look: bow tie.
"The importance of Bill's bow ties is layered," Crabtree says. "It's a punctuation mark, literally and figuratively, as a costume point, [but also a] 'Caution: Do not cross' mark between his face, emotions, expression and his language or words with which to communicate. Once the bow tie is on, it's difficult to get to Bill Masters."
The accessory also holds historical significance. "Estabrooks Masters, Bill's mother, made all of his bow ties from a young age up until I think the '80s. Because of the close collaboration with Michael Sheen, it was very important for him that I make his bow ties -- that we didn't just purchase them," Crabtree adds.
Libby Masters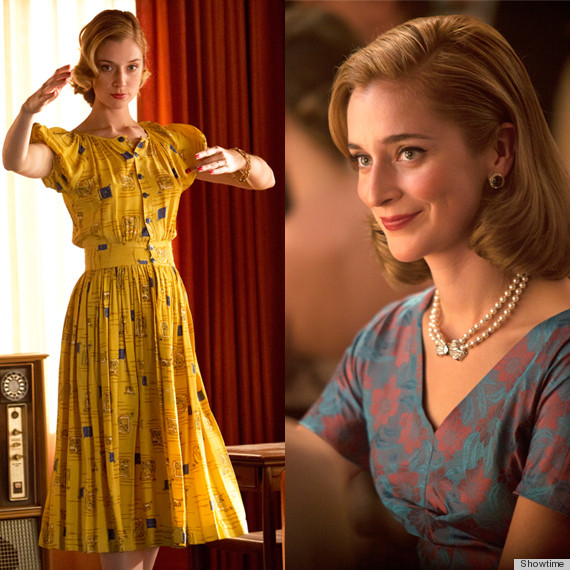 Left: Michael Desmond for Showtime, Right: Craig Blankenhorn for Showtime
Libby Masters begins season two with a new role of sorts and the wardrobe tells it all. "For instance, we might see her as someone with more independence and freedom, meaning lean trousers and full bateau tops and/or sweaters may take the place of the polished suburban looks," Crabtree says, which is a major departure from the cocktail dresses we're accustomed to seeing Libby wear.
Virginia Johnson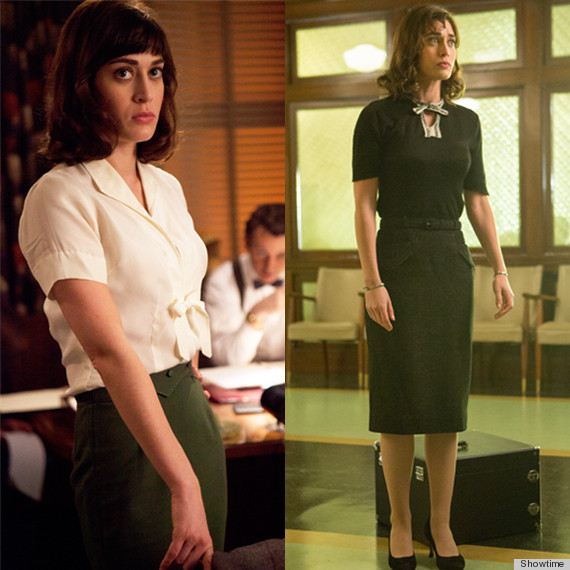 Left: Craig Blankenhorn for Showtime, Right: Michael Desmond for Showtime
And what about the female professional, Virginia Johnson?
Virginia's climb to success separates her from other women on the show, so Crabtree uses costume to enhance that distinction. "It's very important to visually set her apart from the rest of the women in the environment," Crabtree explains. "She is an iconoclast, a rare gem that stands alone -- in her profession, psychological makeup and in her clothing."
Tune into "Masters Of Sex" this Sunday, July 13 at 10 PM EST and watch the video below to learn more about the show's costuming.
CORRECTION: A previous version of this feature listed two different dates for the season premiere of "Masters Of Sex."