In order for Aneesh Sheth to find her voice as an actress, she had to walk away from show business first.
Sheth, who is transgender, can currently be seen in William Shakespeare's "Twelfth Night," which is being performed at various venues in all five New York City boroughs as part of the Public Theater's Mobile Unit. In the beloved comedy of mistaken identity, the 35-year-old plays Maria, servant to the wealthy countess, Olivia (Ceci Fernandez), who falls in love with Viola (Danaya Esperanza), disguised as a man. She says the production, which opened April 27, is everything she's "hoped and dreamed for," particularly since she's getting the chance to inhabit a role traditionally played by cisgender women.
"When the opportunity came up to do this, I was absolutely terrified. I've never done Shakespeare before," Sheth told HuffPost. Now that performances are underway, however, she said she feels "very, very blessed to be able to do this show for so many people and see the way that different people and communities react to it."
"Twelfth Night" marks Sheth's second Public Theater stint. In 2016, she starred in the acclaimed bluegrass musical, "Southern Comfort," about a group of transgender friends who gather to support a dying trans man (played by Annette O'Toole). Between "Twelfth Night" and "Southern Comfort," Sheth is now finding steadier work as an actress. When she began her transition in 2008, however, it was a much different story.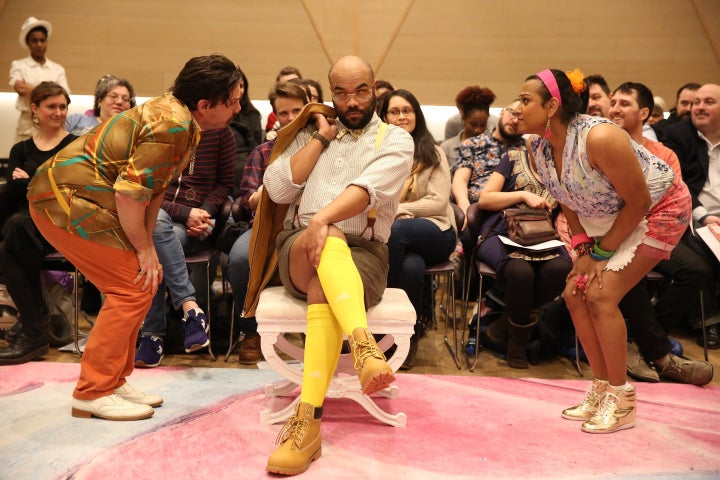 "Back then, 'Transparent' and 'Orange is the New Black' – these big shows that are trans-inclusive – did not exist," Sheth said. Convinced she wouldn't get cast as a trans actress, the Pune, India native relocated from New York to California and began pursing a career in social work instead. "I felt like there was no space for me," she said.
Sheth's thespian dreams wouldn't be cast aside for too long, however. In 2011, a friend connected her with the producers of NBC's "Outsourced," who offered her a guest spot. Though the role of Kami Sutra lasted only two episodes, it turned out to be turning point for Sheth. "I thought, 'Well, if I'm able to land a spot on an NBC sitcom, then I should not limit myself because of who I am,'" she recalled. "Having that opportunity pop up proved me wrong. I was able to go back to where I was meant to be."
Though Sheth is generally pleased with how her career has progressed, she admitted there have been setbacks. The recent push to cast transgender actors in trans roles on stage and screen has helped land her auditions, she said. Still, a number of casting agents have told Sheth that she "doesn't look transgender enough," a comment she calls "ridiculous." Then there's the roles themselves, many of which promote "ancient, stigmatized and fetishized views" of both Asian Americans and the trans community, she said.
"My gender identity, as well as my race, has been a hindrance sometimes," she said. "It's been easier to get my foot in the door, but there's still this misconception that we all look a certain way, or that we're all one way."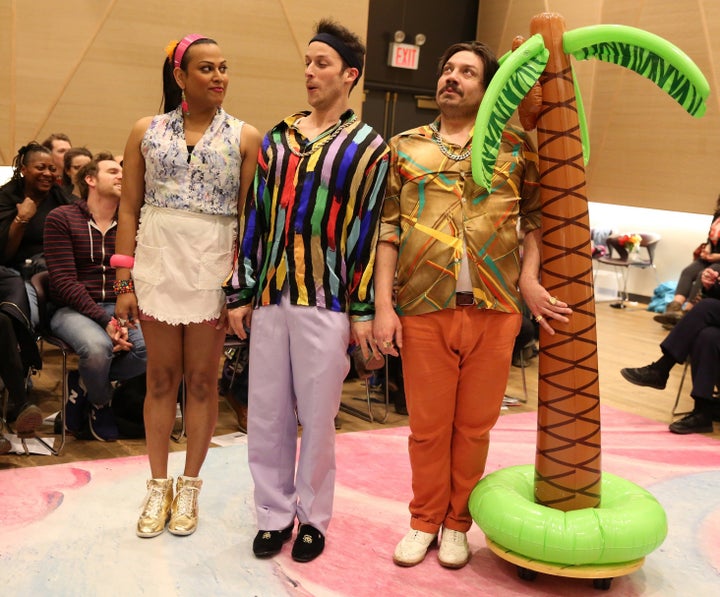 After "Twelfth Night" wraps May 14, Sheth would like to turn her attention back to the musical stage, possibly in a role that has yet to be written. Though she cites Broadway icons Patti LuPone and Audra McDonald as influences, she'd ultimately like to "forge her own path" as an artist.
Given that openly trans performers are still an anomaly, Sheth said she does feel a responsibility to portray her community in a positive light. She won't shy away from addressing politics in her work, either. "Like everybody else, we are human, and have our own thoughts and feelings about the things that are happening in the world," she told HuffPost. "I feel lucky that, as an artist, there are ways for me to express what I'm feeling about the world through my art."
Sheth doesn't see her recent successes as much as a reflection of increased trans visibility as much as a testament to her perseverance as a performer. "If you keep reaching for what it is that you want, eventually you're going to get there," she said. "Eventually you're going to show people that you deserve to be there as much as anyone else, regardless of what your gender identity is."
The New York Public Theater's production of Shakespeare's "Twelfth Night" runs through May 14. Head here for details.
Popular in the Community