Domestic terrorism took a life in New York City on March 20.
The life was that of Timothy Caughman, a black man. The murder suspect was a white man, charged with committing an act of terrorism in Caughman's fatal stabbing.
On Sunday, Sikh journalist Angad Singh stood in the middle of Times Square with a message of grief and anger that such a thing would happen in the city he calls home.
"In New York City ― in our city ― hate crimes are up 24 percent in just the last year," Singh said to those gathered. "I believe hate crimes come from ignorance, from fear. So I'm here in front of you to challenge that today."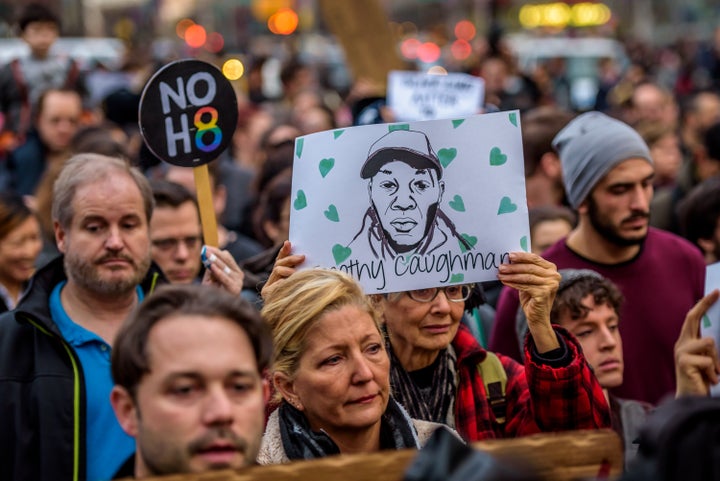 James Harris Jackson, 28, was indicted Monday on one count each of first- and second-degree murder as an act of terrorism for the March 20 stabbing of Timothy Caughman, 66. Authorities said Jackson came to New York from Baltimore to kill as many black men as he could.
"If a Muslim, or someone who 'looked like me' had slayed an innocent person in the streets of New York ― especially if that person had been white ― I believe the whole United States would've been crying 'jihad,' and this would still be trending in the news," Singh told The Huffington Post. "I believe the outrage this event called for is not present. I believe the discussion on the issue of domestic terrorism is not happening as loudly as it should in my country."
In a powerful statement of solidarity, Singh tied his turban in front of those gathered in Times Square to honor Caughman's life. For many Sikhs, the turban is a sacred article of faith and a symbol of equality. 
"Every day I know when I put this turban on my head I'm putting myself in hate's way. But I'm not scared to do so because for me putting my turban on is the most American thing I can do," Singh said.
Watch the powerful video below:
REAL LIFE. REAL NEWS. REAL VOICES.
Help us tell more of the stories that matter from voices that too often remain unheard.
BEFORE YOU GO
PHOTO GALLERY
Sikh Volunteers Deliver Thousands Of Meals