If you're an entrepreneur with a new business idea but no money, you might turn to your parents or friends and borrow cash to get your idea off the ground. In Ohio, where I live, if you don't have wealthy friends or family members, entrepreneurs have other options. Our state government provides important incentives to support and match investment dollars to angel funds through our innovative Third Frontier Program. There is a growing interest in communities throughout the US such as Cleveland to encourage a culture of angel investing in entrepreneurs who are not family members.
But this is not the case in other countries around the world. Investing in non-family members is almost unheard of in many places. But as I learned on a recent trip to Indonesia, that trend is starting to shift.
David Soukhasing, Head of ANGIN, explained to me that the angel investors have a vision and desire to "give back to Indonesia." These female business leaders share their expertise and networks to empower a new generation of entrepreneurs. They also hope to make a profit on their investment. David said that ANGIN's angels understood that they needed to be patient with the return on their portfolio investments.
One of ANGIN's first investments was in Wangsa Jelita, a company that specializes in Indonesian-sourced personal care products such as soaps, lotions, and oils. Wangsa Jelita's co-founder, Nadya Saib met one of ANGIN's angel investors, Shinta Kamdani, CEO of the Sintesa Group, when they both spoke at a panel in the World Economic Forum regional meeting. Nadya knew little about angel investing but she became intrigued by the possibility of raising money and obtaining support from investors like Shinta Kamdani. ANGIN invited Nadya to make her pitch and eventually selected her company to receive an investment. Nadya told me that the opportunity to have an investment from a woman like Shinta was something "she would never want to miss." Nadya also explained that it was "absolutely important for Wangsa Jelita to work with people (from investors to business partners) who have similar goals in creating a social impact through business."
Pak Anda, Rose Farmer in Lembang, West Java (with whom Wangsa Jelita has worked since 2010). Photo credit: Wangsa Jelita
I visited Forward Factory, a co-working space in Surabaya, and met Evilita Adriani, an energetic 20-year-old entrepreneur who started Ojek Syari, a business targeted at providing religious women rides on motorbikes driven by other women. Her business was profiled recently in the Asian edition of The Wall Street Journal. Like many entrepreneurs in Indonesia, she has struggled to find investors. I introduced Evilita to David and ANGIN, and they had an initial meeting last week.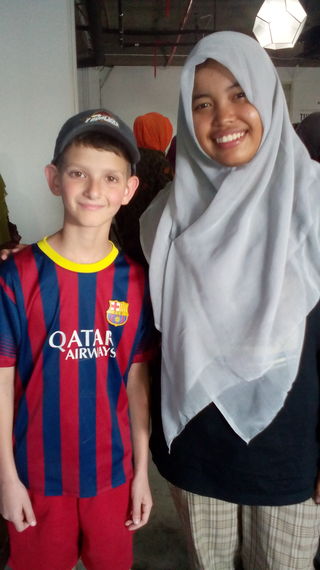 Evilita Adriani with my son Matthew Goldberg at Forward Factory, May 2016. Photo credit: Evilita Adriani
I was moved by my meetings and conversations with David, Nadya, Evilita, and others in the entrepreneurial ecosystem in Jakarta, Medan and Surabaya. I agreed to join ANGIN's advisory board to provide ongoing support for their efforts to help startups in Indonesia. To see communities outside of Silicon Valley like Indonesia cultivate angel investors so that emerging entrepreneurs have the opportunity to pitch for the capital they need is heartening. I look forward to watching their businesses grow!
Calling all HuffPost superfans!
Sign up for membership to become a founding member and help shape HuffPost's next chapter