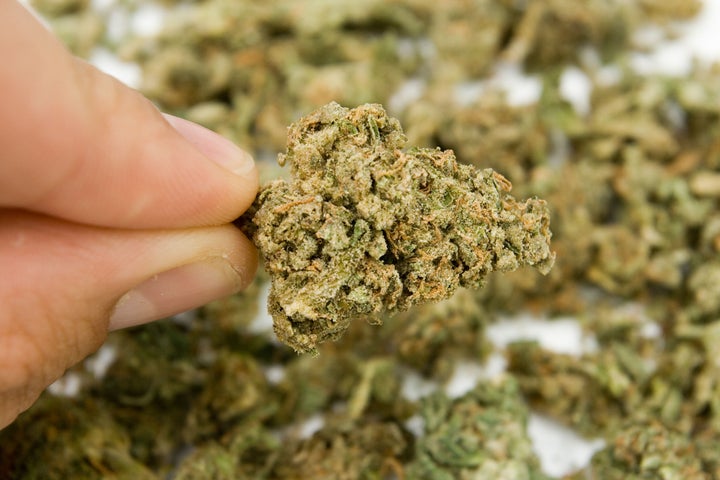 Told by her doctors at the University of California-San Francisco that she should prepare to die, that's what Raich, 46, is doing, one day at a time -- with purpose as well as dignity.
Except for Monday night, when she was summarily removed from the hospital at UCSF's Parnassus campus for using marijuana, according to NBC Bay Area -- which showed up for an interview that was cut short when Raich had a seizure and had to be rushed to a (different) hospital.
Now might be a good time to mention UCSF also happens to be one of the nation's teaching hospitals that researches marijuana's efficacy in treating cancer and pain.
Raich has lived with her brain tumor for some time, but earlier this year she was diagnosed with radiation necrosis, a complication from radiotherapy.
Details are scant, but it appears Raich was at UCSF for tests and was using marijuana via a vaporizer at the Parnassus campus when someone -- a doctor or a pharmacist -- took offense, and told Raich that they'd "call the Feds" unless she stopped using marijuana.
"The pharmacist said, you can't use cannabis in this hospital," Raich told the television station. "That's a death sentence."
Berkeley-based Dr. Frank Lucido, Raich's primary care physician, says that Raich needs to use marijuana every two waking hours, and denying her the drug amounts to "malpractice," according to a statement on Raich's website. "Angel will suffer imminent harm without access to cannabis."
Television viewers saw exactly what Lucido is talking about, as Raich suffered a seizure during her brief interview with NBC. Raich was then taken to St. Mary's Hospital on Stanyan Street, according to NBC.
In a statement, UCSF said that their hospital is "a smoke-free campus and this includes medical marijuana."
"Any particles from vapor and odor could have an impact on other patients and hospital employees," the statement read. "Under federal and state law, a physician is at legal risk related to any activity that could be construed as prescribing medical marijuana to a patient."
Raich gained national fame as the medical marijuana patient who took the federal government to the United States Supreme Court for the right to use medical marijuana. Her husband at the time, Oakland-based attorney Robert Raich, was one of the attorneys who argued that state law should supplant federal law, and that seriously ill Californians such as Raich have rights under the Constitution to use marijuana for medical purposes.
The Rehnquist Court disagreed, with the majority saying that the Commerce Clause gives Congress the right to ban marijuana for medical use, state law be damned. Justices Sandra Day O'Connor and Clarence Thomas joined Rehnquist, who died later that year, in supporting Raich.
Raich sued the government after DEA agents raided in 2002 a Butte County residence that housed six pot plants that provided Raich with her medicine.
It's worth mentioning that Raich is currently involved in yet another Supreme Court case, though not one you might expect. Raich filed an amicus brief in support of the lawsuit filed by the state of Florida which seeks to overturn Obamacare. Oral arguments in that case, Florida v. United States Department of Health and Human Services, are scheduled to begin later this month.
Details on Raich's current condition, and exactly what happened at UCSF were not available as of Tuesday. We'll update this post as soon as we know more.