Step-jab. Step-step-jab. Step-jab.
For Angel "Tito" Acosta, 25, a fighter whose rise in the boxing world has been just about as quick as the uppercut he throws, the movements aren't simply means of training.
Growing up in Barrio Obrero, a neighborhood in northeastern Puerto Rico in which, as he phrased it, "bad things happen," Acosta invests every step he takes, every jab he juts and every knockout he notches with the weight and dreams of his entire community. 
Lean, sinewy and graceful at 5 foot 4 inches and 108 pounds, Acosta turned professional in 2012. He was a few years distanced from bringing home the gold medal in the 2010 Central American and Caribbean Games. After failing to make the Puerto Rican Olympic team, he decided to make the leap.
To date, Acosta has a 12-0 professional record, knocking out every opponent along the way. And while his reputation has grown both at home and overseas with each victory tallied, Acosta hasn't budged from the familiar streets of Barrio Obrero. It's home to him. Where he grew up. Where he trained. Where he remains.
So it was no surprise that when Puerto Rican film director Angel Manuel Soto traveled to the area in 2013, searching for a documentary subject, he was quickly pointed in the direction of the great "Tito," the up-and-coming fighter who was forced to be the man of his family even in early adolescence.
In Acosta's journey, he saw the entire nation's fight. Facing unfair and unfortunate circumstances, he has fought his way up and up and up. Acosta's story, Soto says, is "the story of hope" of all of Puerto Rico.
This week, umpteen months later, the documentary "El Púgil" premiered at the Tribeca Film Festival. It came out just days before Acosta's biggest fight to date, giving the world a better sense of the battles this boxer has fought outside the ring and away from the gym, and just how motivated "Tito" is to work harder, climb higher and make a name for himself for the sake of those who have always supported him.
One step and one jab at a time.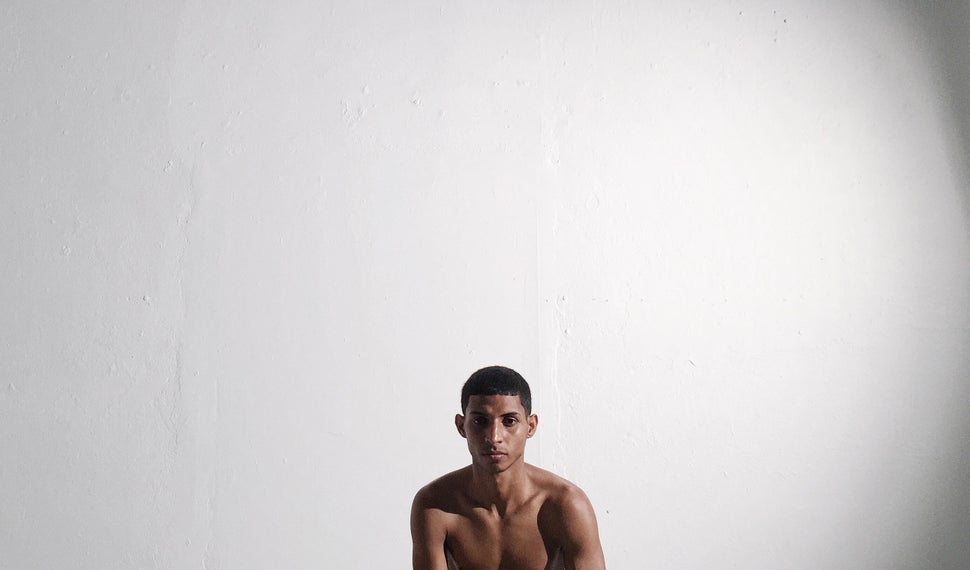 Acosta was only in seventh grade when he dropped out of school. It's an all too common path for Barrio Obrero youth, who have "the weight of their families" and the poverty-stricken district on their shoulders, according to Soto. With his father absent and his family's future in question, he dedicated himself to the sport of boxing.
Innately talented, supremely dedicated and more than eager to put in the work, Acosta immediately found himself at home in the ring. He began to surge, culminating in that 2010 gold medal victory.
"He wasn't scared to fight anybody," his manager, Juan León, told The Huffington Post on Thursday. "He was 17, 18, and sparring with guys, like, 22, 23, 125 pounds, 130 pounds. They were strong and he stayed with them … He was a nice, humble, real disciplined kid, who worked hard and didn't complain."
Ask those who've seen him fight, and they'll tell you that that quick uppercut he throws is the coup de grâce of his game. But it is what comes before that blow that really defines him as a boxer. "Graceful" is the word people use. Butter-like, slipping away from his foes, slinking to his right or left, out of their reach and in control. 
Acosta's life outside the ring hasn't been as smooth. His brother died of an overdose and his mother still lives in the projects. But despite the personal setbacks and systemic obstacles (Soto explained that his community, facing a "dire economic" landscape, has been marginalized for "ages"), he knows what he's fighting for. So he keeps going.
According to Soto, the neighborhood sees him as a "symbol of hope," an inspiration for all those kids who, like him, are forced to drop out of school. They see him winning, they see him waving Puerto Rico's flag and they realize that boxing can be their "way out," too.
León echoed that sentiment.
"Angel is like a superstar to them," he said. "[Even after he won gold], he didn't change his lifestyle. He's still humble and working hard. He still has the same smile on his face when people want to shake his hand. They follow him real good -- they support him. "
"When he goes around, they wave at him -- 'Hey Angel, hey Angel!' -- they want a picture with him," León added. "And he's so humble, he stops. [He] just wants to help them, help his family and try to bring a lot of good things to the community."
His dream ending includes two things. First, yes, he wants to become world champion. But that's only the means to a certain end: the way for him to make enough money to buy his mother a house away from the projects and have enough cash left over to go back to school.
That's why he trains so tirelessly. And that's why, this Saturday, he'll be stepping into the ring with 29-year-old Erickson Martell.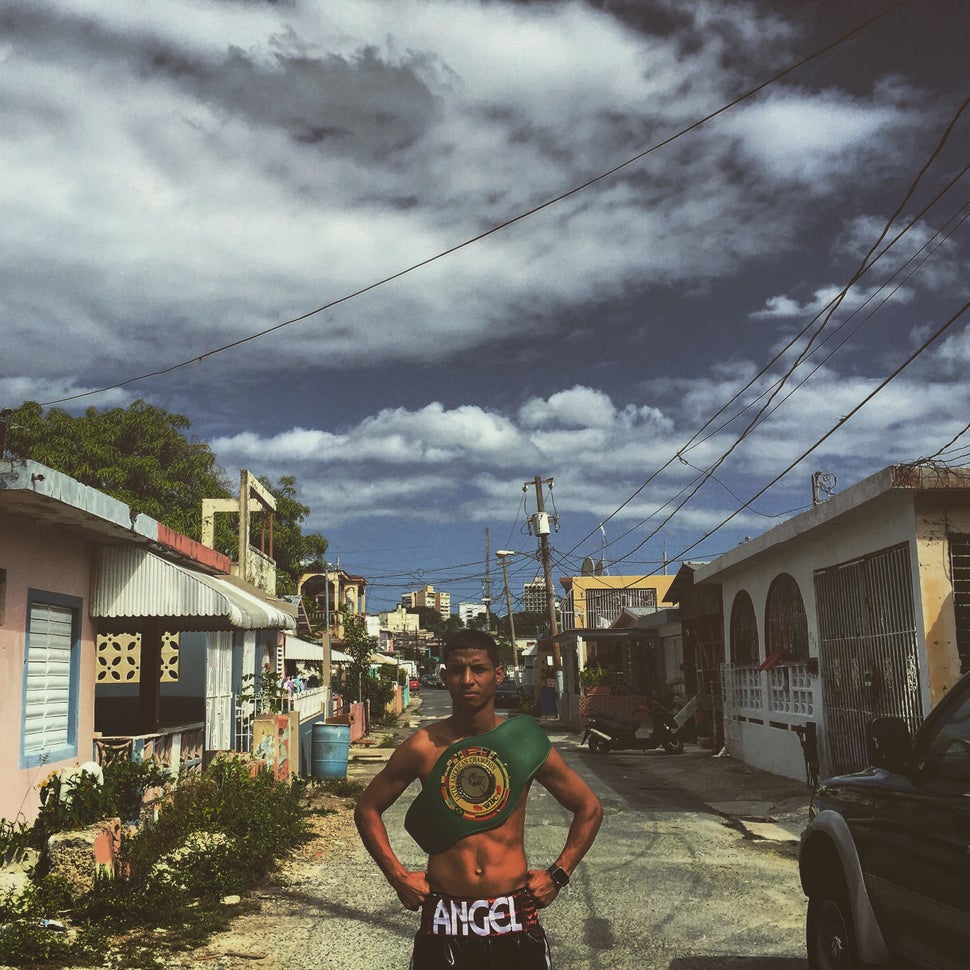 The matchup will take place in Caguas, Puerto Rico, about 18 miles from Barrio Obrero. Acosta and Martell aren't strangers -- they used to train together, and Acosta, through a translator, told HuffPost that he feels he really knows Martell. He knows he'll "come aggressive."
"It's not going to be an easy fight," León adds. "[Martell] is a real strong kid, he's a really good fighter and he trained real hard."
Acosta goes on. He says he knows Martell will be ready to fight, because he knows Martell wants to mar Acosta's undefeated record and snatch away his belt. But that, Acosta explains, is not going to happen.
You see, Acosta has a certain X-factor on his side. It's not his grace or his speed, his power or his uppercut. It's that he recognizes the bigger picture past boxing, and will fight not only for that perfect record and those gleaming medals -- but in honor of his brother's memory. For the sake of his mother's dream house. And for the knowledge that he has done Barrio Obrero right -- that he has made his community proud.
León summarized Acosta's entire mentality in one sentence: He wants to become worthy of being his neighborhood's hero.
Soto goes further. He sees Tito as a metaphor for the nation as a whole. 
"There's a striking resemblance between Tito's life and Puerto Rico," the director concluded. "Tito's way of punching through his circumstances is no different from everyday Puerto Ricans' struggles. Just the fact that somebody isn't willing to stay on his knees, [and] stands up every morning to fight the odds in order to be a champion -- I think that, in the end, is the spirit of the Puerto Rican people."
REAL LIFE. REAL NEWS. REAL VOICES.
Help us tell more of the stories that matter from voices that too often remain unheard.
BEFORE YOU GO
PHOTO GALLERY
10 Things You Didn't Know About Puerto Rico