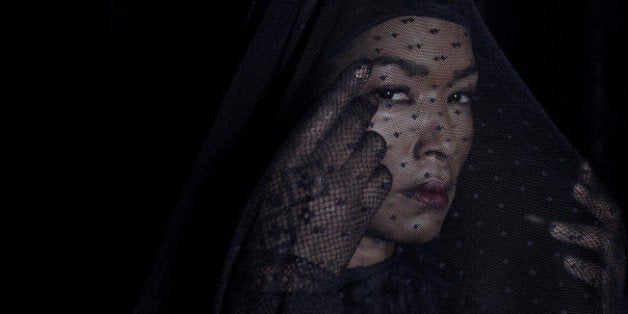 Week after week, viewers have reveled in the sharp, sad, bittersweet and bitchy material that has been given to the show's impressive array of actresses. The cast includes Jessica Lange, Kathy Bates, Sarah Paulson, Taissa Farmiga, Emma Roberts, Gabourey Sidibe, Patti LuPone and Lily Rabe -- a roster I described to executive producer Tim Minear as an "embarrassment of witches" (he didn't disagree).
It's a glittering assembly, but there was never any danger that Angela Bassett would go unnoticed.
Bassett plays Marie Laveau, a powerful New Orleans witch whose life spans hundreds of years. In the 19th Century, after her lover was tortured by the sadistic Madame LaLaurie (Bates), Laveau gave LaLaurie a potion that would allow her to live forever -- and then ensured that LaLaurie would spend nearly 200 years underground in a coffin.
In the present day, Laveau uses a hair salon as a cover for her other endeavors, but still wields powerful magic. In one of "Coven's" most memorable scenes, Laveau vividly describes a fertility ritual to Paulson's character, Cordelia, who is desperate to have a child. In a season that's already chock-full of memorable moments, fans won't soon forget the charismatic Laveau's description of what would be done with Cordelia's body, a goat and some "baby gravy." The only moment that may have topped that intense sequence was the sarcasm-laced scene between Fiona (Lange) and Laveau, powerful women who have no love -- but some grudging respect -- for one another.
According to FX's description of Wednesday's episode, the truce between the groups led by Fiona and Leveau threatens to come apart, but I expect Laveau to survive. She's done pretty well for herself in her first two centuries on Earth, and I'm not sure even a Supreme witch like Fiona could get in her way.
In an interview conducted just after "Coven" began production, Bassett said she wasn't quite sure where her character would end up -- but she talked about how co-creator Ryan Murphy wooed her for the role, and about being a "scaredy-cat" when it comes to horror. The interview below has been edited and slightly condensed.
Before you were approached for "American Horror Story," had you watched the show?
I'm someone who saw the posters and said, "What in the world is that? That's interesting. That's scary as hell!" I'm really kind of a scaredy-cat. [laughs] So that's not something I really go looking for. But then I got a call, "Ryan Murphy wants to meet you for a particular role on 'American Horror Story.'" "Okay, yeah." He was certainly doing great work with Jessica Lange.
So that weekend you do an 'American Horror Story" marathon and you see 26 episodes -- and there are only so many hours of daylight. Because I can't watch it at nighttime.
I make my husband watch it with me.
That's right! My girlfriend was visiting from out of town, and I was like, "Sit with me, I can't watch this by myself!" Then you get into it, the story and the characters and the performances and all the subtle humor. Then you meet Ryan, and he brings up Marie Laveau and that they're going to shoot in New Orleans, and it just gets more and more interesting.
So you had some prior knowledge of Marie Laveau.
I knew of her. I love New Orleans. For one of our first anniversaries, I told my husband, "Let's not go to Europe, let's go to New Orleans." That's like its own country with its own history and different, in a way, from the rest of the South. It's just such an interesting place.
As far as Marie Laveau goes and also New Orleans, there have been good portrayals and then maybe some that have not been so great in the past.
I'm hoping to bring a good one.
Oh, of course, no doubt. But did that make you nervous at all? Was that something you talked through with Ryan?
Well, no, we actually didn't talk through that. But since I've been down there, I've met some of the locals there and one woman who is [a Voodoo practitioner. We talked about] the way they feel about her, the way she's been portrayed and the way people respond to [their beliefs] negatively or fearfully or whatever.
It's going to be interesting. I don't know where there they are going to take this in 13 episodes, or exactly where she's going to end up. If you look at the history of the show, they just go all over the place. I'm trying to start off slowly, with the right intentions. I'm reading a lot of histories about her. She was well respected, feared, beloved. She got your attention, and she's still remembered.
Does it help to shoot in New Orleans? I mean, you couldn't really get the same vibe on a backlot in Burbank.
I'm glad we're there. It would have been much harder [in L.A.]. You get a lot from the heat. This is where she was, and it was just as hot in 1840. [It helps to be around] the people and the food and the music and the sayings that are particular to the region.
The show is known for this huge range of things it gives actors to play. Was that part of the attraction for you, that you get to play these big, epic moments and then the more emotional, intimate scenes as well?
It's a treat. I'm looking forward to, as you say, the big, epic stuff. That's going to remind me of theater, where I am just fearless and big and bold, and yet it's all very truthful and honest. And then sometimes [on 'AHS'] it's contained, and you're small and quiet, so you get to have both. But I love the theatrics that this world offers.
The show often explores what it's like to be a nonconformist and what the cost of that can be. Is that something that attracts you to certain roles? Is that something of a prerequisite for you?
It's not a prerequisite, but I think I am that person who, when someone says, "Well, it's always been done this way..." [Bassett groans and laughs at the same time]. Well, you might have had me until you said that. Watch me now!
"American Horror Story: Coven" airs 10 p.m. ET Wednesdays on FX.
REAL LIFE. REAL NEWS. REAL VOICES.
Help us tell more of the stories that matter from voices that too often remain unheard.