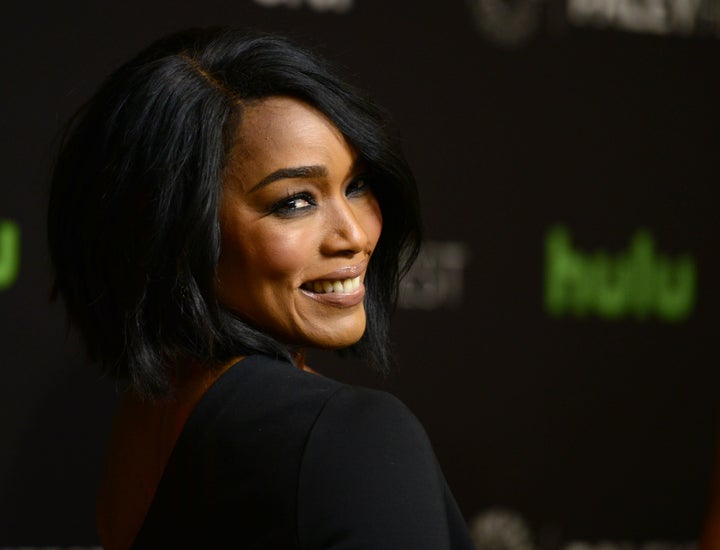 This year's Mother's Day was hard for Angela Bassett. 
It was the second year the actress spent without her mom, Betty Jane Bassett, and coming up on the third year since her June 2014 death.
The difference this year, however, was that Bassett chose a unique way to honor her mom's legacy. She joined forces with Boehringer Ingelheim and Eli Lilly and Company for the For Your Sweetheart campaign to raise awareness about the high risk that Type 2 diabetics have of getting heart disease, the same condition her mom died from.
"This is just a small way to honor her life and who she was. She laughed greatly and cared about people, you know, and always encouraged me," Bassett told HuffPost. "This is just a small way to do that and to help others 'cause I'm coming into contact with people consistently ... who have family members who are affected by this."
Those with diabetes are two to four times more likely to develop heart disease than those without it, and the disease is the No. 1 health-related killer of those with Type 2 diabetes, the World Heart Federation reports. Despite these alarming facts, about 52 percent of adults living with diabetes don't understand the increased cardiovascular risk, according to a survey conducted by the campaign.
Basset said she understands that all too well because her mom was reluctant to talk about her health. That's one reason Bassett asked her maternal uncle, Ralph Gilbert, to join the campaign with her. Gilbert, like Bassett's mom, has Type 2 diabetes. Now that they know the risks that come along with it, they're better prepared to make sure that Gilbert is eating healthier, exercising, consistently taking his medicine and being transparent with his doctor. 
"It's an epidemic," she said. "It's not just grandmothers and elders but it's the younger and younger people who are being affected by this as well. If it's not Type 2 diabetes, a pre-diabetic, and without the awareness, without knowing, without attacking it, they've shown that within five years, it can become diabetes Type 2. And then some of it can be regulated, managed and controlled. You can reverse it."
Basset said that she's aware that that information isn't always available to everyone, especially communities of color where the disease is more prevalent. According to WebMD, black people are more than twice as likely as white people to develop Type 2 diabetes. Additionally, they are at a higher risk of suffering from related health complications. Basset said sharing support and information regarding these disparities is why the 11 groups working with the campaign are vital.
"I'm very, very excited about some patient advocacy groups involved in this campaign because they touch those communities. They're educating those communities, be it black or Hispanic or female," she said.
The For Your Sweetheart campaign encourages people, whether or not they've been affected by diabetes, to visit its website to sign up to learn more.
"Boehringer Ingelheim and Lilly will donate a dollar for each person who signs up to receive just more information about how to have a discussion, what questions to ask your doctor, on and on and on," Bassett said. "And that money will be distributed among the patient advocacy groups and they are touching those communities ... and providing resources to send information and support."
As Bassett honors her mom and reflects on her life through this campaign, the actress shared one important lesson she learned from her mom's sickness that she's applying to her own life.
"It is to stay on top of [your health] and not be ashamed to find doctors that you feel comfortable with and have a dialogue with," she said. "I make sure that I go at the top of the year and try to stay on it, listen to what they say and do it most of the time … If you can do something you know you're supposed to 80 percent of the time, it's a good situation."
Learn more about Bassett's work with the Find Your Sweetheart campaign by watching the video above or visiting the website.
REAL LIFE. REAL NEWS. REAL VOICES.
Help us tell more of the stories that matter from voices that too often remain unheard.
BEFORE YOU GO
PHOTO GALLERY
Diabetes Warning Signs