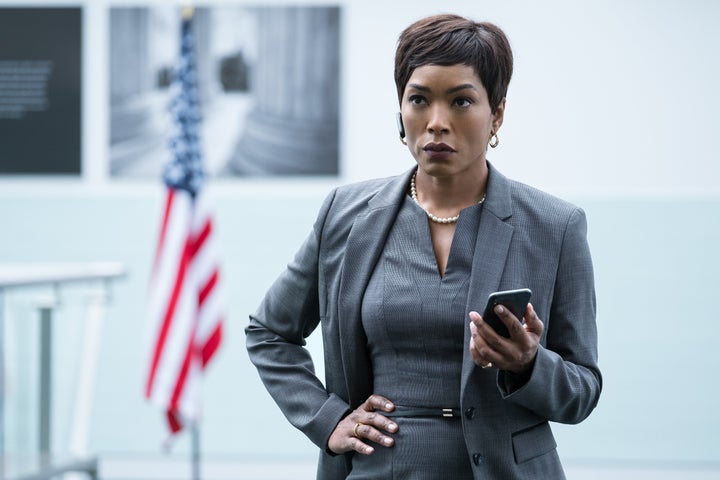 Have you had the fortune of luxuriating in Angela Bassett's elocution today?
Not enough has been, or ever will be, said of Bassett's speaking voice, with its modulated theatricality and velvety precision. She stretches her mouth to envelop every word, lending strong-willed characters a Shakespearean regality.
This weekend, you can get another fix of the drug that is Bassett Tongue, one that will satisfy a high you probably haven't experienced since "Black Panther" five long months ago. (Unless maybe you watch that insane show "9-1-1," recognizing that Bassett Tongue is the healthiest narcotic available. It's basically ASMR.)
The high I'm referring to comes courtesy of "Mission: Impossible - Fallout," which features a line with Bassettian articulation so perfect it's euphoric. Making her first appearance in the 22-year-old Tom Cruise daredevil franchise, Bassett plays CIA director Erica Sloan, a decisive chieftain who dispatches commands to Ethan Hunt (Cruise), including assigning him a mustachioed watchdog (Henry Cavill) after a mission involving nuclear bombs proves (temporarily) impossible.
You only need to know two things about the movie. First, it is fantastic ― the best blockbuster of the summer, and the most well-constructed action flick since "Mad Max: Fury Road." And, second, it requires Bassett to issue the following marching order to Cavill, underscored by her signature gimlet eyes: "No one comes between you and that plutonium." 
Which brings me to the thesis of this article: Angela. Bassett. Saying. "Plutonium." Is. Better. Than. Cocaine.
In her mouth, each syllable is its own word, if only because every one is so poised. That's often the case for Bassett, who trained at the Yale School of Drama, which offers multiple courses on vocal expression. During an argument with Laurence Fishburne in "Boyz n the Hood," she elongates the vowels on the word "guide," saying, "Well, you're his father; that means you were supposed to guide his decisions." While throwing her philandering husband's clothes outside during a stormy "Waiting to Exhale" scene, she treats the line "this motherfucker is psychotic" as an exercise in phonetics. Playing a Louisiana-fried Marie Laveau in "American Horror Story: Coven," she turns "those witches are the worst" into a miniature nursery rhyme. In "Chi-Raq," she scolds a life-insurance salesman (Roger Guenveur Smith), reaching into the depths of her throat to yell, "Leave! Leave!"
The pre-"Mission: Impossible" apex of Bassett Tongue came in 2016, when the site The Root asked the actress to deliver an impromptu monologue on-camera. For a split second, Bassett looks flabbergasted. But she quickly snaps, reciting a Lady Macbeth speech off the cuff, 18 years after playing the merciless rising queen at the Public Theater in New York. The elocution on display in that Root video is immaculate, soothing, scrupulous ― no rehearsal necessary. 
(Fun fact: Alec Baldwin starred opposite Bassett as Macbeth in that production, and he plays her CIA predecessor in "Fallout." She's only gotten better as the years have sped by. He's, well, Alec Baldwin.) 
But back to the matter at hand: plutonium. Angela Bassett says it. Don't miss your chance to revel in the experience. 
Calling all HuffPost superfans!
Sign up for membership to become a founding member and help shape HuffPost's next chapter
BEFORE YOU GO