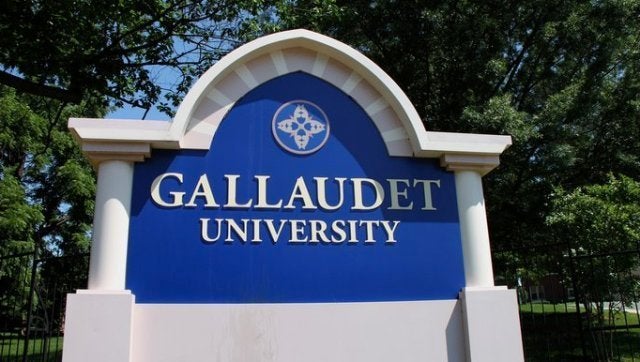 According to a report on Planet DeafQueer, Gallaudet University's Chief Diversity Officer Dr. Angela McCaskill signed a petition following an anti-gay-marriage sermon at her church. Of course, one immediately wonders whether McCaskill was throughly vetted. If her religious views clouded her rational thinking, then clearly she's not the right person for the position she holds.
Gallaudet University is a federally funded college in Washington, D.C., that exists primarily to educate deaf students. The university's president, T. Alan Hurwitz, has put McCaskill on administrative leave. Hurwitz said that differing views on whether or not her actions were appropriate for a Chief Diversity Officer would result in an appointment of an interim CDO while he considers the appropriate next steps for McCaskill. Pending their investigation, the university isn't commenting further on the matter. McCaskill has not responded to media inquiries.
The petition in question was a proposal to reverse the state of Maryland's same-sex marriage law. Voters in that state will decide next month the fate of this law, which allows same-sex marriage.
While the campaign to keep the state law enacted has argued for the reinstatement of McCaskill, a division is growing in the deaf community. Some are arguing that Hurwitz should have had a "dialogue" with the community, while others praised the quick administrative action.
In the space of eight hours, several hundred comments were posted on a mainstream news site, and of course, there's been a frenzy on social media.
But for all the finger pointing, claims of oppression, calls for protest and, yes, the pulling of the race card, we only have to remember the point I brought up earlier: A chief diversity officer has to be a rational thinker. A CDO's job is to bring fairness and equality to an arena where fairness and equality rarely exists. One must have that impeccable quality that transcends those of other college administrators. If McCaskill can be swayed by a sermon at her church and agree to oppress a rather large population of the United States, then she doesn't have what it takes to be a CDO.
Popular in the Community