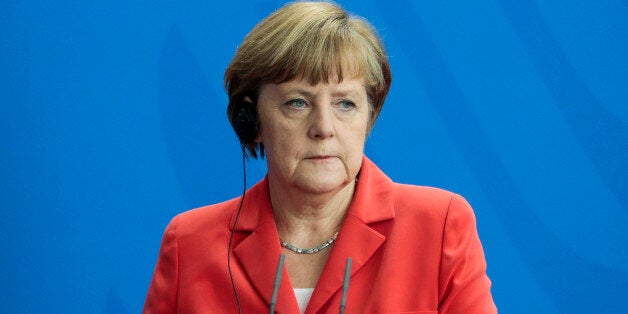 WASHINGTON -- German Chancellor Angela Merkel has no plans to push for the legalization of same-sex marriage, despite the overwhelming support of a marriage equality referendum in Ireland last week.
On Wednesday, Merkel's coalition agreed to make what Reuters called "small changes" to the civil partnerships rules. For example, the words "life partner" will be included instead of just "spouse." But the chancellor's spokesman said Germany will not be following in Ireland's footsteps anytime soon.
"Today was an important milestone in dismantling discrimination and the chancellor is pleased about that," Merkel spokesman Steffen Seibert told Reuters. "But same-sex marriages are not a goal of this government."
Last week, Irish citizens voted in a landslide to change the country's constitution to define marriage as a union "by two persons without distinction as to their sex." The vote made Ireland the first country to approve marriage equality in a popular national vote.
Calls for Germany to move forward on marriage equality picked up after the Irish vote.
"If the US Supreme Court rules soon on gay marriage the way the Irish people have, that will raise the question of why Germany is living in the 20th century on this issue and not the 21st," added Volker Beck, a Green Party member, in an interview with the Irish Times.
But Merkel's CDU remains opposed to pushing for legalization over fears that it could upset voters on the right. And the chancellor has long held that same-sex unions should not be called marriage.
"I personally want to preserve the privileged tax position of marriages because our constitution envisions marriage and family as being directly related and both are placed under the special protection of the institutional framework," Merkel said in 2012, referring to a proposal to extend tax breaks to same-sex partners. "At the same time I think it is correct for us to have provided the same rights in some areas to registered homosexual partnerships as marriage, like in inheritance taxes or in public services law."
But in Britain, Prime Minister David Cameron found that his advocacy for marriage equality did not hurt him at the polls at all.
Cameron, a center-right politician who leads the Conservative Party, pushed for the legalization of same-sex marriage in parliament in 2013, over the concerns of many members of his party. Instead of taking a hit at the polls, he recently won a second term, despite predictions that the Labour Party would win out.
Gay rights advocates in Germany say that anything short of the freedom to marry remains a disappointment.
"Gays and Lesbians mustn't have the feeling that they are second class citizens in Germany compared to other parts of Europe," said Christine Lüders, director of the German Federal Anti-Discrimination Agency.
Vice President Joe Biden, who is Catholic with Irish roots, praised Ireland's vote on Wednesday, saying voters "took a courageous stand for love and family when they overwhelmingly chose marriage equality."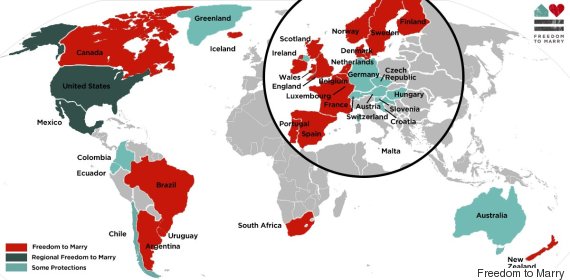 This article has been updated to include information about Cameron's position on legalizing gay marriage.
Calling all HuffPost superfans!
Sign up for membership to become a founding member and help shape HuffPost's next chapter