Tell your #storyofasuit to @careerwardrobe or on our Facebook page and help us raise women into the jobs they need and deserve. Help us win The JobRaising Challenge by clicking here.
"Because of Career Wardrobe, I've gained self-confidence and trust in people. I've seen myself grow and have allowed myself to come back to the world. Now I know who Angela is, and I believe in her."
"I was... lost," says Angela Allen. "I was lost."
Her voice starts out small as she recalls the events that led her to Career Wardrobe in 2008 or, as she calls them, "The Storm": bouts of breast cancer, body wracked by chemo, husband of 35 years fled, lost her job, lost her comfortable four-bedroom house, boom, boom, boom. Suddenly, inexplicably, rock bottom.

"Because of the Career Wardrobe, because I was able to tap into their services, I was able to come out of it," she says. Her voice is strong now. "They were there with me... as I tried that first suit on, and they reminded me of who I was and what gifts I had. And they've been with me the whole time."
Angela says that with the educational workshops and interview suits, "They taught me how to stay employable and hired -- it's one thing getting a job, but it's about keeping it, too."
Angela interviewed for, and was offered, a job as a certified peer specialist at the crisis center of Mercy Hospital, helping other people through their storms. She has one semester left of nursing school.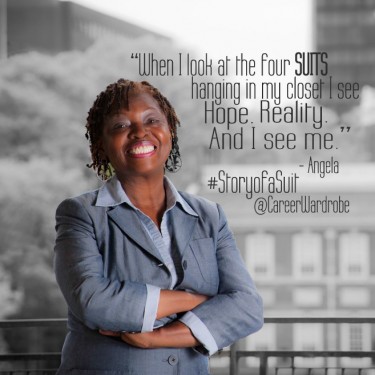 When asked what she sees when she looks at the Career Wardrobe suits hanging in her closet, Angela pauses for a moment before answering.
"Hope. Reality. And I see me."
Gateway to Success, A Program of Career Wardobe
At Career Wardrobe, we recognize that a woman's professional image is key to helping her find a job. But our services don't stop there. Every woman referred to our Dressing Program services is invited to continue building her personal and professional development by participating in our Gateway to Success Education Program. The program follows three steps:
•Blitz Basics Seminar for an overview of resume writing and interviewing including 1:1 resume review with HR professionals.
•Gateway to Success in-depth four-course job-readiness curriculum.
•Professional Women's Network for ongoing professional development and peer support for women as they transition to employment.
This job readiness program addresses a crucial issue of job preparedness that our clients face: while employers can teach new hires the individual skills they need to perform their job duties, employers do not have the time to teach a new hire how to relate well to their co-workers and customers or improve communication skills. These "tough skills" such as communication, attitude, responsibility, problem solving, and presentation are essential components of a successful career. Without them, women will be stuck in low-wage positions that don't help them move their families out of poverty. But with access to the Gateway to Success job readiness support our clients receive the vital tools they need to obtain and maintain employment.
Making a Measurable Difference
Our programs are developed on the only metrics that matter: outcomes measures showing that Angela is just one of the hundreds of women who see positive changes as a result of Career Wardrobe programs. Women who access our programs receive a direct and tangible benefit in the form of improving their preparedness for work (90 percent), increased self-esteem (83 percent), and success in transitioning to work (47 percent). Once our clients are working, they are rising out of poverty and into jobs that will lead to self-sufficiency: 49 percent are working full-time, 87 percent are earning over minimum wage, and 57 percent are not receiving any type of cash assistance from the state representing a cumulative savings to the taxpayer upwards of $19 million per year.
As a part of The JobRaising challenge, Career Wardrobe pledges that if we win the contest, we will expand our service delivery into a new community.
That means one lucky community will get The Wardrobe Boutique in their neighborhood, complete with our dressing, education, and internship services! Not only that, if we win we will be asking for your suggestions on what community needs us most. You can help us win The JobRaising Challenge, thereby expanding our services, by making a donation today!
Does your town need a Wardrobe Boutique? Let us know via Twitter or Facebook and use #storyofasuit to tell your own story of the importance of a professional suit, looking the part, and getting the job.
Related
Popular in the Community