A woman charged with murdering her fiance by tampering with his kayak denies doing anything to cause his apparent drowning in New York's Hudson River last month.
Angelika Graswald, 35, told People magazine in a jailhouse interview that police tricked her into making incriminating statements before charging her with the April 19 killing of Vincent Viafore, 46, whose body has not been found.
"I'm numb. I'm devastated," Graswald told the magazine from Orange County jail in upstate New York. "The truth will prevail."
Viafore's kayak capsized and he disappeared into the river. Graswald told People that the conditions were dangerous that evening with waves "as high as a person." The couple were in separate kayaks.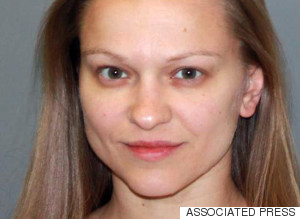 Graswald called 911 to report she couldn't find Viafore. Authorities initially treated her as a survivor. But 10 days after the alleged accident, police arrested her, citing inconsistent statements. She is charged with second-degree murder.
Graswald -- her last name from a previous marriage -- knew that she stood to gain $250,000 from Viafore's life insurance policies, an assistant district attorney alleged at a court hearing last week, according to the New York Post.
The couple regularly kayaked, but experts told The New York Times that they made many mistakes during their excursion, based on Graswald's account. They used kayaks that were too small for the Hudson's swift current, for instance, and didn't wear suits to protect from the chilly water. Viafore wasn't wearing a life jacket.
Graswald hails from Latvia and is a native Russian speaker. Her attorney contends that a language barrier contributed to her allegedly conflicting statements. The lawyer, Richard Portale, also accused the police of coercing Graswald into incriminating herself.
Popular in the Community