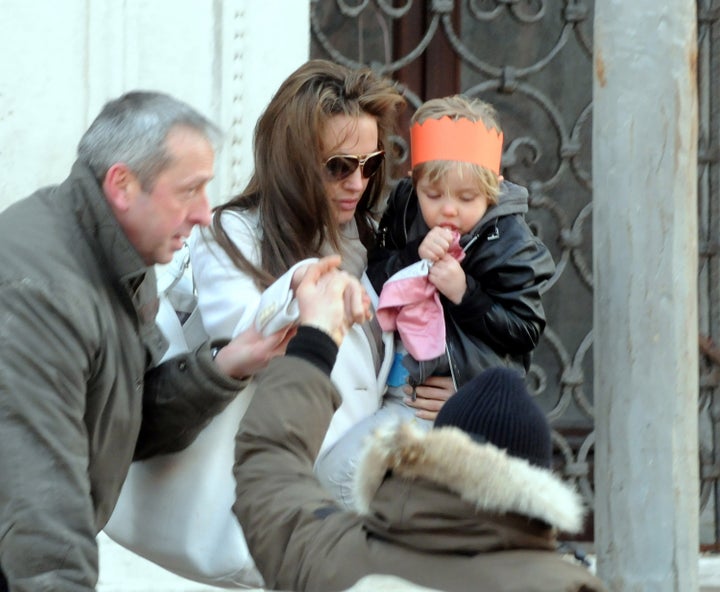 Angelina Jolie and Brad Pitt's daughter Shiloh, 4, likes to dress like a boy and Angelina finds it "fascinating." Sample Shiloh outfit pics here and here.
While promoting 'Salt' over the weekend, Angelina told Reuters:
"I think she (Shiloh) is fascinating, the choices she is making. And I would never be the kind of parent to force somebody to be something they are not. I think that is just bad parenting... Children should be allowed to express themselves in whatever way they wish without anybody judging them because it is an important part of their growth. Society always has something to learn when it comes to the way we judge each other, label each other. We have far to go."
Angelina also recently talked about her kids to Vanity Fair.
"Shiloh, we feel, has Montenegro style," she said. "It's how people dress there. She likes tracksuits, she likes [regular] suits. She likes to dress like a boy. She wants to be a boy. So we had to cut her hair. She likes to wear boys' everything. She thinks she's one of the brothers."
Angelina is happy to let her youngest daughter Vivienne be the girly girl of the family.
"Shiloh's hysterically funny, one of the goofiest, most playful people you'll ever meet," she said. "Knox and Viv are classic boy and girl. She's really female. And he's really a little dude."
Calling all HuffPost superfans!
Sign up for membership to become a founding member and help shape HuffPost's next chapter