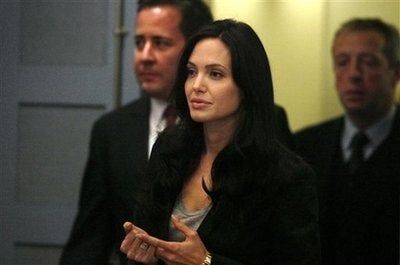 Angelina Jolie has returned from a two-day humanitarian trip to Afghanistan this week, visiting poverty-stricken families, according to the United Nations High Commissioner for Refugees.
The actress traveled Wednesday and Thursday to regions where thousands of former refugees have returned to the country to face crowded, squalid conditions.
"The courage, resilience and quiet dignity of returnee families rebuilding their lives against the kind of adversity few of us can imagine shows the human spirit at its best," Jolie said.
Jolie, 33, is a Goodwill Ambassador for the UNHCR, which reported the trip on its Web site.