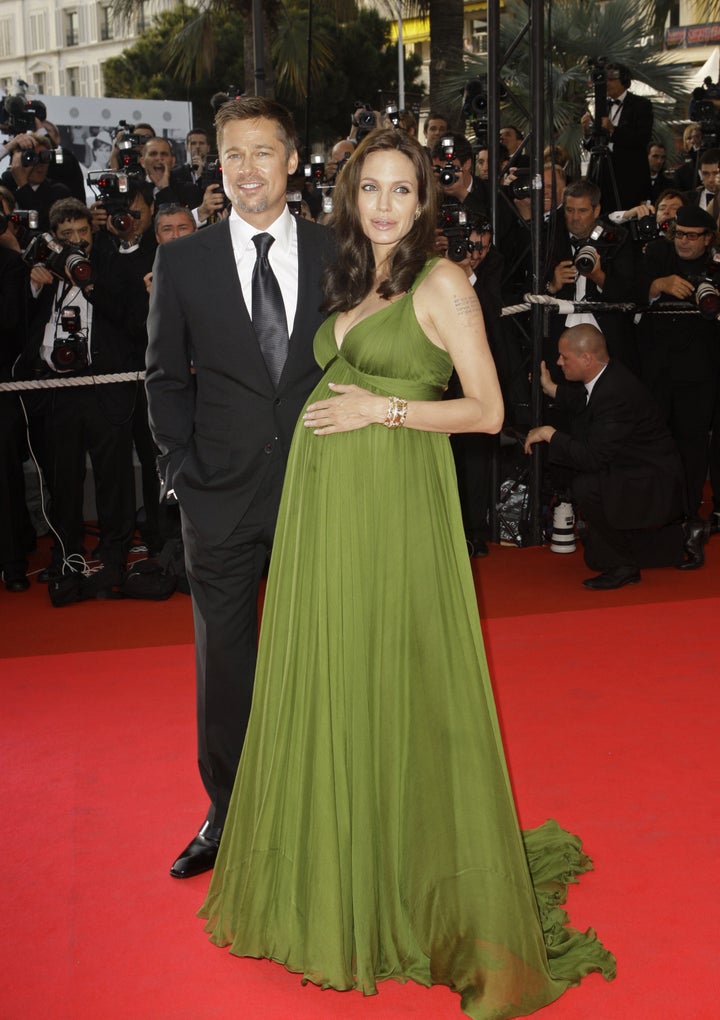 A French magazine reported on its website Wednesday morning that Angelina Jolie had given birth to her twins, a report they have now backed away from. However, a hospital spokeswoman confirms Angelina has checked in as planned to give birth:
Brangelina's twins aren't here yet, but the big day is drawing closer. The seafront Lenval hospital in Nice in the south of France said Tuesday that Angelina Jolie had checked in at its Santa Maria maternity clinic to be kept under doctors' surveillance and get some rest before she gives birth.

"There's no urgency. It's been planned for a long time," said Nadine Bauer, a hospital spokeswoman. "She's very well. Everything is fine."

"She is not on the verge of giving birth, not at all," she said. "It's not for right away."
Jolie and partner Brad Pitt have been holed up in the South of France since May, having recently moved into Chateau Miraval with their four kids.
According to Closer this morning:
En exclusivite mondiale, Closer est en mesure de vous annoncer qu'Angelina Jolie aurait accouché ce matin dans un hôpital français ! La star serait rentrée hier soir en salle de travail. Toute reproduction interdite sans la mention du site closermag.fr
Translation: Angelina went into labor Tuesday night and gave birth this (Wednesday) morning in a French hospital. The AP story confirms the hospital admittance, but not the birth.
However, later Wednesday Closer changed their story and said only that she was in the hospital awaiting the twins' birth:
"Angelina Jolie will give birth in the following days.

This morning we informed you that Angelina Jolie was supposedly giving birth.The actress is actually under observation at Lanval hospital in Nice. She was admitted on Sunday afternoon and should remain there until she gives birth of her twins. She is to be due in the upcoming days."

Meanwhile, In Touch responded to the initial birth story with this::
"Angelina's babies are expected to be delivered by French doctor Michele Sussmann and her regular OBGYN Jason Rothbart, who is due to fly to Europe later this week."
Angelina has "reportedly" given birth before, with "Entertainment Tonight" claiming she did a month ago and refusing to back down. But, Brad Pitt has traveled a lot since, doubtful if he had two preemie twins at home, and In Touch has pictures of a still-pregnant Jolie last week.
Here's Closer's Wednesday morning report;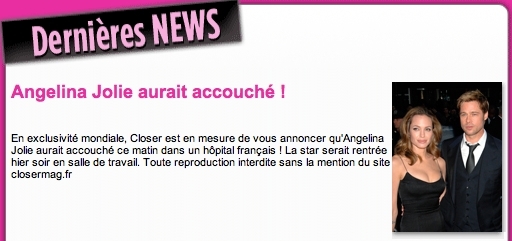 Calling all HuffPost superfans!
Sign up for membership to become a founding member and help shape HuffPost's next chapter