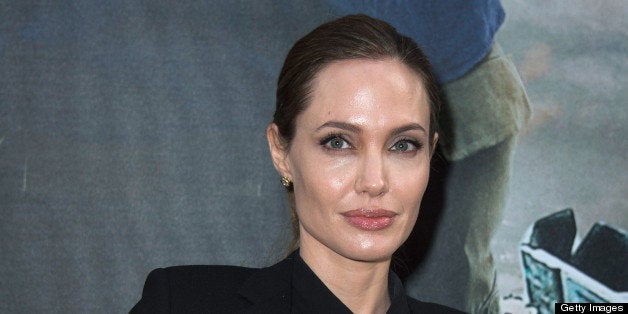 Moments after Angelina Jolie's op-ed piece, "My Medical Choice," was published online in the New York Times on May 14, a link to the article appeared in my Facebook news feed, where I happened to be browsing. Shocked by the headline, I immediately clicked and read.
Jolie's decision struck me as bold given the industry she works in, but also rational considering her high risk for cancer. It saddens me when any person lands in cancer's orbit, but in this instance, it was someone I particularly admired; I've long respected Jolie for her international humanitarian efforts. In reading Jolie's piece, I also felt comforted by her public support of each of us who's ever surrendered a breast voluntarily, in hope of better health.
Yes, a double mastectomy and life-changing concerns about cancer have become a part of both Jolie's and my realities. But beyond those shared basic fears and the harsh facts of surgery, it wasn't entirely clear to me how much our circumstances had in common.
Unlike Jolie, I was diagnosed with cancer, and a mastectomy of my left breast had been imperative, a non-negotiable. Also unlike Jolie, I do not possess the BRCA1 or BRCA2 genes, the former serving as the red flag verifying Jolie's susceptibility to cancer. Before I'd even had surgery, a test tube of my blood was submitted for genetic testing, though my insurance company denied coverage until my genetic counselor wrote a letter appealing the decision.
The absence of either of the BRCA genes in me does not, ultimately, provide relief. As the National Cancer Institute reports, among white women in the United States, only five to 10 percent of breast cancer cases are linked to the BRCA1 or BRCA2 genes. What explanation does that leave for the rest of us?
I decided early not to lose sleep looking for reasons why. At age 23, my cancer diagnosis seemed largely inexplicable. My mother had never had breast cancer, not even a false alarm. My grandmothers hadn't had it, either. But what about my mother's sister, who, at age 48, had undergone a lumpectomy, followed by radiation treatments, to remove a miniscule spot of Ductal Carcinoma in Situ? It was the same type of breast cancer I'd been diagnosed with. Was something larger at work in our genes, or was this merely a coincidence?
Jolie lost her mother to ovarian cancer in 2007. And just over a week ago, Jolie's maternal aunt, Debbie Martin, died of breast cancer; she'd been diagnosed in 2004. Martin, who learned she had the BRCA1 gene only after diagnosis, lived long enough to see how genetic testing would influence Jolie's proactive health decision. Martin's husband is quoted by the Associated Press as saying, "Had we known, we certainly would have done exactly what Angelina did."
In the years following my own diagnosis and treatment, I worried for my mother's health. BRCA genes aside, she was the missing link to a concrete genetic theory within our family. My five-year cancer anniversary arrived on Monday, October 31, 2011, and so too did my mother's routine mammogram. The eeriness of the date did not escape her, though she brushed it off and proceeded to her appointment. When the results of her screening came back, the finding I'd feared all along became real: She had developed breast cancer.
I sat beside my mother as she lay in her pre-op waiting room in December of 2011, our shared breast surgeon standing on the opposite side of the bed. My mother's right arm was pinned with a saline IV, awaiting anesthesia. I knew this hospital story by heart, the wheeling down the hall, the people in white coats, the operating room and the mind erased, the sore chest hours later. We were doing it all again, only this time she was the one in the bed.
I asked the surgeon what my mother's diagnosis meant for us, the cancer pattern in our family having grown too apparent to ignore. She confirmed it was probable that even without the BRCA1 or 2 genes, we possessed a gene that made us prone to breast cancer -- a gene that has not yet been discovered.
My mother's cancer was in her left breast, same as my aunt's and same as my own. Hers was caught early enough that she was able to opt for a lumpectomy and radiation treatments. She remains free of cancer. We all do. And with that, our family's medical mystery is somewhat solved: we are indeed getting breast cancer, but there's still much we don't know. We don't know why. We don't know our precise odds of reccurrence. We don't know what more we are at risk for. According to the American Cancer Society, less than 15 percent of women with breast cancer have a family history of the disease. My family is among the minority in having even half an explanation.
Like Jolie, my mother, aunt and I have made the medical decisions we were most comfortable with based on the information and options available to us at the time. Whether to save or surrender a breast is a wholly subjective matter. Going forward, we try not to let fear steal away too much of ourselves, our lives. Bravery is another choice we make.