Hollywood star Angelina Jolie briefed the United Nations Security Council on the Syrian refugee crisis Friday morning.
Jolie, a U.N. special envoy on refugee issues, urged the world to do more to help millions of Syrians displaced by over four years of war.
The U.N. estimates that 3.8 million people have fled Syria and about 7.6 million others are displaced inside the country.
"We are failing to save lives in Syria," Jolie said, adding that Syrians have been tortured, starved and bombed "with impunity."
She shared some of the harrowing stories of Syrian refugees she heard on her visits to refugee camps in the region: an 11-year-old girl in a Lebanon camp who is responsible for feeding her five orphaned siblings; a doctor from Aleppo who watched his wife and 3-year-old daughter drown in the Mediterranean as they tried to flee the conflict.
"It is sickening to see thousands of people drowning on the doorstep of the world's wealthiest continent," Jolie said, referring to the spike in migrants from Africa and the Middle East who drown when overcrowded boats sink in an attempt to cross the Mediterranean Sea and reach Europe. More than 1,300 migrants have died in the Mediterranean over the past three weeks.
The world-famous actress served 10 years as a goodwill ambassador for the U.N.'s refugee agency, U.N. High Commissioner for Refugees, before being promoted to special envoy in 2012.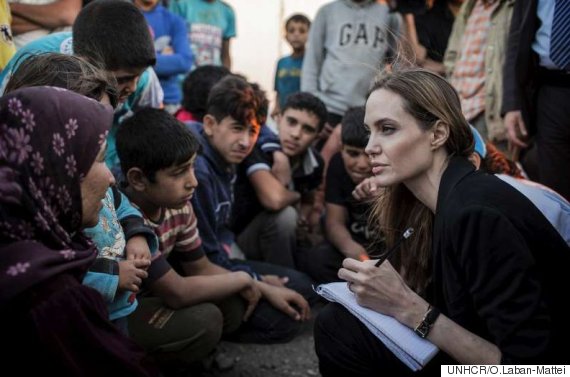 UNHCR Special Envoy Angelina Jolie records the stories of refugees who have just escaped the war in Syria at the Jaber border crossing in Jordan in June 2013.
Some 220,000 Syrians have been killed since 2011, when peaceful protests erupted against Syrian President Bashar al-Assad but gradually developed into a complex and bloody civil war.
Russia, an ally of Assad's regime, has vetoed U.N. Security Council resolutions that would have sanctioned his government and referred the war to the International Criminal Court.
At the briefing on Friday, Jolie urged the Security Council to "work as one and end the conflict."
"The government, armed and terrorist groups, continue to kill, maim, rape, torture and take Syria to new lows that seemed unimaginable a few years ago," she said. "We need the numbness to the senseless violence and the apparent apathy to end."
Watch: Angelina Jolie Visits Syria Refugees on CNN