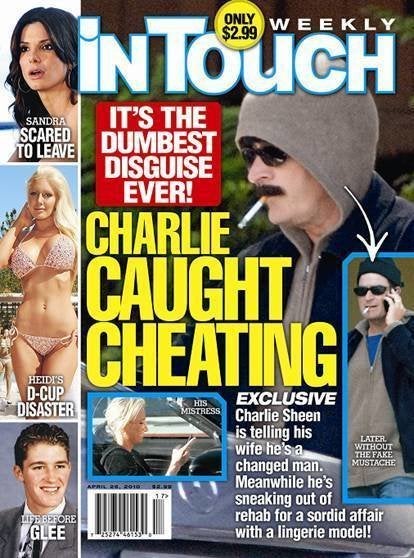 Charlie Sheen, struggling since his Christmas arrest after the 911 call of wife Brooke, has been linked to escort Angelina Tracy by In Touch magazine, which claims (with photos) that Sheen has been visiting lingerie model Tracy while dressed in a disguise.
Both Charlie and Brooke have been in rehab.
In Touch has exclusive photos of Charlie wearing a hooded sweatshirt, dark sunglasses and a fake Magnum P.I.-style mustache, while sneaking into and out of his mistress Angelina Tracy's Studio City home.

Intent on proving to his wife, Brooke Mueller, that he's a changed man, Charlie Sheen has been receiving treatment at a Malibu rehab center, acting like the perfect husband and father and swearing up and down he's on the straight and narrow. "He is seeing Brooke and the kids a lot and is good about continuing treatment," says a friend of Brooke's. "He has been sweet to Brooke, and promises her that he's changed." But Brooke would be wise not to take Charlie's promises too seriously.

In Touch has learned that Charlie has been regularly slipping out of rehab and cheating on his wife with lingerie model Angelina Tracy -- also a paid escort who charges $3,000 an hour under the professional name of Nina. Though there's no indication that Charlie is paying to spend time with Angelina, she was brought back to his mansion while Brooke was out of town, a source reveals. And it wasn't the first time. Charlie has been spotted wearing a hooded sweatshirt, dark sunglasses and a fake Magnum P.I.-style mustache while sneaking into and out of Angelina's Studio City home. On April 7, Charlie was seen entering Angelina's apartment, staying for an hour and leaving around 3 p.m., wearing the bizarre getup. "He ran down to his car," says an onlooker. "It seemed like he wanted to leave as quickly as possible."


During another recent trip, Angelina was also spotted running down her stairs and hopping into the backseat of Charlie's chauffeur driven Mercedes-Benz. "Charlie had a bouquet of flowers waiting for her, and her face lit up when he handed them to her," says an eyewitness. "You could see them kissing on the lips." According to the eyewitness, Charlie appeared to be giving Angelina more gifts in the car -- "maybe clothes or lingerie." That seems right in character for the star, who was a client of "Hollywood Madam" Heidi Fleiss and who has been known to shower his dates with expensive presents.


For more on Charlie's cheating and exclusive photos of his disguise, check out the new issue of In Touch Weekly, on newsstands Friday.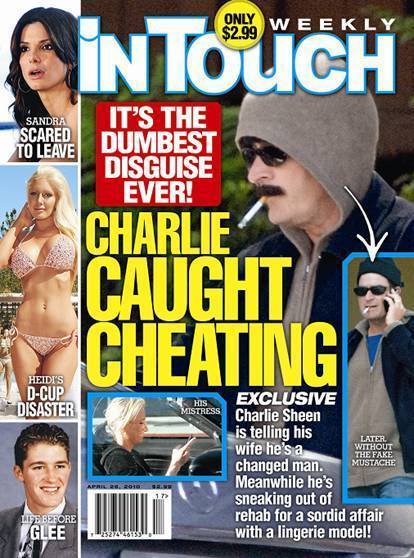 Popular in the Community