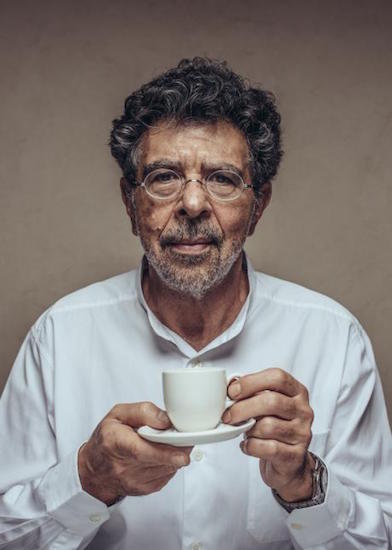 You know that feeling you get when your favorite song comes on the radio, and you're driving down a quiet road with no one around? Yes, that emotion that overcomes you, reminds you of times past spent in the company of friends and loved ones, or a special moment in time... That sensation, this immediate, subconscious journey to a different time and place, I find, is only possible thanks to music.
So if you believe as I do that music can be a magical facilitator, then Lebanese-born film composer Gabriel Yared is the master of creating the soundtrack of our lives. Personally, I cannot remember a moment in time when Yared's music hasn't been around to accompany me, in joy, love, sadness and pleasure. From one of his first works with Jean-Luc Godard, to his music for cult classic Betty Blue by Jean-Jacques Beineix, from Jean-Jacques Annaud's The Lover, to his work on several Hollywood blockbusters like City of Angels, Cold Mountain and Amelia, his sweeping cinematic symphonies have been the force that moves us from beyond the screen.
But one cannot mention Yared's music without turning to his collaboration with the late (and deeply missed) Anthony Minghella on several projects, including The Talented Mr. Ripley, a couple of episodes of the HBO TV series The No. 1 Ladies' Detective Agency and of course, The English Patient, which earned Yared an Academy Award for Best Original Score.
These days the composer has a few upcoming projects that should prove exciting, including a collaboration with the bad boy of cinema Xavier Dolan, provocatively titled The Death and Life of John F. Donovan, and due out in 2018.
I caught up with Gabriel Yared at the Dubai International Film Festival where he accepted a Lifetime Achievement Award on opening night -- as seen below Yared is with HH Sheikh Mansoor bin Mohammed bin Rashid Al Maktoum and DIFF Chairman Abdulhamid Juma. The next day, the composer graciously met members of the global press, who all yearned to spend just a few precious moments in the company of this kind, handsome and wonderfully generous man, a true artist with a heart. For me, the resulting conversation was the stuff dreams are made of.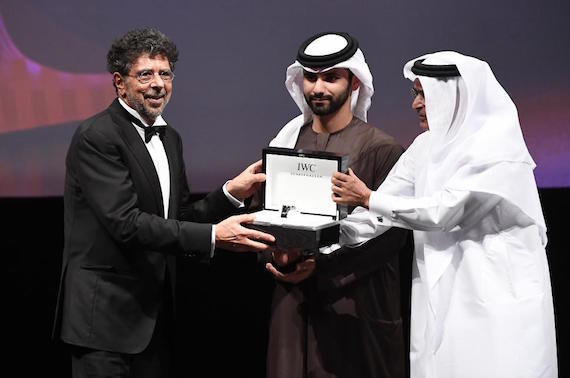 Through music you've come across cultures and created bridges and that's why I'm such a big admirer of yours. We live in a world of misunderstandings and music is perhaps the most universal language. How did you begin your journey as a composer?
Gabriel Yared: The problem is I was born in a family where there are no artists whatsoever. Nothing, through generations, there is nobody. I'm born with this gift. I'm sure. There is like an angel protecting my life. I'm born with just a craving for music and no one could understand this. Then I was put into a boarding school at four years old, which is very young, and from four to fourteen I can say that music was my companion, my angel, my everything for me. And I had no music studies, I'm self taught at the beginning. My teacher, at the Jesuit school, just gave me half an hour of piano a week, but he was very angry at me because I wouldn't really work mechanically. I would just look at a score and then open other scores, because I understood that the only way for me to evolve would be to "eat" music as much as possible, to read music as much as possible.
You know, this alphabet [of music] is only seven letters, but it's endless possibilities. So I kept reading a lot of music, from Bach, Mozart, Schumann, everything. Those were my first lessons.
Then when I later left the Jesuits, I started listening to music like John Coltrane, jazz music, Marvin Gaye, who has been really important for me. If you listen really properly to Marvin Gaye, if you listen to his voice, it's woven like the counterpoint of Bach. It's fascinating. I listened a lot to Stevie Wonder and my real obsession was The Beatles.
So what I did to learn how it was built, I'd take down -- you know what is taking down, sitting and putting down on paper everything I'm hearing. Absolutely everything.
That's a huge talent! It's the most difficult part of music theory.
Yared: At the time it was so difficult because you had LPs and you could not just go back, if you'd go back you didn't know where you were anymore. It's not like today.
My schooling was this and mostly it was on the organ. Because when my teacher died, I substituted him, it became mine and I started working on the organ and reading Bach... And then I went to Brazil for fifteen days and stayed for almost two years. On a flight to France to say goodbye, I stayed in France, and there I began orchestrating, which is something I didn't know at all.
You worked on Mina's album. I'm Italian so she's an idol of mine.
Yared: I love Mina! I'm so sorry I never saw her again.
You arranged her album with Lucio Battisti, right?
Yared: Mina she was great with me, she would treat me like a prince. It was the greatest memory for me because Mina would sing along with the orchestra together -- live. It was not first record the orchestra and then she'd come along! Such a voice. I did Mina, Johnny Hallyday and Charles Aznavour as an arranger. And after a while I said well I don't want to carry on being an arranger, it's not my job. So I stopped everything, took two sabbatical years and went to see a teacher. I wanted to learn music. And then came to me, also by an angel, the first film with Jean-Luc Godard.
Your music to me has been part of my life -- unknowingly at first and now consciously -- throughout my adult life. From Anthony Minghella, all the way through to The Prophet a couple of years ago, for which you did the score. City of Angels in between, your Oscar win for The English Patient. How do you come up with such a different vision each time?
Yared: Because my approach is not orthodox. I don't like to be called on a film at the end. I try as much as possible to be there since the beginning. I say, even at the script stage, please call me. And then I read the script, I spend time with the director, man or female, because to me it's like a marriage. You cannot marry forever, you have to spend time first engaged, and then you get married. Like on The English Patient it was more than eight months, to meet Anthony, to get to know him, to exchange musical ideas and most of this music had been written before the shooting began. So you ask how does it work with images? That means that the music exists by itself as music, but when it comes to work on images then I know how to craft my music in every scene and every step of the scene. But in order to get there I need to have a proper piece of music, like a symphony, with all the themes, which exists by itself.
Probably what you feel in my music, and it's without any pretension that I say this, you can feel that it's a thing that exists by itself and thank God, also exists with the images. Because images to me don't trigger my imagination.
I find music and scent triggers my imagination!
Yared: And talking, if you tell me this is the story of my film, I'll listen to you captivated. Then music comes like this (snaps his fingers).
What are your greatest achievement and your one regret?
Yared: I would say that every film I did I've done with all my heart, my consciousness, but relationships are sometimes difficult. The most beautiful thing in this career I would say has been the meeting with Anthony Minghella before he passed away. We have created four completely different films and four different scores. He would always take me forward, take me somewhere else. He was bold, I was bold with him.
My regret? I think I have no regrets because I try to address them every day. I try.
Portrait of Gabriel Yared by Gareth Cattermole at Getty Images; all photos Getty Images, courtesy of DIFF and used with permission.
REAL LIFE. REAL NEWS. REAL VOICES.
Help us tell more of the stories that matter from voices that too often remain unheard.