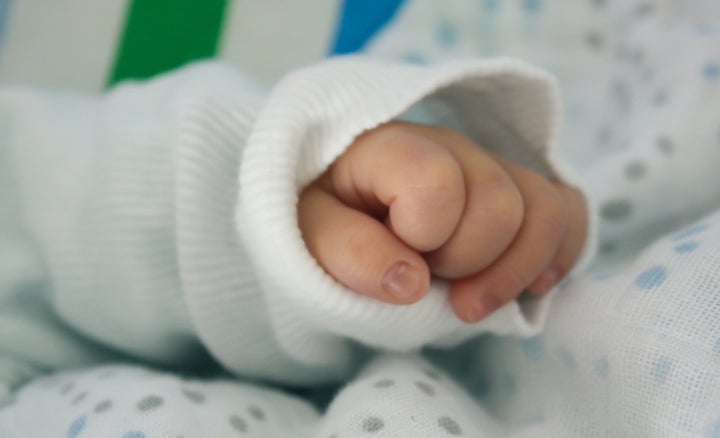 All of a sudden, your world turns upside down in a right side up kind of way. A small stick with a plus sign changes your life because you are now bringing another life into the world.
Weeks go by, and you prepare. Baby showers. Baby nursery. Pastel colors of sky blues, pale pinks, sunshine yellows and mint greens. Onesies. Diapers. Monthly stickers to use when your baby is out of the womb and into the world, growing and changing and showing he has your eyes or she has his lips. One month, two months, three months, four.
When people ask, "Do you want a boy or a girl?" you respond with the same response everyone says. You mean it because it's true: "We just want a healthy baby."
We expect a lot when we're expecting.
But then, the unexpected happens.
Early delivery. Detection. Diagnosis. Something's not right.
And your world is turned upside down again as you turn right towards the elevators and go up a floor to the floor you never imagined when you envisioned your birth plan: The Neonatal Intensive Care Unit. NICU for short.
The image of you smiling as you walk into your home nursery — the room with the white crib and jungle theme and stuffed animal giraffe and rocking chair — are replaced with your reality: tubes and wires and beeping and ringing. Beige walls and large sinks and bracelets that identify you as the parent of the baby in Nursery 6.
You stand like a soldier on guard next to the isolette — a clear plastic box with holes for wires and tubes to weave in and out — where your baby lies, protected from the world. Your baby is fragile and small and too tiny to fit into any of the newborn onesies your family gifted you at the shower many weeks ago. But that's okay, you tell yourself. Because this is all part of you and your baby's journey to being okay.
You just want your baby to be okay. Please God let my baby be okay.
Your new mantra is "I just want us to go home." Home represents health.
Your emotions are determined by your baby's small victories that are actually huge milestones. When a baby's original birth weight is one pound, gaining another pound is to be celebrated. The nurses hang beads outside of your baby's isolette. "Bravery beads," they call them. "To represent every milestone." You stare at the beads as you cling to the hope they represent.
You focus on the victories while chasing away the fear tucked in your brain. Did I do something wrong? Could we have prevented this?
But here's the thing: You're not wrong. You're not alone. The Neonatal Intensive Care Unit doctors and nurses are there. And they've dedicated their lives to responding to the unexpected.
They're there: night and day. Taking care of your family. Helping to get your baby healthy. But they do so much more than that. They're advocates for you. They represent answers and permission and reassurance. Wearing scrubs and smiles, they are the calm in the midst of a churning, turning tornado of emotional storms.
My mom, with her sweet demeanor and seal blue scrubs, has worked as a registered nurse on the NICU floor for over 30 years. When I was younger, I would wake up with her in the mornings before she left for the hospital. I'd stand on the couch in front of our large picture window and peer outside, waving goodbye in my pink onesie pajamas, wishing she could stay home with me.
I knew she was a nurse. I knew she was going to the hospital. I knew she was leaving me to go to work.
But I didn't know what my mother did for 12 hours a day. I didn't understand why we had to celebrate Christmas early due to Mom's work schedule. I didn't understand why she had to sleep during the day due to exhausting night shifts and that's why she kept a fan on in her room and that's why I had to try to keep my voice down.
As I got older, though, my confusion turned into clarity. Every interaction still remains a reminder to me of why my mom's job is more than a job, and all of those early Christmases or picture window goodbyes make sense:
When Mom gets stopped at the grocery store as proud parents pull out photos of their son or daughter ― once a tiny premature baby — now a healthy 6-year-old kicking a soccer ball in a snapshot, it's clear.
When Mom approaches parents she recognizes and remembers at a restaurant because they've celebrated and cried and hugged together over the milestones of their baby years ago on the NICU floor, it's clear.
When I'm at a craft show with Mom and she talks to a dad who points to his elementary-age son and says, "She took care of you when you were a baby," and the boy smiles, it's clear.
When she comes home in tears because a baby passed away, it's clear. Heartbreaking....but clear.
When a friend who owns a floral shop in our hometown sends my mom flowers every Father's Day because she was the one who told him he could hold his baby girl for the first time, it's clear. So clear.
Being a nurse is not just a job. It's a calling.
NICU nurses spend their own time and effort to decorate baby's isolettes by cutting scrapbook paper into letters of babies' names. They knit Christmas booties for the babies. They stamp every baby's tiny toes and feet in the shape of a heart to make artwork for Father's Day. They listen and they hug and they cry, too. NICU nurses live in the balance of thinking and feeling. Celebrating victories and shedding tears. They are there to stand by your side during one of the scariest experiences life has to offer.
Whenever I ask Mom why she's stayed in the NICU all of these years, her answer is always the same: "I love the babies." And she means it because it's true.
September is Neonatal Intensive Care Unit month. As this month comes to a close, I think of the babies. The parents. The families. The doctors. The nurses. All of the faces who come together to celebrate highs, lows, and everything in between. And it all becomes clear.
My mother is an angel. NICU nurses are angels. They're angels in scrubs.
Related