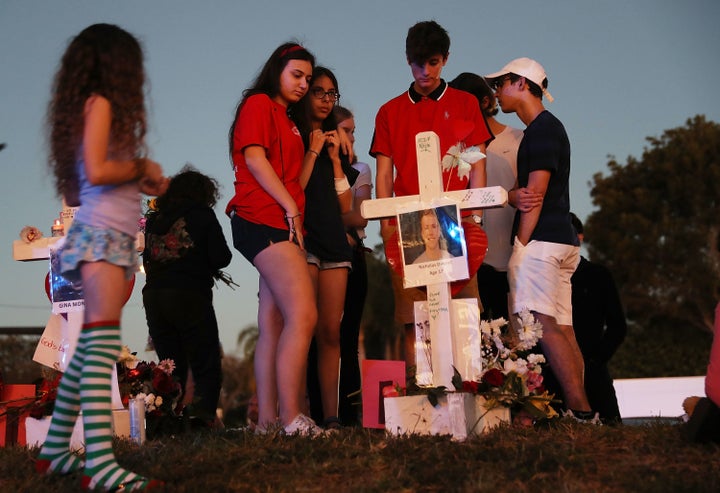 Pleas to strengthen America's mental health safety net and to identify mentally ill individuals at risk for violence are common refrains after mass shootings. They're also misguided ones. The reality is that people with mental illness are more likely to be the victims of violence than the perpetrators.
Instead we should be paying more attention to Americans like Nikolas Cruz, the suspect in the Parkland massacre, who have documented histories of anger problems and who also own guns.
Previous mass shooters with histories of impulsive anger include Omar Mateen, the 2016 Pulse nightclub shooter in Orlando, Florida, who had beaten his wife and ex-wife; Devin Patrick Kelley, who was accused of sexual assault and discharged from the Air Force for domestic violence before Sutherland Springs, Texas, shooting in 2017; and Elliot Rodger, who splashed hot coffee on two strangers he saw kissing prior to his 2014 shooting rampage near the University of California, Santa Barbara.
According to a 2015 study published in the journal Behavioral Sciences and the Law, nearly 1 in 10 adults have a history of impulsive anger, including angry outbursts, breaking and smashing things, losing one's temper and getting into physical fights, and also have access to a firearm. 
"Probably the strongest predictor of violence is previous violent behavior," Jeffrey Swanson, lead study author and professor of psychiatry and behavioral sciences at Duke University School of Medicine, told Mother Jones in 2015.
The study found a three-way association between individuals who owned several guns, who carried them outside of the home and who had histories of anger problems. Owning six or more guns was associated with an increased likelihood that an individual would carry guns outside the home, as well as a greater chance that the person would be in a high-risk anger group, compared with study participants who owned a single firearm.  
Among those gun owners, married men younger than 30 who lived in outlying city areas were most likely to exhibit impulsive violence while simultaneously owning guns. 
America's gun violence epidemic is bigger than mass shootings 
Although tragedies like the Parkland shooting are distressing, mass shootings represent only a sliver of America's gun violence profile.
Of the more than 33,000 people who die by gun violence in the United States every year, 21,000 of those deaths are suicides, according to the U.S. Centers for Disease Control and Prevention.
Mass shootings prompt media attention and public discussion, such as the listening session the White House has scheduled for Trump, so he can hear concerns from the surviving Parkland students and teachers, but they are the exception to the nation's gun violence problem rather than the rule. 
But the outsized attention Americans and the media pay to mass shootings doesn't mean gun violence isn't a pressing issue for everyday citizens. Over the course of our lifetimes, nearly every single American will know a gun violence victim. 
With an estimated 310 million civilian-owned guns in circulation and millions more flooding the market every year, according to federal data, coupled with weak state gun laws that degrade our nation's safety standard to the lowest common denominator, gun violence is indeed everyone's problem. 
Calling all HuffPost superfans!
Sign up for membership to become a founding member and help shape HuffPost's next chapter