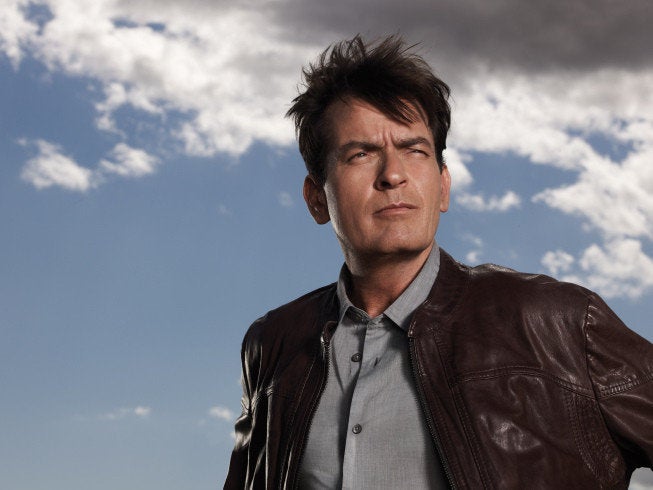 The troubled star appeared at the Television Critics Association Summer Press Tour on Saturday, promoting the cable comedy alongside creator Bruce Helford and co-stars Derek Richardson, Noureen DeWulf, Selma Blair, Shawnee Smith and Daniela Bobadilla. Predictably, the majority of reporters' questions were directed at Sheen, and a fair number concerned his tumultuous few months after being fired from "Two and a Half Men," when he embarked on an ill-advised publicity tour.
When asked how his life was different now compared to his 2011 meltdown, Sheen said, "It was a crazy time, like a dream I couldn't wake up from or a train I couldn't get off, except I was the conductor. It's something that could never happen again. I learned a lot, I learned, 'Stick to what you know,' I learned, 'Don't go on a one man show with no act' ... [Laughs.] Now that I'm not insane anymore, I'm accountable, most of the time."
Helford was quick to defend his star, pointing out that Sheen's experience on "Two and a Half Men" seemed creatively stifling. "When Charlie and I first sat down, I asked him, 'What do you want out of this experience?' We [talked about] "Two and a Half Men," but Charlie didn't have a voice on that show as a creative input -- it wasn't built that way and it didn't grow into that," he said. "[On this show] we're truly partners, we take full responsibility for all things, full blame for all things. When Charlie's on the stage, that's his stage. You look forward to going to work because you have a say ... When you don't control your destiny things get screwed up in your head, I'd imagine. This is a very freeing experience for everyone; FX truly understands how to work with talent. Charlie's had the room to move, so i think it's been a really different experience."
The biggest news to emerge from the "Anger Management" session was the announcement that Martin Sheen would be guest-starring in Episode 9 as Charlie's character's father, and would likely join the show full-time if the show is renewed for a second season. Sheen enthused that it was probably the best episode of the show yet. He admitted that there was a vaguely autobiographical element to their on-screen relationship, since "any time you're playing a character you're incorporating a part of yourself," but that the experience of filming with his father was "awesome."
Sheen also had good things to say about his ex-wife Denise Richards visiting the show, despite their storied history. "Denise was great on the show -- she'll probably come back, she's welcome back," he said, before qualifying, "We're not gonna create stories if people are available, we're going to create stories and see who's available."
As for being locked into the show for another 90 episodes it the automatic pick-up is triggered, Sheen insisted he doesn't feel any pressure. "That's something I can't control -- we've done the work in this section of it, it's up to what the network decides and how many people show up ... I'm excited as hell, I don't think 90 is gonna be enough. I feel, with how we started, that we just scratched the surface barely. We've broken 89 stories."
"Anger Management" airs Thursdays at 9.30 p.m. ET on FX.
PHOTO GALLERY
2012 Renewal Index: Canceled, Safe and on the Bubble Shows
Calling all HuffPost superfans!
Sign up for membership to become a founding member and help shape HuffPost's next chapter
BEFORE YOU GO