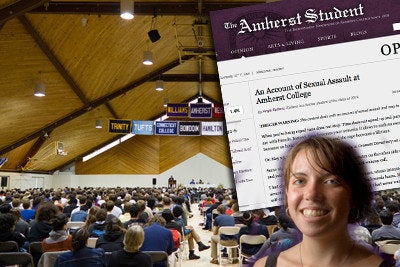 This article, written by investigative journalism students at the University of Massachusetts, is presented as part of a larger series addressing issues related to sexual assault on college campuses.
When Angie Epifano left Amherst College last October, the college sophomore could not predict the change her departure would provoke across the country.
Two years have now passed since the rape she said happened on the Amherst College campus in Massachusetts. Epifano wrote about the attack in The Amherst Student in October. Her first-person account described how she was assaulted in an Amherst dorm and highlighted what she said is a lack of administrative support for rape victims at the prestigious private school.
Dissuaded from attending sexual assault survivor support groups, denied an immediate room change, involuntarily committed to a psychiatric ward for five days and prohibited from going forth with her summer study abroad plan for Cape Town, South Africa, Epifano -- a financially independent student emancipated from her parents -- said she felt trapped in the place she once called home. After a year of anxiety on the campus that she said reminded her of the assault, Epifano withdrew from Amherst for a trip to Wyoming last summer, followed by a journey across Europe.
Meanwhile, back in the U.S., a grassroots movement was cresting. College-aged victims of sexual violence increasingly sought ways to inform others of their rights and how to reform the ways colleges deal with rapes on campus.
Melinda Manning, a former assistant dean of students at the University of North Carolina, said Epifano's article helped ignite the movement.
"What she did was give other survivors hope," Manning said. "Other survivors read her letter and said, 'Hey, she did that, so I can do that too.'"
"It's an amazing thing, amazing to see what's unfolded over the last three months," Manning said.
From her shared room at the Alabama space camp where she currently works as a tour guide, Epifano said she is still surprised by her article's impact.
"I never imagined it would, but I think [the movement] all really began with the article coming out," Epifano said.
"I keep telling people that there is still a problem and we can't just stop fighting," Epifano explained. "I think just continuing to speak out and having a voice is the biggest thing that can be done at the moment."
The ex-Amherst student recently spoke at Franklin Pierce University's Take Back The Night event, which she described as a "sobfest." Epifano structured her speech around journal entries she wrote while in the psych ward last spring as a form of therapy.
After the five days she spent in Cooley-Dickinson Hospital's psychiatric ward, Epifano began to write in her journal every day.
"I keep trying to focus on the good, keep myself busy, leave Amherst as often as possible, but it's difficult," Epifano wrote in one entry.
"Difficult to stay sane and happy and strong. I had been feeling strong, but now I feel vulnerable again. I'm dreading going back to campus today," she wrote in another.
The journal, excerpts of which she shared with The Huffington Post, became the backbone for her article in the Amherst student newspaper.
"I was made to feel like the perpetrator, like a broken piece of trash who was of no use to anyone, like an outcast from society, but most damaging of all, I was treated like a liar," said Epifano, who recalled being told by a sexual assault counselor that a photo project she created to deal with her trauma was "unhealthy, delusional and inaccurate."
Now, a few months short of a year after leaving Amherst, Epifano said she hopes for change on the small school's campus.
Amherst president Biddy Martin "has made a lot of really big strides and good changes," Epifano said. "I think if it was up to her, things would more rapidly progress, but Amherst still is a boys club when it gets down to it. Once they start to work on the side of survivors, then things will actually begin to change."
"Clearly, the administration's responses to reports have left survivors feeling that they were badly served," Martin said in the statement. "That must change, and change immediately."
Amherst has created an online checklist outlining steps the school is taking to improve administrative response to sexual violence. In addition, the school now refers students to The Center for Women and Community at the University of Massachusetts-Amherst.
The Center for Women and Community "were actually the ones that really helped me the most," said Epifano, who saw a poster for the center while walking through the UMass-Amherst campus. "I found out about it by complete happenstance. I went to the center and started seeing a free counselor there. She was the first person who told me that I wasn't crazy."
The counselor, Epifano said, helped her solidify her choice to withdraw from Amherst College.
Now Epifano plans to resume her education. Epifano said she applied to Cornell University, Bates College, Middlebury College and Carleton College, and was accepted at Saint Lawrence University. Still, Amherst is not completely off of Epifano's radar.
"A ridiculous life dream of mine would be to give a commencement speech or graduation speech at Amherst," Epifano said. "I kind of even want to go back and see the class I should have graduated with graduate, just to see all of my friends. That's a year away, so who knows."
Related
Before You Go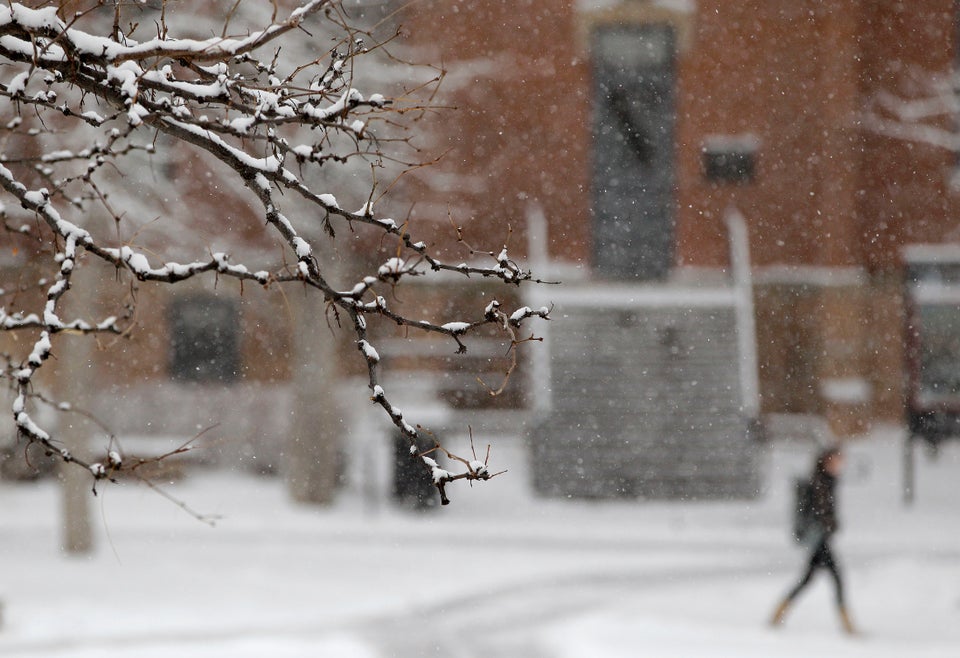 Schools Investigating Or Reviewing Policies On Sexual Assault
Popular in the Community