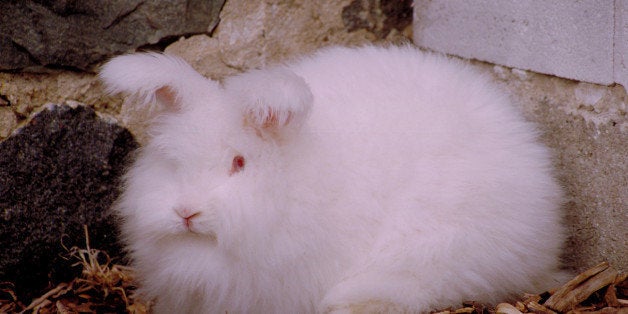 Update (Wednesday, Dec. 18, 2013 at 10:46 a.m.): Inditex, which owns Zara, released a statement on its website saying it will stop placing orders for Angora fur until it can be verified that its farms are in compliance with company requirements.
Update (Thursday, Dec. 19, 2013 at 12:30 p.m.): Gap Inc. announced via Twitter on Wednesday that it will suspend orders of Angora while it "investigat[es] further."
Previously reported:
Angora fur, valued for being lightweight, warm and silky to the touch, is plucked or shorn from Angora rabbits about once every three months. The fur can be used to make clothing items like sweaters, scarves and ear muffs. China is responsible for most of the world's Angora production.
Executives at H&M and PVH Corp., which owns Calvin Klein and Tommy Hilfiger, made their decisions after watching an investigative video (below) supposedly filmed at Angora fur farms in China. The footage, which shows rabbits screaming while their hair is torn out by workers, was filmed covertly by animal rights group People for the Ethical Treatment of Animals at nine unidentified farms in China between June and September. The group then met with H&M and PVH execs to show them the video, PETA spokesperson Shakira Croce told The Huffington Post via email.
It was unclear as of Monday evening whether Gap or Zara execs had seen PETA's video. Neither company responded to The Huffington Post's requests for comments about the video and the companies' Angora products.
WARNING: Disturbing footage. (Story continues below.)
Evidence is mounting that consumers aren't happy with the two retailers.
A petition led by Washington-based nonprofit SumOfUs.org calls on Zara to stop the sale of items made with Angora fur. As of Monday, the petition had attracted more than 260,000 signatures.
Gap Inc. operates more than 3,000 locations throughout the United States. Zara, a Spanish clothing maker, is owned by global fashion retail giant Inditex.
Update (Dec. 17, 2013 at 10:07 a.m.): Inditex, which owns Zara, told The Huffington Post via email on Tuesday that after "recent complaints" the company recently "reiterated" its policy of providing decent living conditions for animals to all its Angora suppliers. Those who buy clothing by Inditex "can rest assured that all its garments are manufactured responsibly and ethically," the company said.
Related
Popular in the Community