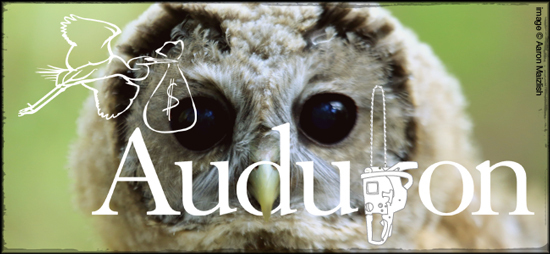 Get this: the National Audubon Society made a big boo-boo. The century-old conservation organization is now effectively promoting the timber industry's greenwashing eco-label for lumber and paper, the Sustainable Forestry Initiative (SFI) -- in exchange for a so-called "research grant" from SFI.
That's right! An organization whose mission is to protect birds is collaborating with an industry whose members regularly cut down the occupied habitat of threatened or endangered forest birds! That makes no sense.
SFI is now using Audubon's logo to promote what it does: certify industrial forestry that regularly logs the habitat of federally endangered and threatened species as "green." SFI may follow the state forestry regulations, but to say that it is "green" is a misrepresentation because state forestry regulations are pathetically weak and frequently non-existent.
Don't get me wrong: Audubon seeking money to conduct forest research to help birds is great. Thanks, Audubon! But accepting $60,000 from SFI, which uses its "research grant" program to promote its phony certification label, is a bad deal for those of us working for truly green forestry.
In contrast to the National office, local Audubon chapters (which are legally separate than the National office) work hard to protect birds and their habitat: forests. For example, in 2006, the Seattle Audubon Society successfully sued timber giant Weyerhaeuser for logging land with Spotted Owl nests. A federal court even ordered Weyerhaeuser to stop its logging!
Audubon's lawyers at the Washington Forest Law Center also filed a complaint with the logging industry's misleading Sustainable Forestry Initiative (SFI) program for certifying northern spotted owl-killing Weyerhaeuser logging as "good for forests." The executive director of Seattle Audubon at the time, Shawn Cantrell, said the timber industry standard "appears be an effort to greenwash," being "good on rhetoric," but flawed in practice.

Why would National Audubon Society, an organization with an annual budget of $103 million and over $400 million in assets, get mixed up in the greenwash of the SFI for a $60,000 grant?
Does the National Audubon Society have different ethical standards than its local and state chapters?
The environmental movement has opposed SFI for over a decade. Is Audubon refusing to face how controversial SFI is for forest and wildlife lovers, for $60,000?
Perhaps. But we do know that SFI is using Audubon's logo to further its greenwashing efforts online and in the marketplace.
I'm disheartened that a credible conservation organization that I respect and admire is providing green cover to the Sustainable Forestry Initiative's greenwash.
What do you think? Should the National Audubon Society return the dirty money and join the fight against the logging industry's greenwash?
For the birds (and the forests they depend on),
Jim Ace
Senior Campaigner
REAL LIFE. REAL NEWS. REAL VOICES.
Help us tell more of the stories that matter from voices that too often remain unheard.