WARNING: The following story includes disturbing content and may not be suitable for children.
According to the paper, witnesses said the 32-year-old father was walking with his naked son and 4-year-old daughter on the street Thursday when he commanded the boy to bite his penis.
When the boy refused, the man attacked him.
Horrified passersby subdued the man, forced him to spit out his son's penis, and called the police, China Buzz reports.
The boy's reattachment surgery was successful, but it is too early to tell whether he will have normal use of the appendage. The Shanghai Daily reports that relatives will care for the boy's sister.
Cops say the father is likely to have a mental illness -- he was recently seen pretending to strangle his son on their balcony, according to witnesses. Police also found that the man, who was only identified by the surname Yu, was severely in debt after a failed business venture and was often seen gambling.
This isn't the first horrific story involving penis mutilation in recent months.
"No nurse was found at the scene and he was writhing in pain. His penis had been nibbled by rats," Sandhukha relative told the paper.
WARNING: the following photo is graphic.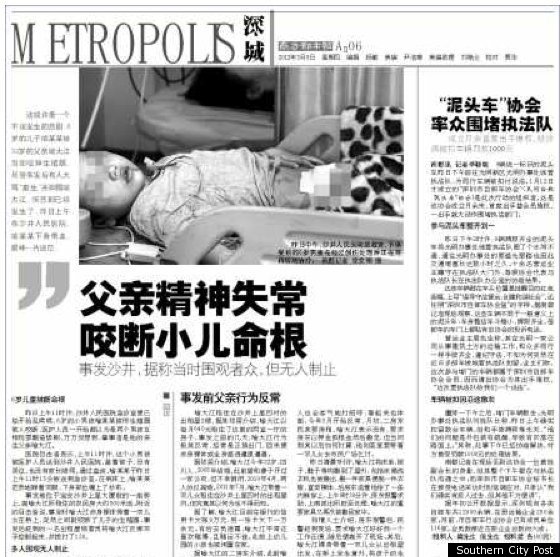 Related
Popular in the Community